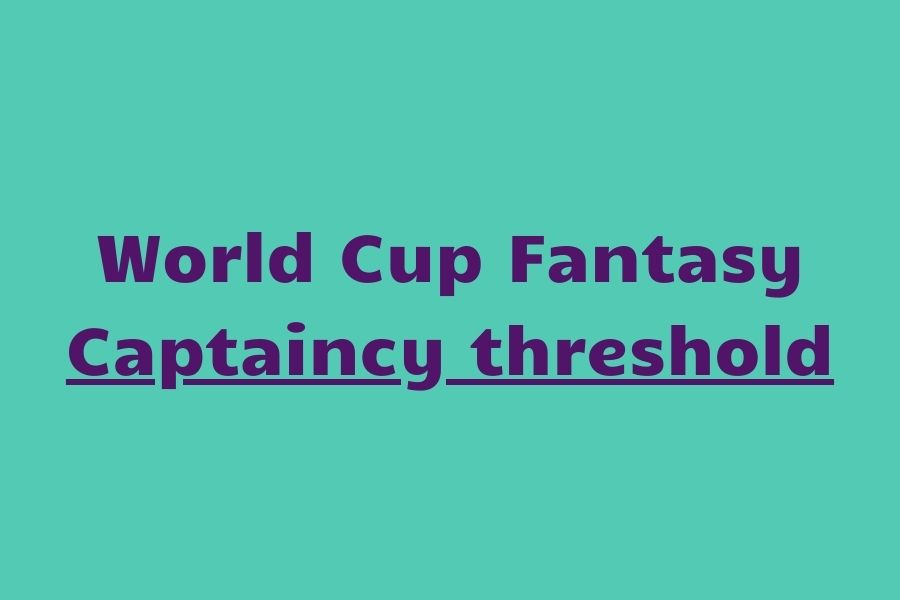 According to the rules of Fantasy World Cup, we can change captaincy from our locked captain one time.
But what is the magic number – the satisfying number of points when you stick to your captain?
When you should stick to your captain and when you you should switch the captaincy?
Captaincy threshold in World Cup Fantasy
Well, we think the magic number – captaincy threshold – is 6 points.
It is basic points floor you should expect from your captain.
We have 5 points for a goal, 5 points for a clean sheet (and 1 point for appearance) – so the minimum expected output from our captain is 6 points.
So when your captain scores 6 points or more, you leave the armband on him. When he scores less, you switch the captaincy.
As we mentioned in our article: UCL Fantasy Captaincy Thresholds: When to change captain?, it is important to have a system in place when making decisions in fantasy football.
Otherwise, you will let your emotions to make moves you might regret in the future.
Yes, sometimes you will miss a big captaincy haul when you stick to your captain who scored 6 points.
But many times it will prevent you from switching captaincy to a player who will blank. It will prevent you from taking an unnecessary loss. 
The risk management is important when making decisions in Fantasy Football. And as a professional FX trader VP from NNFX often says in his trading strategies, "we win by not losing".
And we think that this idea is applicable not just to trading, but to fantasy football as well.
Every small advantage we can gain, every one extra point we can get, every odds or asymmetry we can take advantage of, will take us closer to our final goal – to score as many fantasy points as possible at the end of the competition.
So, should you switch captaincy from Messi?
We think that not. According to our captaincy threshold, you should keep the armband on Messi.
This tournament is full of surprises. And your new captain would have to outscore Messi in order to pay it out – so he would need to have at least two attacking returns. And that might be too much even for Mbappe or Richarlison at this stage of the tournament.
Imagine the situation: Mbappe with a goal and an assist against Poland = 9 points.
Messi scored 7 points. So when you change your captain from Messi to Mbappe, you will gain only 2 points.
Now imagine Mbappe's blank against Poland = 1 point. And now you would lose 6 points from making the captaincy change, without another possibility of switching your captaincy again.
So does it worth it?
Disclaimer
Of course, this is just our idea of how to approach this. At the end of the day, it is your decision, whether you stick or switch your captain in World Cup Fantasy.
We just wanted to show you the approach that worked the best for us in other fantasy competitions in the last 6 years of playing.