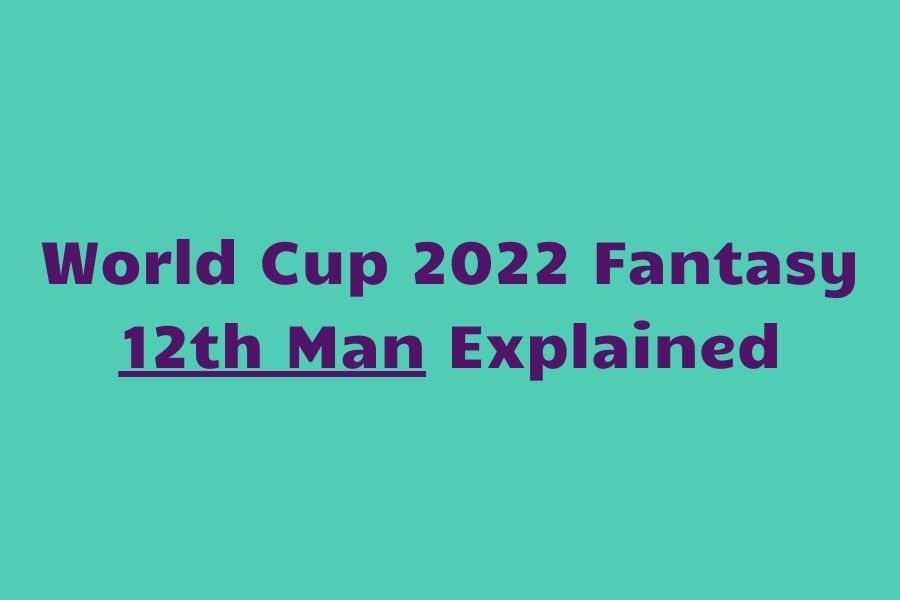 This article is a part of series: How to play World Cup 2022 Fantasy
What is 12th Man chip?
12th Man is one of three boosters in World Cup 2022 Fantasy and it allows you to pick one additional player to score points for your squad in a given matchday. Budget and formations restrictions do not count here and you can pick absolutely any player from any team to be your 12th Man. The twelfth man, once selected, cannot be captained, substituted or transferred out.
When is the best time to use 12th Man in World Cup Fantasy?
Because you can pick any player from any team as your twelfth man, it makes the biggest sense to use this booster in a matchday where we have many good fixtures – a matchday where many heavy hitters play against whipping boys. Basically, the best time is in a group stage where many crazy scores can happen.
You can use it on a player, that you do not want in your team in all 3 matchdays but on one matchday he has such a good fixture that you just need him in your squad.
But Matchday 3 is going to be full of rotation, so make sure you pick a player that is likely to play (his team has not secured a spot for R16). There is a lot of uncertainties about France, Brazil and Germany line up in the MD3, so we would not go for their player.
Good time to use it could be in Matchday 1 (Mbappe, Kane, Ronaldo, Messi..) because of good fixtures and then you might play your wildcard in MD2 and power captain in MD3 or finals.
Should you use the 12th man booster in Matchday 6 or Matchday 7?
Do you still have your 12th man booster and considering using it in Matchday 6 or Matchday 7?
Well, both matchdays will be very similar – we will have 4 teams in both of them (because of 3rd place game, so no team gets eliminated).
So the range of players we can pick the 12th man from will be the same.
However, using the 12th man in Matchday 6 could have a slight advantage over Matchday 7, if you cannot field 15 starting players in Matchday 6 with your free transfers.
Here is why.
In Matchday 7, you will get 6 free transfers and none of your players gets eliminated. So you will have "half" wildcard for that round to built the fantasy team how you want. You can bring in any players you want to your team.
But in Matchday 6, we have just 5 free transfers, and half of the teams get eliminated. So we need to deal with eliminated players with 5 free transfers which means, we cannot really built our team how we want and might not be able to bring in some players we really want.
But you can do it with the 12th man booster. So, if you cannot bring in some key player for Matchday 6 without hits, bring him in as your 12th man. 
So when we consider this, Matchday 6 looks like a better matchday for using the 12th man booster than Matchday 7.
And, of course, do not forget to activate the chip before the deadline! (You cannot activate it during matchday).
And have in mind that once you pick your 12th man, you cannot change him.
Best 12th man for Matchday 7
Mbappé/Giroud/Griezmann
Messi/Di Maria/Alvarez
Perišič/Modrič/Ziyech/Hakimi
Best 12th man for Matchday 6
Mbappé/Giroud/Griezmann
Messi/Di Maria/Alvarez
Perišič
Best 12th man for Matchday 5
Neymar/Vinicius/Richarlison
Mbappe/Messi
Bruno Fernandes
Best 12th man for Matchday 4
Messi or Mbappé, if you do not have any of them in your starting XI
Kane
Depay
Bruno Fernandes
Best 12th man for Matchday 3
Depay (if in starting line up – you will know it before the deadline. We think he is the best 12th man – great fixture, talisman and we will know the lineups before the deadline. So for lineups before you activate the booster)
Messi (if you do not have him in your starting XI, what you should)
Kane
Son (still waiting for an attacking return, there could be goals at both ends in the match against Portugal)
Sané (only if you want to go big risk/big reward as we are not sure Sané will start)
Best 12th man for Matchday 2
Lewandowski
Messi
Neymar
Mbappe
Best 12th man for Matchday 1
Mbappe
Kane
Ronaldo
Can you change your 12th man?
Once you activate your 12th man booster, you cannot change it and the player you pick will stay your 12th man without possibility to replace him.