The first matchday of World Cup 2022 Fantasy Football is now over and many fantasy managers have mixed feelings about this game.  Nevertheless, Matchday 2 starts in a very short time. Let's quickly look at some tips, best players' picks, captain, chip strategy, or team selection for MD 2 that will help you to manage your squad in the following round of FIFA Fantasy.
So, without further ado, here are our Fantasy World Cup Matchday 2 Tips. 
1. Tips for Matchday 2 of FIFA World Cup Fantasy
Do not chase points from the previous matchday
If you missed some big points on Matchday 1, do not chase them on Matchday 2.
I mean, for example, if you went for Lautaro Martinez instead of Torres, Batschuayi, or Valencia, do not transfer Martinez out for them, just because the Argentinian blanked in the MD1.
In the MD2 the situation could be the opposite, and Martinez could be the one who scores while other cheaper forwards blank. The expected output of these cheaper forwards for the group stage was very similar for all of them before the start of the tournament, so now it is up to you to stick to your decisions and not get emotional.
Of course, this situation is just an example, but hopefully, you now know what I meant by not chasing points from the previous matchday.
The same goes for clean sheets. Just because Argentina or France did not keep a clean sheet in Matchday 1, it does not mean they will not keep a clean sheet in MD2 or MD3. So do not rush to transfer their defenders out for Tunisian or Croatian defenders. The situation in Matchday 2 could be exactly the opposite. Bookies expected Argentina and France to keep around 1.5 clean sheets in the Group Stage. So there is still room for that.
As all investment or trading platforms always say in their risk warning… Past performance is not indicative of future results.
Be flexible
If you had a plan in place before the start of the group stage it is great if you stick to it UNLESS the circuitousness changed.
I mean, if your chip strategy was: 12th man in Matchday 2, Wildcard in MD3, but now you found out that Matchday 2 Wildcard will allow us to create two separate teams for MD2 (before the start of MD2) and then for MD3 (before end of MD2) as well, it is okay to change your strategy.
Again, it is just an example. The important thing is that you are able to react to changing circumstances and adjust your strategy accordingly.
Successful people are often successful just because they often change their minds when conditions and circumstances change.
Use transfers and captain changes wisely
We can make transfers within matchdays, which is often very tempting and could lead to taking -3 or -6 points hits that won't pay out. Also, we have only one captaincy change allowed (when the first captain is locked), so it is tempting too to change your captain when your first one scores just 6 points.
But try to be more logical about your moves within the matchday and do not do moves you could regret later. The results of matches are unpredictable, so expect the unexpected.
Have two captaincy options for Matchday 2 as well
Just as in the first Matchday, make sure you have two captaincy options for MD2 as well, both who play on different times.
Do not forget to activate your wildcard in time
Booster must be activated before the deadline of the matchday (and then stay active for the whole matchday). So if you want to activate wildcard in Matchday 2 (as many managers plan to), make sure you activate it After Matchday 2 opens (at midnight AST time of the day of last matches MD1) in the game and before the first kickoff of MD2, which is on 25th November 10:00am GMT.
Still many bugs, so expect that points of your players will change
There are still many bugs and errors in the game, but take it with a smile on your face and enjoy the football. Developers are surely doing their best to fix them.
A lot of points have not been counted yet (points for key passes, shots on target, negative point for each additional goal conceded..). Have this in mind mainly when doing substitutions in your squad, as many players in your team might actually be on higher or lower points than it is shown in the game. For example, Trippier and Shaw should be on 0 and 3 points, while they are still on 1 and 4 points.
2. Fixtures to target in Matchday 2 of Fantasy World Cup
Let's look at who are bookies' main favorites to do well in MD2:
Based on these probabilities, Japan, Brazil and Argentina coverage for Matchday 1 looks crucial.
3. Clean sheet probabilities for MD2
Let's continue analyzing bookies odds for Fantasy World Cup Matchday 2. We used our Odds to probability calculator to convert other odds to probabilities as well, which helps us assess the potential of the following matchday.
Clean Sheet Odds Matchday 2
Bookies expect 9.78 clean sheets in MD2. Which teams have the highest chance of keeping a clean sheet? Bookmakers especially favor Senengal (50 %), Argentina (49 %) and Japan (48 %) to keep a clean sheet in Matchday 2.
See our full table here: World Cup 2022 Clean Sheet Odds.
4. Most key passes, tackles and shots on target
Which players were best at these statistics in Matchday 1? Checkout our tables:
5. Best players to pick in Matchday 2
We also looked at players from each position: goalkeepers, defenders, midfielders, and forwards. We examine which players are best picks in each price bracket: budget enablers, midpriced picks, and premium options:
Top picks and differentials for Matchday 2
We also looked at the 5 best scout picks for MD2 and then at top 8 differentials (under 2 = owned). You can check them in our articles:
6. Best captain for Fantasy World Cup Matchday 2
When we select a captain in fantasy football, it is all about the fixture. Basically, we try the pick the fixture that has the highest haul potential (or hattrick potential).
We think, that for Matchday 2, Poland vs Saudi Arabia, Argentina vs Mexico and Brazil vs Switzerland are two best fixtures for captaincy. Therefore we think, that Messi is the best captain in Matchday 2.
But Lewandowski is going to be our first captain, and if he will not deliver, we switch captaincy to Messi.
Do not forget we can change our captain only ONCE per matchday, after your first captain is locked.
Captaincy thresholds:
So, when to change the captain? What is the satisfying amount of points? With 5 points for goals and points for Key Passes and Tackles, we think that the magic number is 6 points. So when your captain scores 6 points or more, you leave the armband on him. When he scores less, you switch the captaincy.
Switching captaincy is a common feature in UCL Fantasy as well, so you can find more interesting information about switching the captaincy in our article: When to change captain in UCL Fantasy? All ideas mentioned in the article 100% apply to Fantasy World Cup as well.
7. Wildcard team selection for Matchday 2
Here is our current wildcard team selection for Matchday 2. Lewandowski – Messi potential captaincy sequence.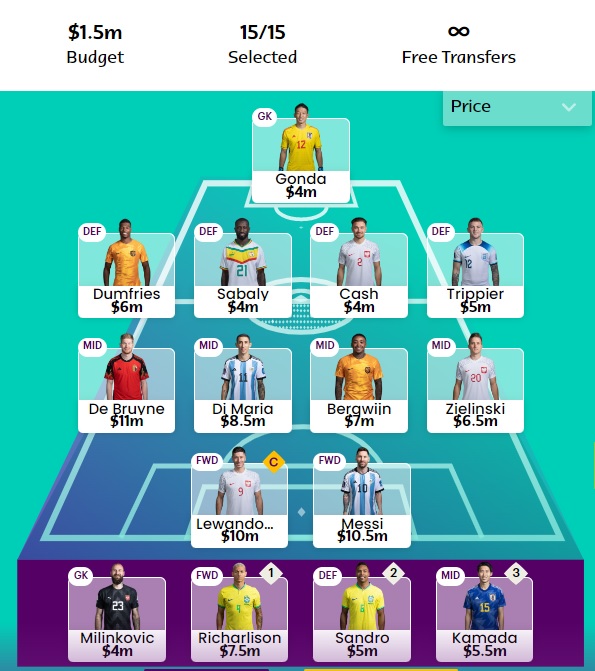 8. Fantasy World Cup Tips
Find more tips, strategies and picks for Fantasy World Cup in these articles:
FAQ
Who is the best captain in Fantasy World Cup Matchday 2?
We think Messi is the best captain for the Matchday of the Fantasy World Cup. But Lewandowski is going to be our first captain, and if he will not deliver, we switch captaincy to Messi.
Which players should I pick for my team in Matchday 2?
These are players we consider to be almost essential picks for MD2: Messi, Lewandowski, Dumfries, Kamada.
Should I use my wildcard in Matchday 2?
It appears that Matchday 2 might be the best time to use a wildcard in Fantasy World Cup. It allows you to prepare your team for MD2, and then to make changes at the end of MD2 to set up your team for Matchday 3, as the booster is active during the whole matchday.
Can I change my captain in World Cup Fantasy?
Yes, you can change the captain of your team in World Cup Fantasy to a player who is yet to play. But you can do it only once per matchday!
When to change captain in World Cup Fantasy?
We use a threshold of 6 points for changing the captaincy. So if your first captain scores 6 or more points, you leave the armband on him.