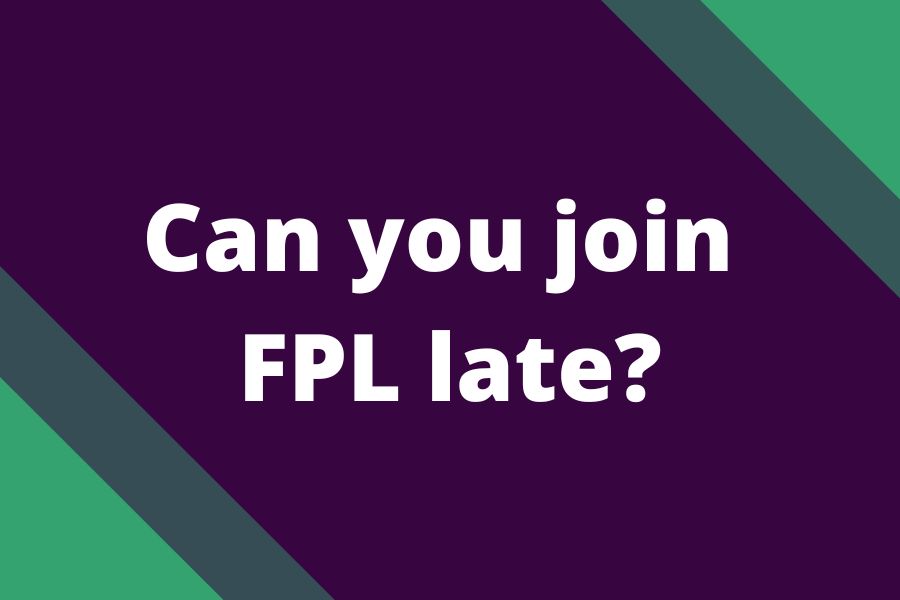 Did you miss the deadline for GW1 in Fantasy Premier League? Or just learn about this game too late and know you are not sure if you can join it after it started?
Or would you like to join FPL league late and you are not sure if you can? 
We will discuss all answers to these questions in this article. 
Can you join Fantasy Premier League late?
Yes, you can join Fantasy Premier League late, after the season starts.
You can join it during every gameweek of the season – in GW2 or during mid-season – there is no limit for new players.
Of course, your score will start the count from the following gameweek after you registered your FPL team.
It means, that you have a smaller chance of winning the game, because you missed the first gameweeks of the season.
Is there any advantage in joining FPL in GW2 or later?
When you join Fantasy Premier League late, your chances of winning the whole game are very very limited. It is almost impossible to fill the points gap between teams registered after GW1 and teams registered on time. 
However, it is never too late to join Fantasy Premier League! Joining FPL late have some advantages and you still have a lot to play for!
Let's look at some of them. 
1. You can win Gameweek 2 mini-league
Even though your chances in getting solid overall rank are limited, you can compete with all other FPL managers that decided to join FPL in the gameweek you did – for example Gameweek 2 (or Gameweek 3,4… depending on time you join Fantasy Premier League season).
FPL has mini-league for every gameweek for managers that registered their teams in that gameweek. 
So, instead of focusing on good overall rank, you can fully focus on beating rivals from the Gameweek 2 mini-league. But no, there is no prize for winning such mini-league.
2. You can win FPL cup
If an FPL prize is what you aim for, you still have a chance of winning some even when joining FPL late. You have a chance to win FPL cup, which starts at the end of the first half of the season.
Your chances are the same as managers that joined the game before start of the season.
3. You have unlimited transfers in the gameweek you join
If you join FPL in Gameweek 2 (or any other gameweek), you will have unlimined transfers before that gameweek's deadline, while all other FPL managers will have just 1 free transfer.
Basically, you can use all the information about players and their performances from previous gameweeks to make the best FPL team possible.
You will have a better picture about, who the key players are and who do bargains are and could use it to your advantage.
4. You can focus on players that will rise in price
Price changes are an indispensable part of Fantasy Premier League. Player prices will change between gameweeks based on their performance. 
When you have unlimited transfers before the Gameweek 2 deadline, you can load up on players that are expected to rise in price and build your team value early. 
5. You can exploit fixture swing
Similarly, you can fully exploit fixture swings when joining FPL late. For example, there are teams that had tough fixture in GW1, however, their run of fixtures from GW2 onward is really favourable. 
You can focus on players from those teams and find some good differentials – as managers who built their team before GW1 avoided these players because of tough fixture. 
6. You will get invaluable experience
Another benefit is, that you will get more experienced in the game. So even when you join FPL late, those gameweeks you participate in will help you acquire skills that might be crucial for you success in next season.
You will get familiar with bonus points, price changes, chips, double gameweeks… and all those things that you can experience only when you play the game. However understanding them is a neccesary part of FPL success.
7. You can create mini-league for your friends and compete with them
You still can compete with your friends. Just create a mini-league in the gameweek you join and invite your friends into it. The scoring of the league starts in the gameweek it was created, so you all will have the same chance of winning it!
So as you can see, even if you missed GW1 deadline, there are still things to play for in Fantasy Premier League. Do not hesitate and start picking you squad today!
There is on more topic I would like to mention – and that is mainly for managers that created their teams before the start of the season, but want to join mini-league late. 
Can you join FPL league late?
Yes, you can join FPL league late. The scoring of each mini-league starts in the gameweek the league was created.
So, if you registered your team before gameweek 1 deadline and in GW2 you decide to join the mini-league (that was created before the start of the season), your total points will be taken normaly and your GW1 score will be added.  
However, if you join a league that was created in GW2, your GW1 score will not be added.