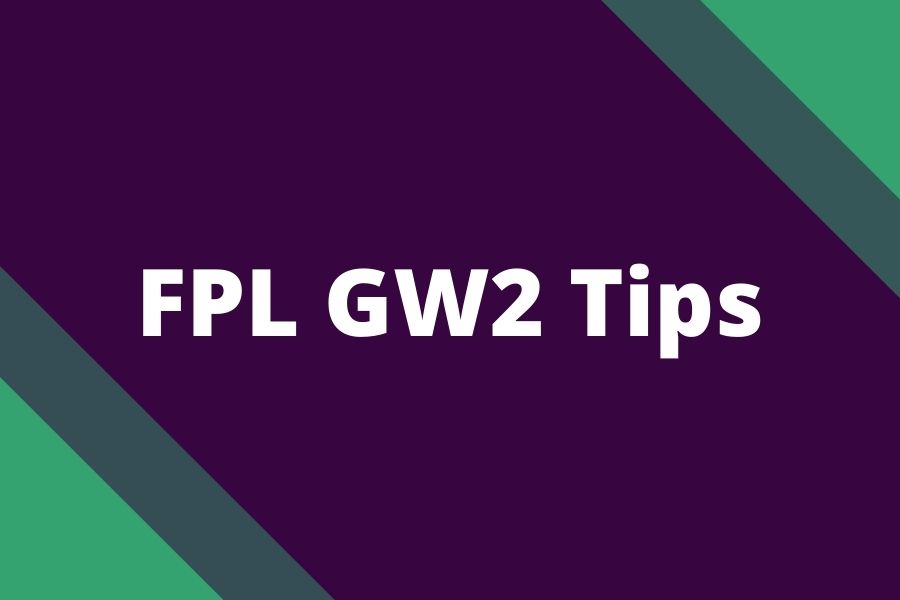 The first gameweek of the new Fantasy Premier League season is now over. And it was a pretty high-scoring round but is time to look forward to FPL Gameweek 2.
And here is one very important GW2 tip for you, FPL managers, from the very beginning of the article.
Keep your emotions in check. Do not make emotional decisions – rage transfers and do not chase points from previous GW.
That would very likely hurt your score in the next round. Calm down, take a deep breath and use logic instead. From a mathematical point of view, the FPL is a chaotic system.
The Chaos Theory shows us that chaotic systems can be predictable. But just for a while. Then randomness appears again. So do not let the randomness of the first gameweek to disrupt the strategy you set up before the beginning of the season. And do not tear apart your team just to bring in some players that (maybe just randomly) hauled in GW1.
Do not draw conclusions about the 2023/24 season just from one gameweek of data. What you have seen was just a variance.
Read more: 4 Books that will help you improve your FPL skills
That being said, let's continue with our FPL GW2 tips, best picks, fixtures, transfer targets, odds, captain picks and team selection.
1. Fantasy Premier League Gameweek 2 Tips
Try to save free transfer for the next round – you will have more data after GW2 and bigger flexibility with 2 free transfers
Unless your team is in terrible shape already, avoid wildcarding this early. Wait for a fixture swing. Read more: Essential tips for effective use of Wildcard in FPL
Stick to your strategy and plan you had before GW1. Eliminate the noise.
Be patient with players that blanked. Give them more time.
Past performance is never a guarantee of future results.
Play the long game. You cannot predict short-term results, but you can estimate which players will do well in the long run.
And as we mentioned at the beginning of the article, keep your emotions in check and do not make rage transfers
You could play Turner as your GW2 goalkeeper – Sheffield are very poor in the attack, they have a lot of injured attackers, Nottingham, with 38 % clean sheet odds
Jesus is close to returning, do not gamble on Nketiah (source)
Gabriel replacement: Best Gabriel Replacements for GW2
Blank gameweek: Burnley and Luton do not play in GW2, make sure you have at least one starting player on your bench
Do not forget there is a midweek game UEFA Supercup, so keep an eye on the Manchester City assets
If you want to make a transfer before GW2, our advice is to ignore price rises and rather wait until press conferences are over to have all information available to make the informed transfer decision
Reece James picked up a hamstring injury, and could potentially be out for a few weeks
One week punt (differential) for gameweek 2: Brennan Johnson
Read more:
What to do with some players:
Gabriel: If you have money in the bank to get Chilwell, do it. If not, you could buy Brentford Defender (Henry, Pinnock). Also, there is an option of keeping him. We do not know whether he is going to be benched again. It was just a tactical change, so there is still a chance that he could start against Palace.
Stones/Ruben Dias – Chilwell/James are obvious replacements, be careful to not get locked out of the move because of price changes. We would wait for how City line up in a midweek game against Sevilla in Super Cup and press conferences and then do the decision. But if you do not have money in the bank, price changes could lock you out of a possible move for Chelsea defenders.
Trossard/Jota – keep them. When you did your GW1 selection you knew they were rotation risk. Stick to your strategy. They did not deliver in GW1, but could easily deliver in GW2, even off the bench.
Isak – fixtures are tough and he will share game time with Wilson. We would wait for GW4 to get him in despite price rises. And be cautious with him. We saw this before in previous seasons when forwards like Mitrovič, Pukki, and Calvert Lewin did exceptionally well in the first 2-3 gameweeks, and then just started to blank almost in every game.
Eze – keep him, he was great in terms of underlying stats, but just did not deliver. Attacking returns will likely come soon.
Rashford/Fernandes – keep them, it is too soon to transfer them out, despite they struggled in GW1. Wait for more data and stick to your previous decision.
2. Key players to own and transfer targets for FPL GW2
Key players
Haaland – captain option in almost any gameweek
Saka – stable output over the last few years, on pens, bonus points magnet
Estupinan – played in a very advanced position against Luton
Rashford – a key player for United
Transfer target
PEP 💬 [On De Bruyne] It's a serious injury, we have to decide on surgery but he will be out for a few months. pic.twitter.com/aH7PFzqGXq

— Manchester City (@ManCity) August 15, 2023
Alvarez – with KdB out for a few months with a serious injury, he will be good value even if he is benched in few games
Chilwell/James – you should consider Chelsea defenders/attackers for their fixture run in GW2-GW8
Mbeumo/Wissa – try to squeeze at least one Brentford attacker to your team for their fixture GW2 – GW7
Henry/Pinnock – Brentford defenders should not be overlooked given their fixtures
Alexander Arnold – mainly for the fixture against Bournemouth
Mitoma/Joao Pedro – Brighton is strong in the attack, you will likely need their attacking coverage over their fixture run. Pedro is on penalties.
Salah – if you want a differential captain in Gameweek 2
Gusto – If Reece James is out for a longer period
Players who impressed in GW1
Eze – excellent underlying numbers
Newcastle attackers – plan to get some Newcastle players in your team in GW4
3. Fixtures to target in Gameweek 2
In which fixtures we could expect a lot of fantasy points? Fixtures to target in GW2 according to bookies odds:
Liverpool vs. Bournemouth: The Reds 81 % to win, 55 % to score 2.5+ goals
Manchester City vs. Newcastle: Citizens 63 % to win, 31 % to score 2.5+ goals
Crystal Palace vs. Arsenal: The Gunners 62 % to win, 28 % to score 2.5+ goals
Aston Villa vs. Everton: The Villans 61 % to win, 27 % to score 2.5+ goals
4. Best players to pick in Gameweek 2
We also looked at players from each position: goalkeepers, defenders, midfielders, and forwards.
We examine which players are best picks in each price bracket: budget enablers, midpriced picks, and premium options. Check our watchlists here:
5. Best captain pick in FPL GW2
Who is the best captain in Fantasy Premier League Gameweek 2?
First of all, you cannot go wrong with Haaland captain – he is an amazing captaincy option, he is the safe captaincy option for Gameweek 2 despite a bit tougher fixture against Newcastle. He can score against anyone.
According to our captaincy index, Haaland is the best captain in FPL GW2, but it was very close between Haaland and Salah.
But if you want to go with a differential captain, consider Salah. If you own him, you could captain him. He carries amazing form from preseason matches and the fixture against Bournemouth promises a lot of chances for the Egyptian king.
Saka is the number three captaincy pick according to our captaincy index.
6. What bookies odds say about Gameweek 2
As usual, we converted bookies odds into probabilities using our Odds to probability calculator, to assess the potential of gameweek 2.
Clean sheet odds for GW2
Liverpool (49 %) is the most likely team to keep a clean sheet in GW2. Bookies also favor Arsenal (45 %) and Aston Villa (44 %) to potentially keep a clean sheet in GW2.
Do you have Liverpool defensive coverage for Gameweek 2?

Clean Sheet Odds for #GW2 #FPL

Odds for all team available here:https://t.co/qqR5rk3ohZ pic.twitter.com/skW3QPXC50

— Fantasy Football Reports (@FplReports) August 17, 2023
Bookies expect 4.88 clean sheets in blank gameweek 2. In last season, we were used to a rate of 5.45 per clean sheets gameweek.
Goalscoring odds for GW2
As usual, Haaland leads the goalscoring odds table for gameweek 2 with a 46 % probability of scoring a goal. Salah is second (45 %) and Watkins (37 %) third.
Haaland or Salah as #GW2 captain?

According to bookies odds, Haaland has a slight edge.

Anytime goalscoring probabilities for more players are available here: https://t.co/et4aIgVw0p#FPL #FPLCommunity #PremierLeague pic.twitter.com/wkkDJgn91d

— Fantasy Football Reports (@FplReports) August 17, 2023
You can look at all most likely goalscorers here: Premier League Any Time Goalscored Odds.
7. FPL GW2 Team selection
Now let's look at our FPL team selection for Gameweek 2. Salah is our (differential) captain. Our scout picks for GW2: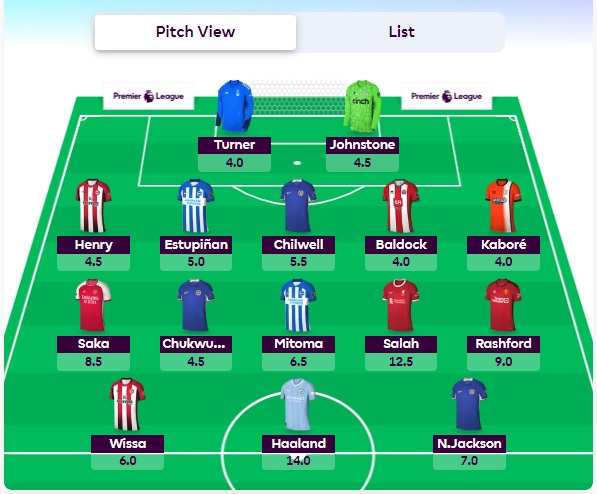 8. Fantasy Premier League Tips
Find more tips, strategies and picks for Fantasy Premier League in these articles:
We hope our FPL GW2 tips helped you to gather some useful information before the Gameweek 2 deadline.
Feel free to JOIN our Fantasy Football Reports mini-league by clicking this link or using our league code ti56kl.
Good luck in FPL GW2!