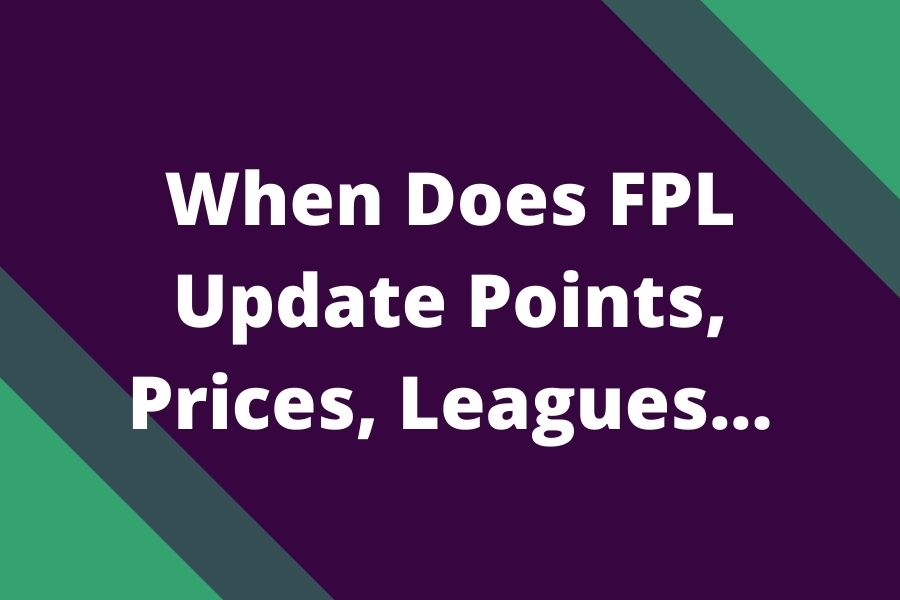 As managers plan and re-plan their Fantasy Premier League teams, keeping an eye on player performances, transfers, and more, they often wait until game is updated.
Let's quickly look at when does FPL update points, prices, leagues, benches, and bonus points.
When Do FPL Points Update?
A central aspect of FPL is the point system.
Every tackle, goal, assist, and clean sheet contributes to the points your players earn.
According to the official FPL rules, player points are updated in real-time as matches take place. This means you can track how your players are performing while watching the matches.
When Do FPL Prices Update?
The price of a player in FPL isn't static. Traditionally, price changes take place in the early hours of each morning, approximately between 02:00-03:00 GMT. Read more about it in our article: FPL Price Changes explained.
When and How Often Do FPL Leagues Update
Ever wondered after a successful game day when you'd see your team soar in the league standings? FPL leagues, both public and private, usually update about 2 hours after the final whistle in the last match of the day.
Addressing the frequency of these updates, leagues get refreshed daily, after the conclusion of each day's matches. So if you have players performing on multiple days of a game week, you'll see your league position potentially change each day.
However, your overall ranking and your overall points get updated usually an hour after each match is finished, so you can see how you are climbing overall ranking during the day.
When Are Bonus Points Updated in FPL
According to the official rules, bonus points are awarded one hour after the final whistle of the last match of any given day. Read more in our article: Bonus Points in FPL Explained
Substitutions and Bench Points Updates
All automatic substitutions and captain changes to vice captain (if your chosen captain didn't play) are processed at the end of the Gameweek, which is after all the matches have concluded.
This means that the total points reflected immediately after the last match might not be your final score for the week. If, for example, your captain didn't play, your final point tally would change after the entire Gameweek finishes, which is usually 2-3 hours after the end of last match.
Read more: Automatic Substitutions in FPL Explained
How Long Does FPL Take to Update After the Deadline?
The deadline in FPL is an hour and a half before the kickoff of the first match of the Gameweek.
Normally, FPL takes to update the game approximately 30 – 45 minutes after the deadline. However, the specific timing may vary depending on various factors, such as server load and the number of chips being played.
Further reading: When is the next deadline and international break in FPL?
When are new players added to the game?
Usually, new players are added to FPL within a few days, though it's always wise to monitor official announcements, price reveals and Official FPL on Twitter.