Firstly, we created our own league, where you can compete with us!
In this article I want to talk about the thought process of building a draft. Which players you should bring in first? How to manage your budget? Which premium players you should pick? What transfer should be your first?
Firstly, you should look up our post about FPL GW1 tips. It contains many general advices for approaching building your squad and mentality you should build before GW1.
Selecting a pool of players
We did a players review in one of our earlier posts and here we propose you the idea of narrowing potential players signings to a smaller list, this way you won't even consider "bad" picks.
Goalkeepers
Generally, it is advised not to spend tremendous amount of money on any GK.
Firstly, they all score almost the same points throughout the season and cost does not always correlate with the results. For example, Martinez was the top choice for the previous season and he started at the cost of 4.5. On the other hand, Ederson was 6.0 and he scored only 6 more points than Meslier, how also started at the price of 4.5. The difference between Meslier and Pope is only 10 points throughout the season, when the difference between Mane and Salah is 45, so it is more vital to select the right scorers.
Secondly, goalkeepers, unlike other players, tend to score points in unfavorable matchups. If a game between Brentford and Liverpool results in a 1-1 draw, it is more likely that Liverpool spent more time attacking than Brentford, therefore Brentford's goalkeeper will make more saves than Liverpool's.
Thirdly, you should compare a goalkeeper from a team with the defender options this team offers. For example, you can pick Leno at the price of 5.0 or you can pick White at the price of 4.5. Yes, you will miss on saves points, but this 0.5 can give you more flexibility with your other players whilst still getting the same cleansheet points. Another example is Mendy and Chilwell at Chelsea. They cost the same, but Chilwell is extremely attacking and can score you more points with assists and even goals.
Lastly, it is not advised to use a transfer on a GK because of all the reasons above and because it is rarely your most problematic spot in the team.
So here is the list of preferred choices:
Raya
Sanchez
Guaita
Darlow
Krul
Bachmann
Also, it is worth saying that you can combine two playing goalkeepers with some rotation plan to target favorable matches, but is very hard to guess sometimes, which one will score more. There are plenty of examples from the previous seasons when your choice scored 2 points and the other one on the bench scored 8+.
Defenders
There are many different approaches for your defenders selection. Firstly, you need to decide which formation do you prefer. If you prefer to play 3 at the back, you should not pick 5 premium defenders, as you probably won't be able to select the best starting XI and block funds with your bench. But on the other hand it might be very useful to have at least one playing defender on the bench, so that you are not that affected by a sudden injury in your team.
It is essential that you choose right from the variety of options. For example, Man City offers Stones and Zinchenko at the same price of 5.5, but Zinchenko is not nailed and even if he participates in the match, he can play less than 60 minutes and that will ruin your potential cleansheet and there is less time for him to make an assist. Also it could be worth putting a little bit more money in a defender if he offers more threat, for example Cresswell costs 0.5 more than Coufal, but he scored 25 points more previous season.
So what do you want from a defender are cleansheet potential and possible attacking returns.
List of top attacking defenders:
Alexander-Arnold
Cancelo
Shaw
Coufal
Cresswell
Robertson
Digne
Chilwell
James
Tierney
Justin
Saiss
Ayling
Veltman
Dunk
Stones
Wan-Bissaka
List of nailed defenders from teams with great defense:
Dias
Maguire
White
Soyuncu
van Dijk
List of cheap options:
Taylor
Mitchell
Targett
Gomez
Lewis
Bednarek
Dier
Coady
Also there is a list of 4.0 defenders that seem to at least start the season:
Tsimikas
Amartey
Manquillo
Omombamidele
Duffy
Livramento
Midfielders
This is probably the most simple position to fill. Midfielders get 5 points for a goal, unlike forwards who get only 4. It is rarely seen that a good team consist of less than 4 midfielders (the most popular formations are 3-4-3, 4-4-2, 3-5-2). Here we should look at the greatest strikers and assistants from each team:
Fernandes
Salah
Son
Mane
Rashford
Harrison
Gundogan
Ward-Prowse
Sterling
Mount
Mahrez
De Bruyne
Barnes
Zaha
Raphinha
Some cheaper options:
Jota
Greenwood
Soucek
Bowen
Traore
El Ghazi
Buendia
Saka
And very cheap options for the bench:
Forwards
The same as midfielders we want to pick the greatest strikers from each team:
Kane
Bamford
Vardy
Watkins
Calvert-Lewin
Toney
Pukki
Wood
Adams
Wilson
Aubameyang
Ings
Werner
Antonio
4.5 options for 3-5-2:
Also as a fan of Southampton I am expecting some returns from the new signing of Adam Armstrong!
Fixtures
Alright, we narrowed our list of players, but what else can help us make a draft? Each team has different attacking and defending strength as we reviewed in our pre-season fixture analysis. Let's try to narrow the list even more considering the fixtures and strengths:
Goalkeepers: Sanchez, Bachmann
Defenders: White, Dunk, Veltman, Chilwell, Digne, Ayling, Alexander-Arnold, Dias, Stones, Shaw. Punts: James, Amartey, Tsimikas, Dier.
Midfielders: Raphinha, Harrison, Barnes, Salah, Mane, Gundogan, Mahrez, Fernandes, Son. Punts: Buendia, Jota, Greenwood.
Forwards: Ings, Watkins, Toney, Calvert-Lewin, Bamford, Vardy, Wilson, Kane, Antonio.
Starting a draft
So we did all this work and how should be start our draft? Firstly, let's pick our "core players" and then assess where we are at: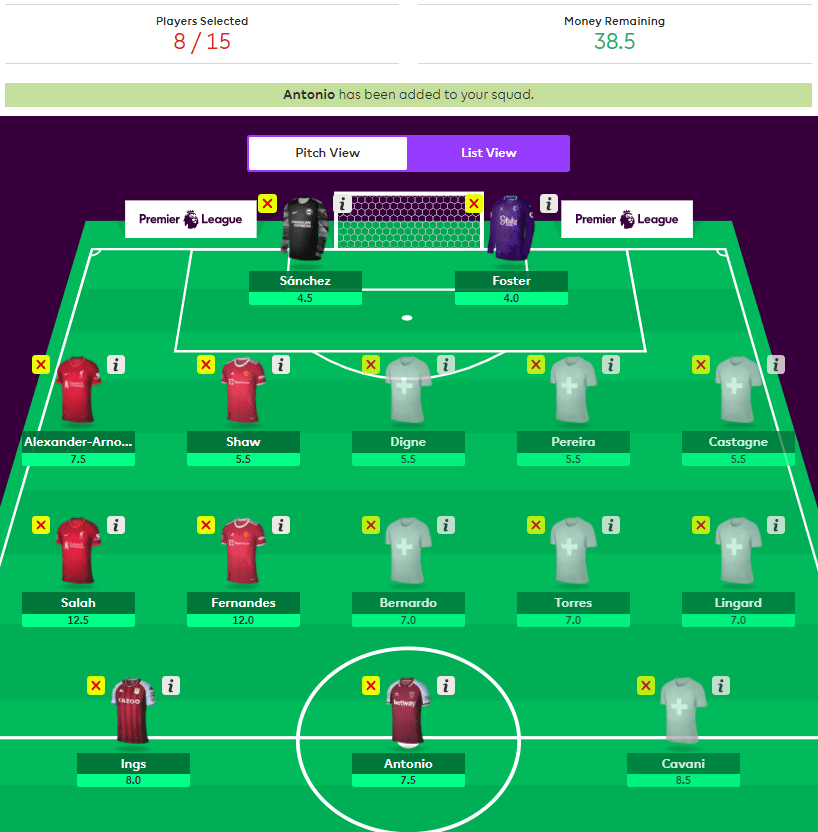 We picked two goalkeepers, 2 players from Liverpool and Man Utd each as they have great fixtures and these players are the most attacking for their positions. Also we picked mid-priced forwards with good fixtures and great scoring potential. Now we need to choose what formation we are playing with: 3-4-3 or 3-5-2. The latter is quite popular with many FPL experts, so let's try to make this one too. We need a 4.5 forward and 3 good midfielders.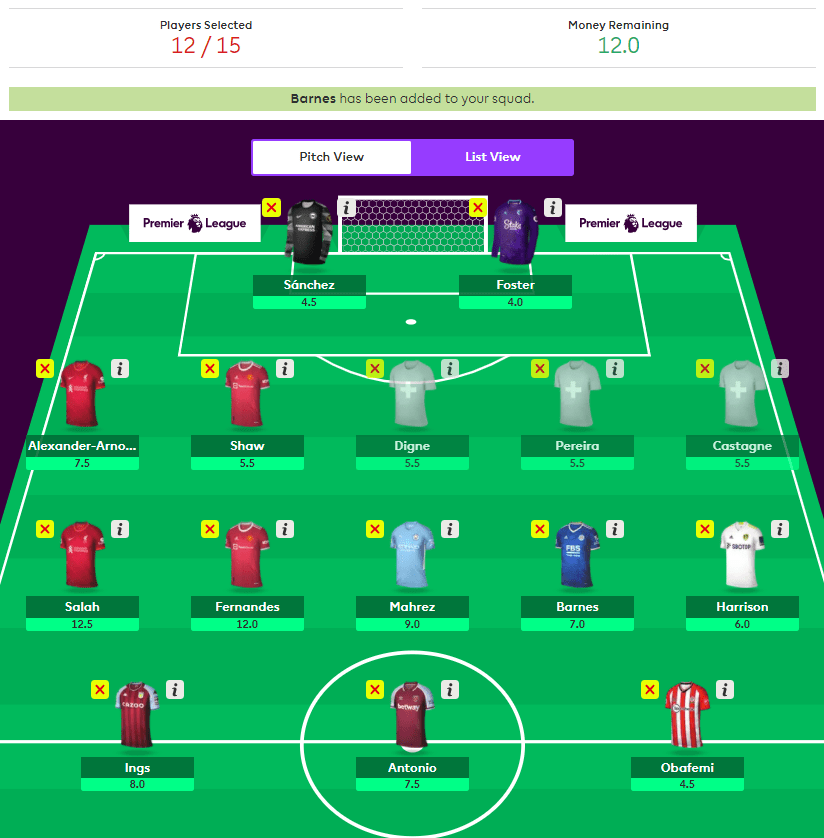 Oops. As we can see it is not that easy to get 5 good nailed midfielders in one draft as we are left with only 12 money remaining and we still need to get 3 defenders. That means that we need to get someone from "punts" section. Let's try Jota and finish our draft.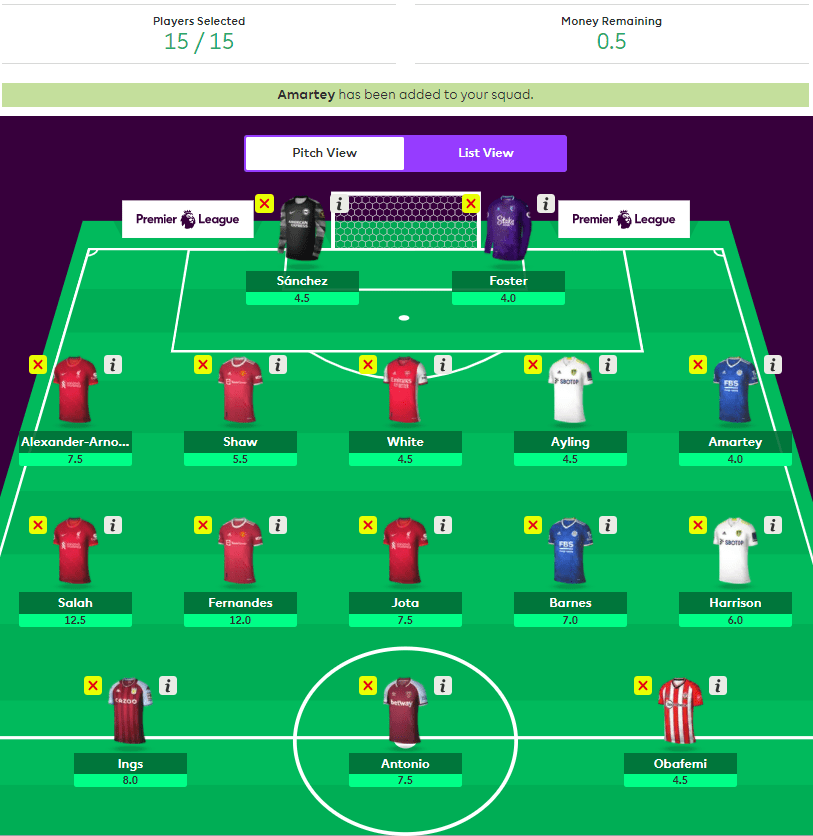 When we picked Jota, we were left with only 13.5 which gives us options to pick defenders with costs 5+4.5+4 or 4.5+4.5+4.5 or 4.5+4.5+4. I strongly advise to leave at least 0.5 in the bank at the start of the season, so we were left with only one option.
Of course, this is only a quick draft and there is many options to switch things around. You can switch Ings with Calvert-Lewin, Antonio with Wilson, Jota+Harrison to Greenwood+Raphinha, in which case you can switch Amartey to Tsimikas, but this is a complete draft which you can use.
Let's retrack our process and try to complete a 3-4-3 draft. We need another striker, preferably cheap, one 4.5 midfielder and two good options to play every week and 3 more defenders.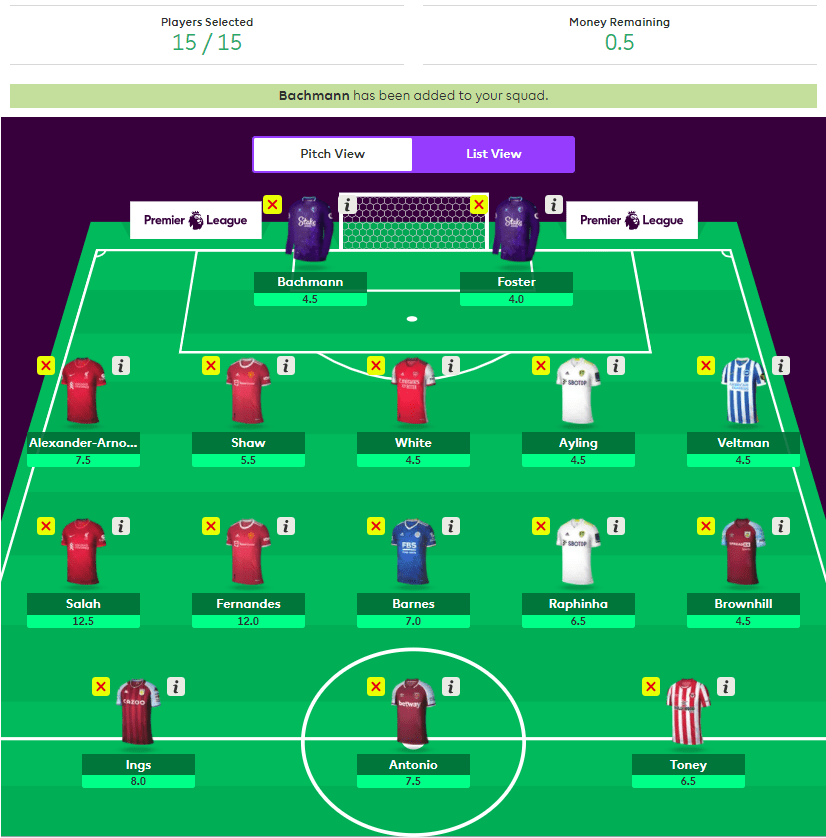 I switched Sanchez to Bachmann, because Brighton defense is not that great to double up on them early. Toney instead of Jota opens up more money to get all 3 nailed defenders at the price of 4.5. Raphinha to Harrison will even allow us to upgrade one them to 5.0 defenders such as Targett, Dunk, Coufal or Keane. Further downgrading Ings to Watkins or Wilson will allow us to get a 5.5 defender such as Cresswell, Stones, Digne or James, if you don't like, let's say, White: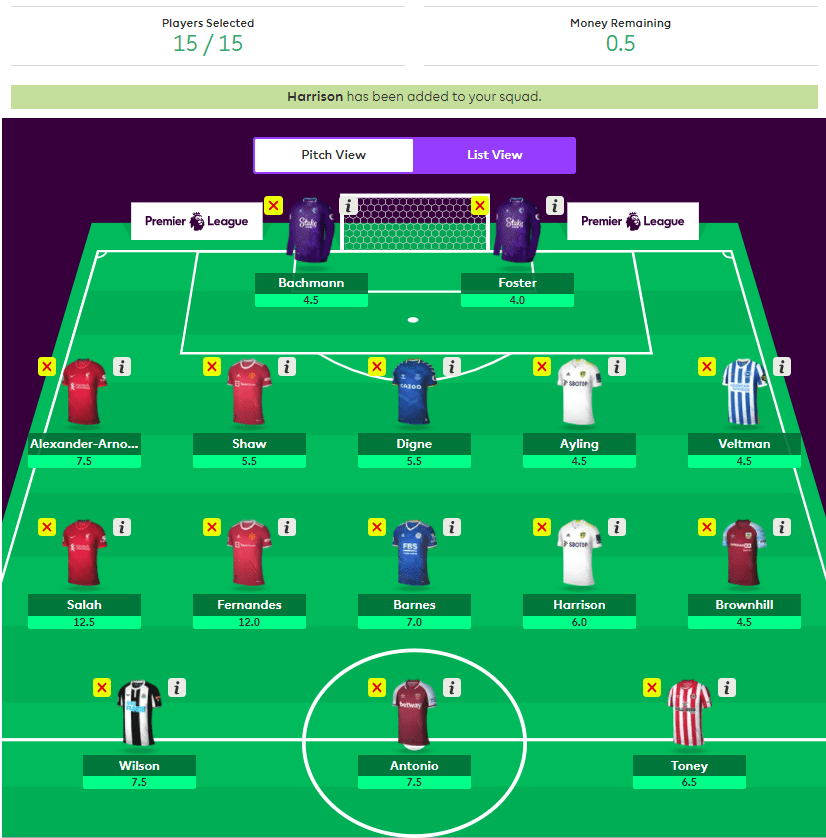 Further planning
Having many different price points in your team opens up options for further transfers. For example, this drafts did not contain Kane or Vardy, so if you would want to get them, you would need to make at least 2 transfers to get them in. But with Salah and Fernandes we can downgrade them to any midfielder we want with just 1 transfer, the same goes with Alexander-Arnold.
Also, we would not advise you on planning your first transfer straight away. Let's say that you want to pick Pepe for the first gameweek only and then transfer him to Son, because Pepe has 2 difficult fixtures next and Son has great ones. But then after the first gameweek, Son picks up an injury or what's worse someone else from squad does. You then would be in a difficult position yourself and even might be forced to take a hit as early as a second gameweek.
On the other hand, building you squad so you are content with it for long run, you are free to be proactive with your transfers and even do a mini-wildcard changing three of your players in gameweek 3 with only -4.
Conclusion
Firstly, don't get overwhelmed with the great amount of players that FPL offers. Create a shortlist of players that you think can score, then decide which of them should definitely be in your squad (remember to create multiple combinations), then decide which formation you want to play, then finish your draft and do some tinkering to create the very best team that you really like.
P.S. Don't forget to join us in our brand new league!
Players:
Alexander-Arnold
,
Antonio
,
Bowen
,
Buendia
,
Calvert-Lewin
,
Cancelo
,
Chilwell
,
Coufal
,
Cresswell
,
De Bruyne
,
Ederson
,
Fernandes
,
Gomez
,
Guaita
,
Kane
,
Keane
,
Lewis
,
Maguire
,
Mahrez
,
Mitchell
,
Rashford
,
Raya
,
Robertson
,
Saka
,
Salah
,
Soucek
,
Sterling
,
Toney
,
Tsimikas
,
Van Dijk
,
Veltman
,
Wan-Bissaka
,
Watkins
,
Zinchenko