In this article we will observe various methods to select your starting team for the season. We will look at top scorers of the last season, top expected scorers, top players at the end of the season, top picked players right now, talismans, and probable differentials. All data provided by understat.com.
If you don't know about xG you might want to read our article about xG and then return back to this one.
Top scorers of the last season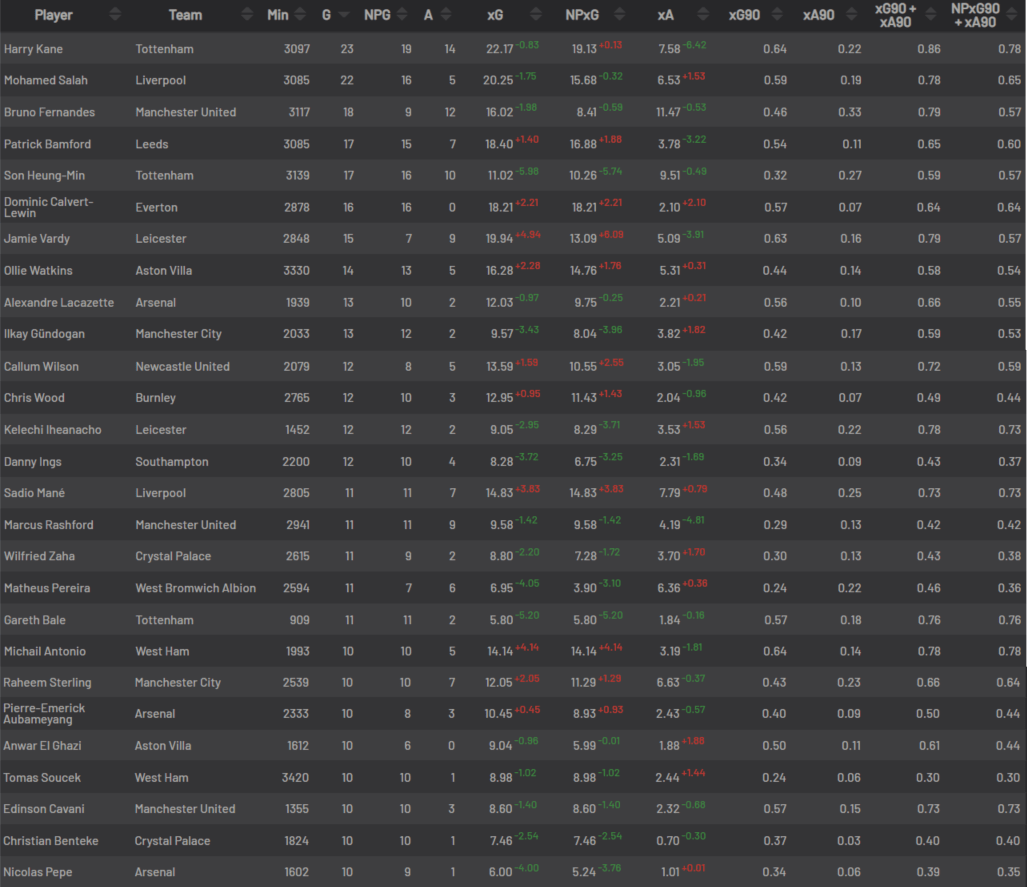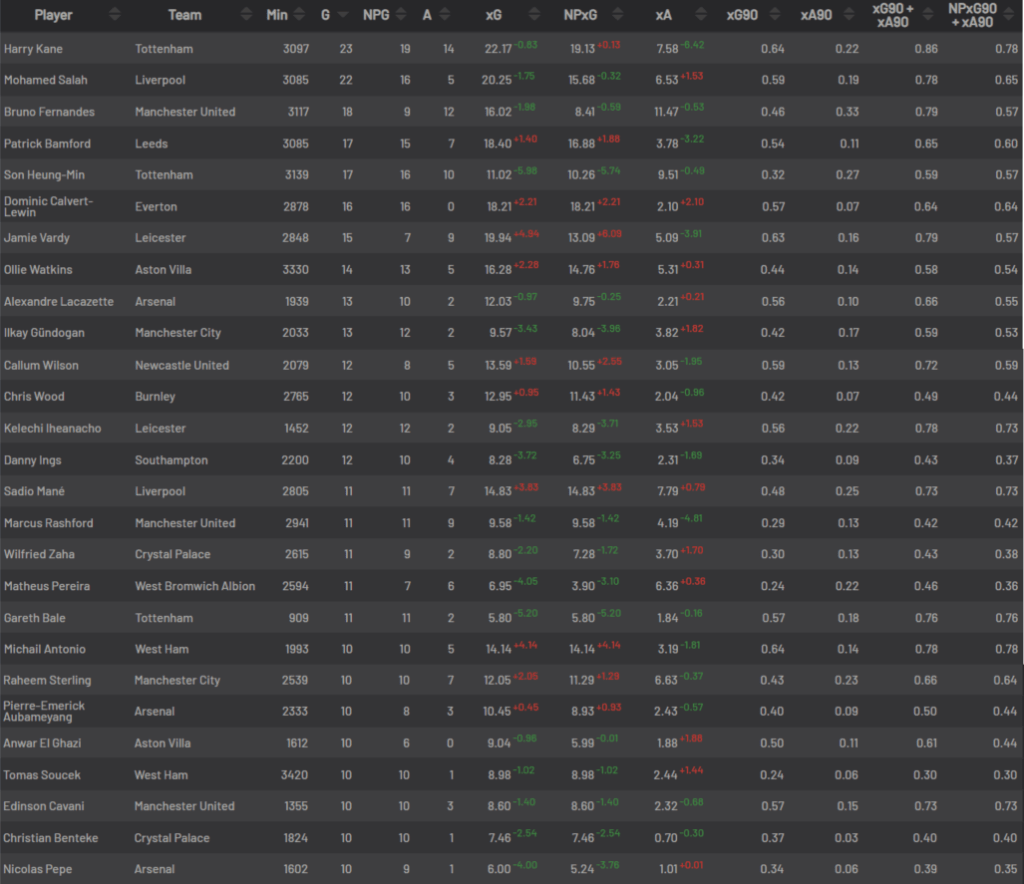 Here are some notes on this list:
Bruno and Vardy had scored at least the same amount penalty goals as non-penalty goals, but they both provided great amount of assists. Harry Kane is a very uncertain pick right now as no one really knows which team he will be playing for. It is quite possible that Ollie Watkins will forfeit his center forward position to Danny Ings. With Barnes back and Daka coming to Leicester side it is possible to see Iheanacho's minutes cut. Rashford won't participate in any games at the start of the season and other Man United options are not as secured as Bruno and so are all of the Man City options.


Ward-Prowse has shown us some major overperformance, whereas De Bruyne, Firmino and Werner have underperformed.
Top expected scorers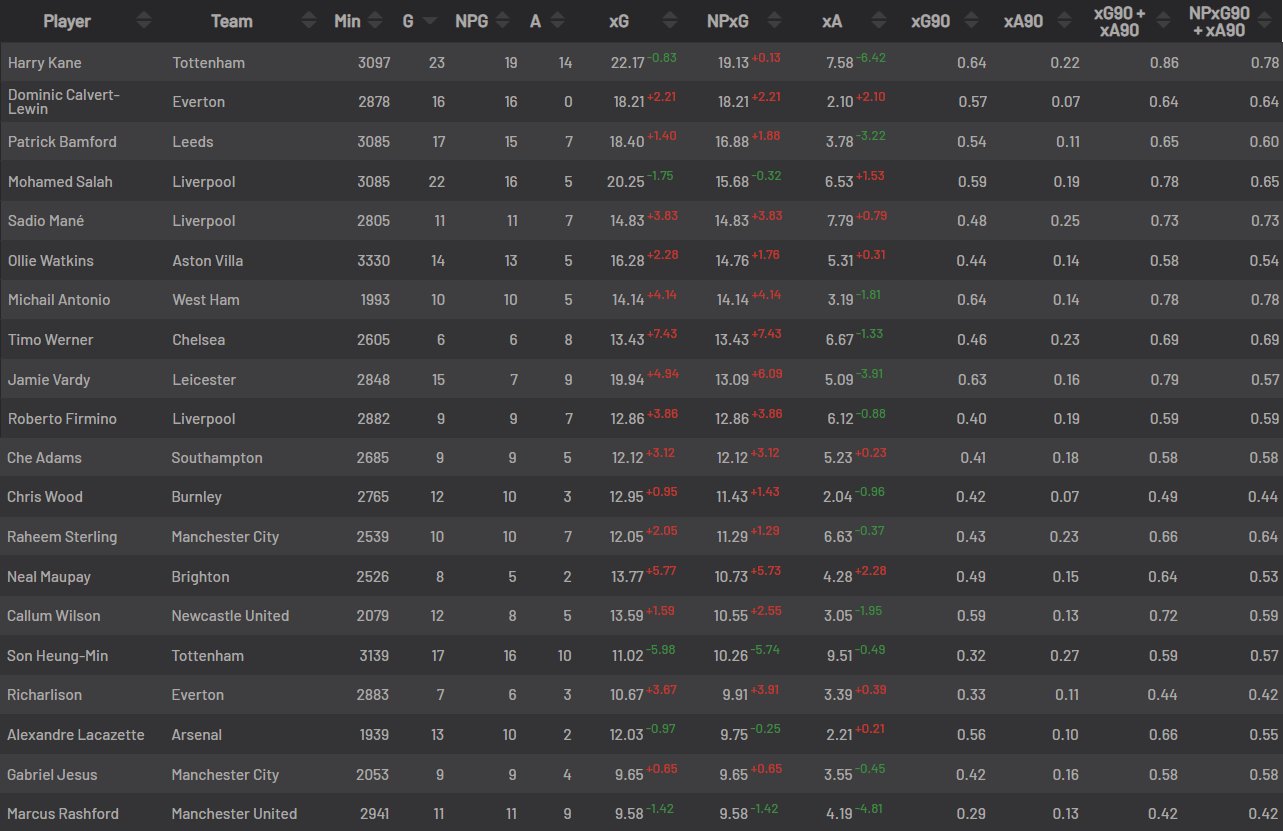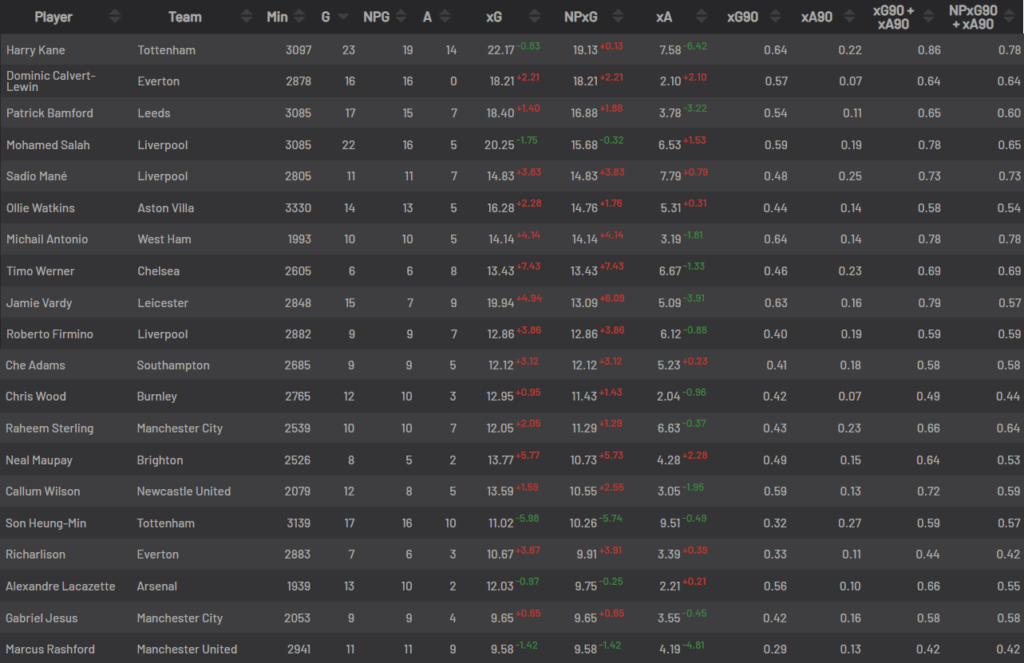 New faces here are: Adams, Maupay, Richarlison, Jesus. Adams could become the main striker at Southampton since Ings' departure. Maupay and Richarlison are not the best finishers in terms of meeting their expected goals and Jesus probably won't see too many minutes this season.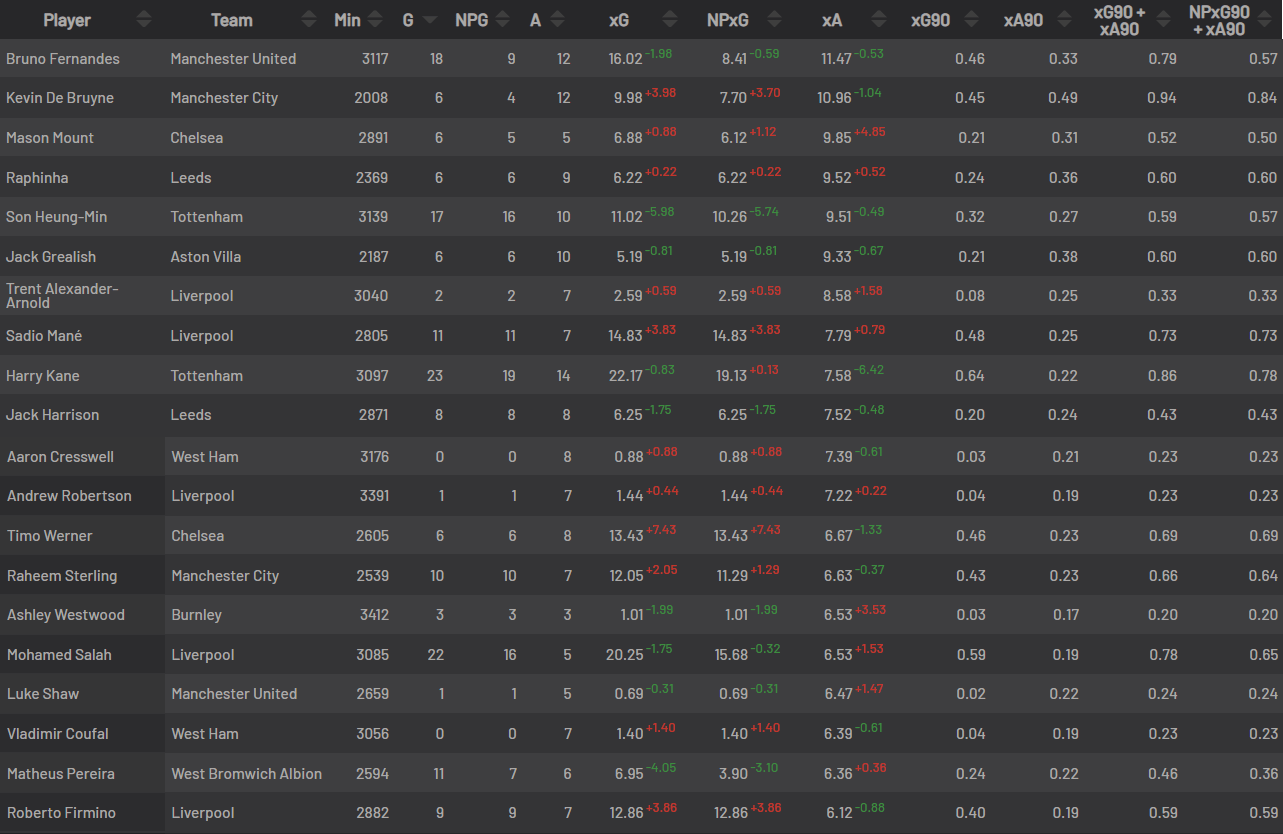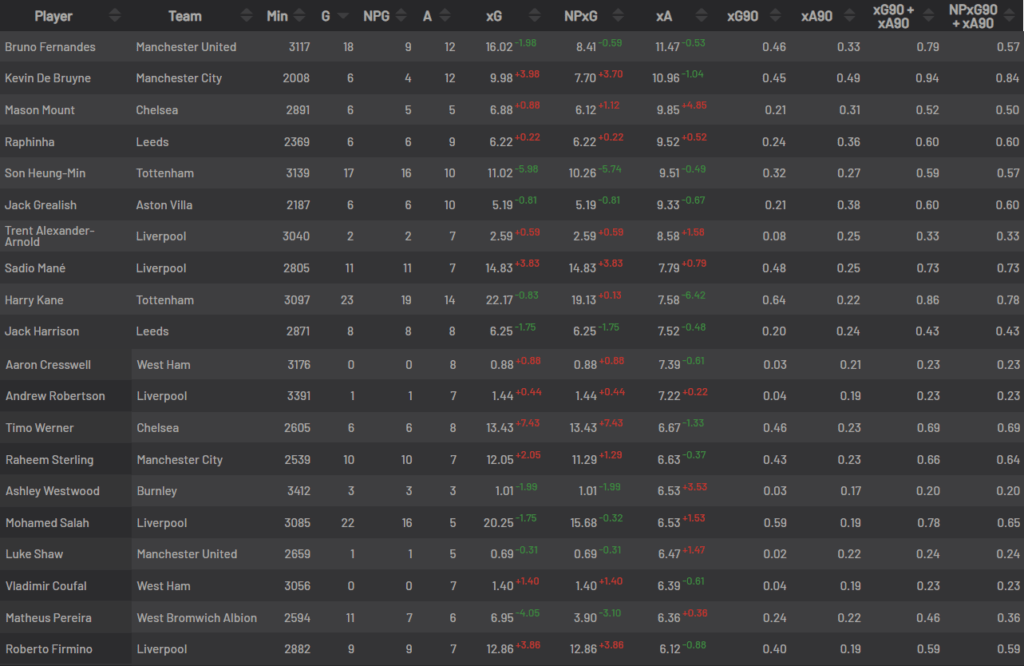 Mount and Westwood join the party and so are few defenders. Alexander-Arnold, Cresswell, Robertson, Shaw and Coufal have proven themselves one of the best assistants and of the best defenders options each in their own part of the season.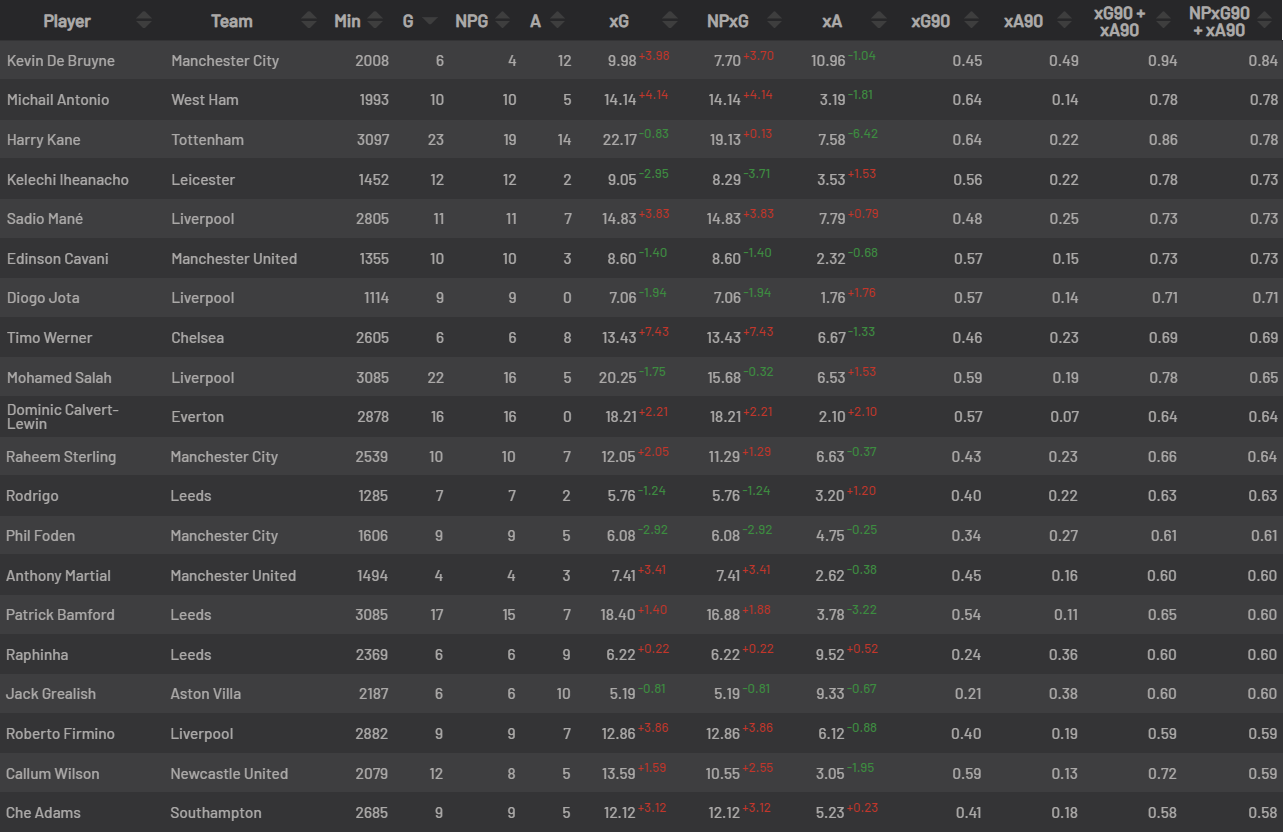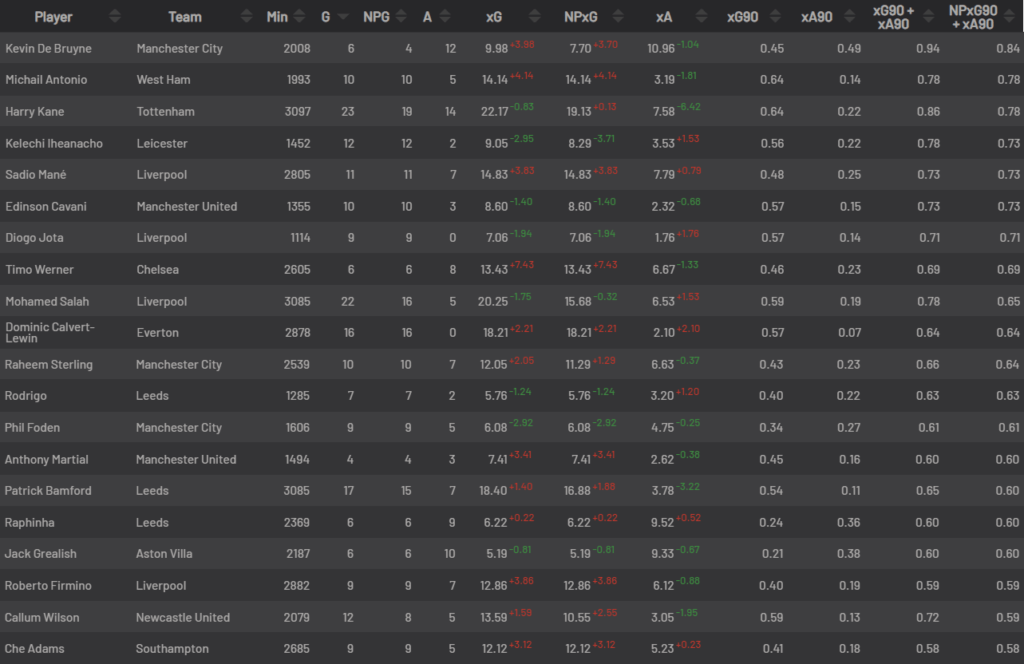 Here we can add Jota, Rodrigo and Foden to our big list of potential signings. Each one of them are great value fantasy players if they get their minutes.
Top scorers at the end of the season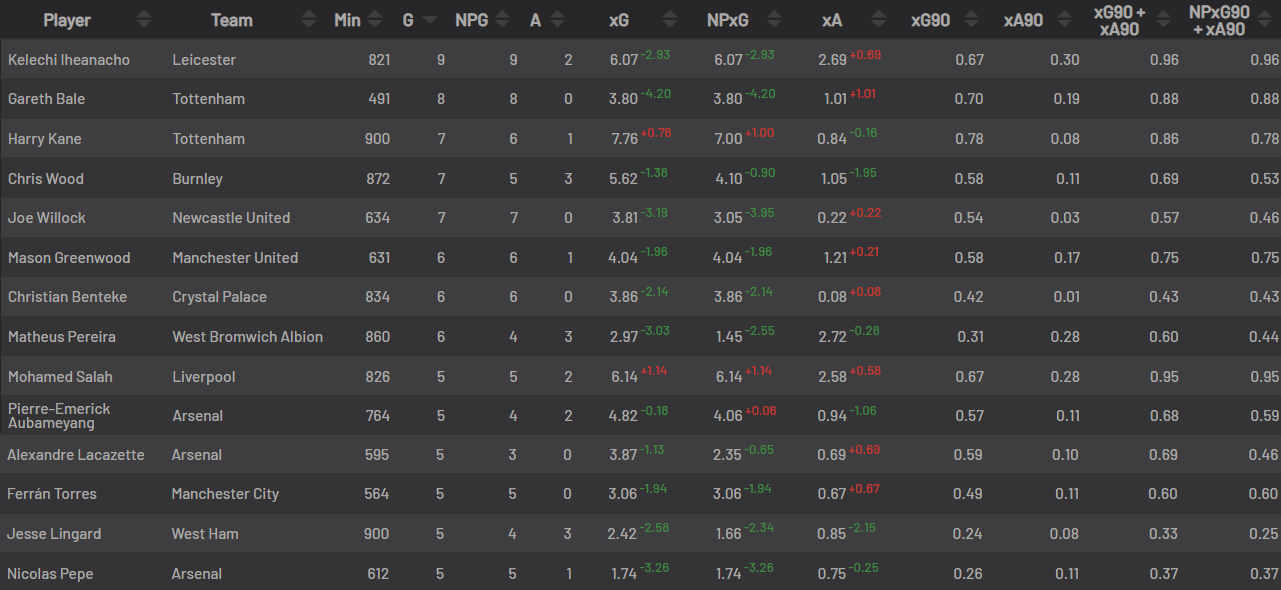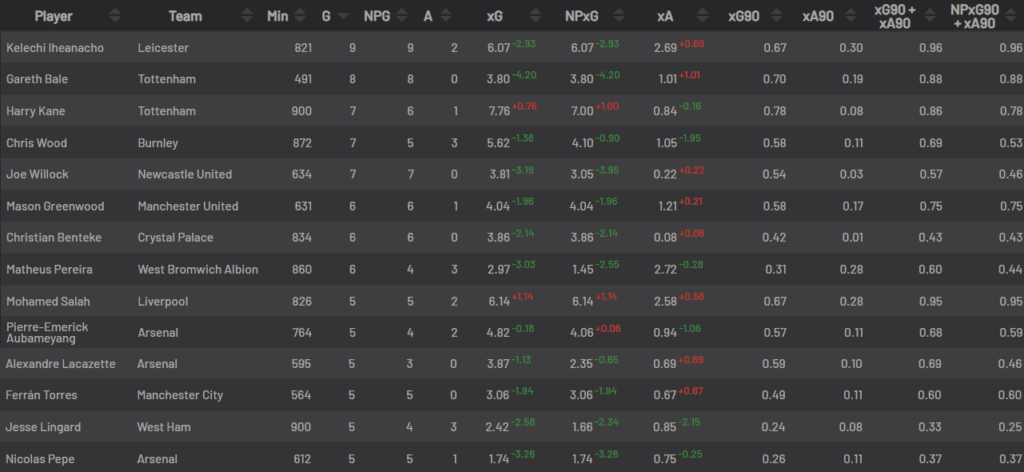 The only 5 players who did not massively overperform their stats are Kane, Wood, Salah, Aubameyang and Lacazette. It suggests that player form is essential for most players to show their best and there are only few who can perform at all times.
Team talismans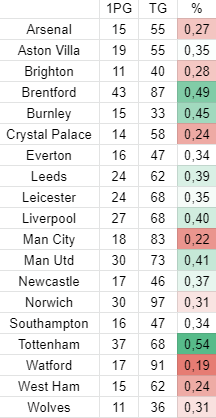 1PG means maximum goal involvement by one player in a season and TG means total goals by a team. Therefore we can calculate goal involvement percentage in the whole team by one person. This percentage is a probability that a team talisman will participate in a goal if one happens. For example, if Tottenham scores, you can say "Kane was involved in this goal" and you will guess in 54%.
What does that mean? If a team is expected to score many goals, there is a high chance that your player from this team participates in a goal whether he's a top scorer from this team or not. But it does not work that way with low scoring teams. For example, if you want to pick a Burnley player because of the fixtures or sudden increase of their team form, it must be Wood and none other. And this also means that you probably should not pick any player from a low scoring team with no real talisman, such as Brighton, Watford and Wolves. On the other hand it is fine to pick a player from a low scoring team if it is the right one: Toney from Brentford, Wood from Burnley, Calvert-Lewin from Everton and Wilson from Newcastle.
Top picked players
We will look at each position and review players with ownerships greater than 10%
Goalkeepers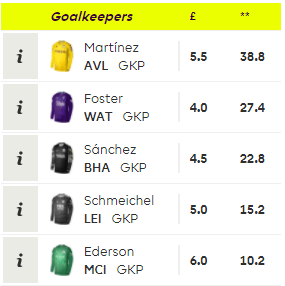 Martinez scored the most last season, but he started at the price of 4.5. He has similar situation to Pope in the season before that. He is by no means one of the greatest goalkeepers in the premier league right now, but frankly speaking Villa was very lucky to concede so few goals in some of the games and this luck could end. Foster will battle with Bachmann for the spot (some players pick both as they are not afraid to block three Watford spots in the team and one will definitely play) and Sanchez is one of the greatest 4.5 options this season.
Defenders

Shaw is massively underpriced as a defender for one of the greater defenses in the league considering his attacking potential. He probably offers more threat than Maguire and Wan-Bissaka, but costs the same. Man City is the best defense in the league, so Dias' and Stones' ownerships are understandable. White is a cheap nailed way into the Arsenal defense. Digne is priced 0.5 less than 2 previous seasons and was always highly valued. West Ham duo have shown great performance in the previous season. Chilwell is one of the most attacking defenders there is. Nobody has questions about Liverpool defenders. Ayling is the most appealing option in Leeds as Dallas moves from a defender to the midfield. And Manquillo is the most common bench fodder, it seems.
Midfielders

Everyone is hyped about Grealish, but we should all think about his minutes when it concerns a City player. Raphinha, Dallas (and Harrison) offer different cheap-to-mid price options in Leeds midfield. Saka offers a cheap way into the Arsenal attack as does Buendia from Aston Villa and Jota from Liverpool. Havertz has shown some world class football at the end of the season in EPL, UCL and Euros and he sometimes plays out of position as a center forward. Bissouma is just a playing bench fodder. Sancho is probably overhyped too, but the time will show how valuable he is.
Forwards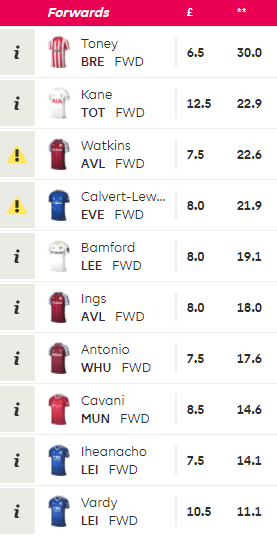 None of these names should be unknown, but it should be said that Watkins should lose his center forward role to the Ings or they could play 4-2-2, which Villa has not played a very long time. Also Iheanacho could lose his starting place as we said earlier.
The whole team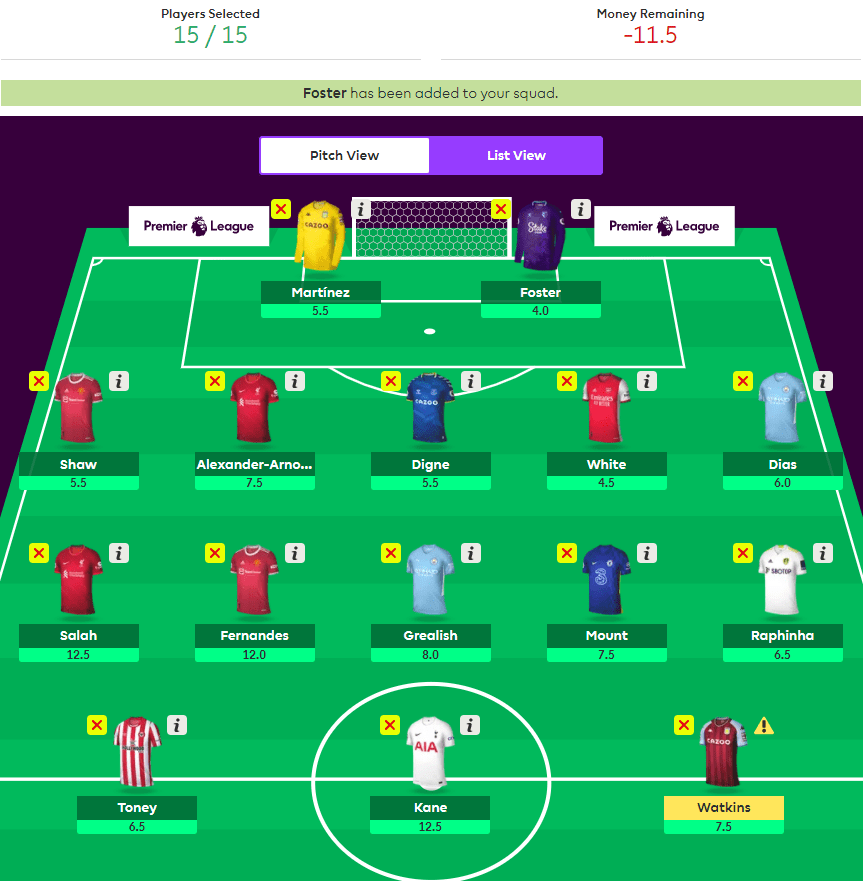 This team looks very strong on paper, but it has one downside: it costs 111.5. This much overspent money indicates that you should downgrade almost every single player or majorly downgrade some expensive ones. I tried to change minimum possible players, but still stay with the minimum of 10% ownership and I got this: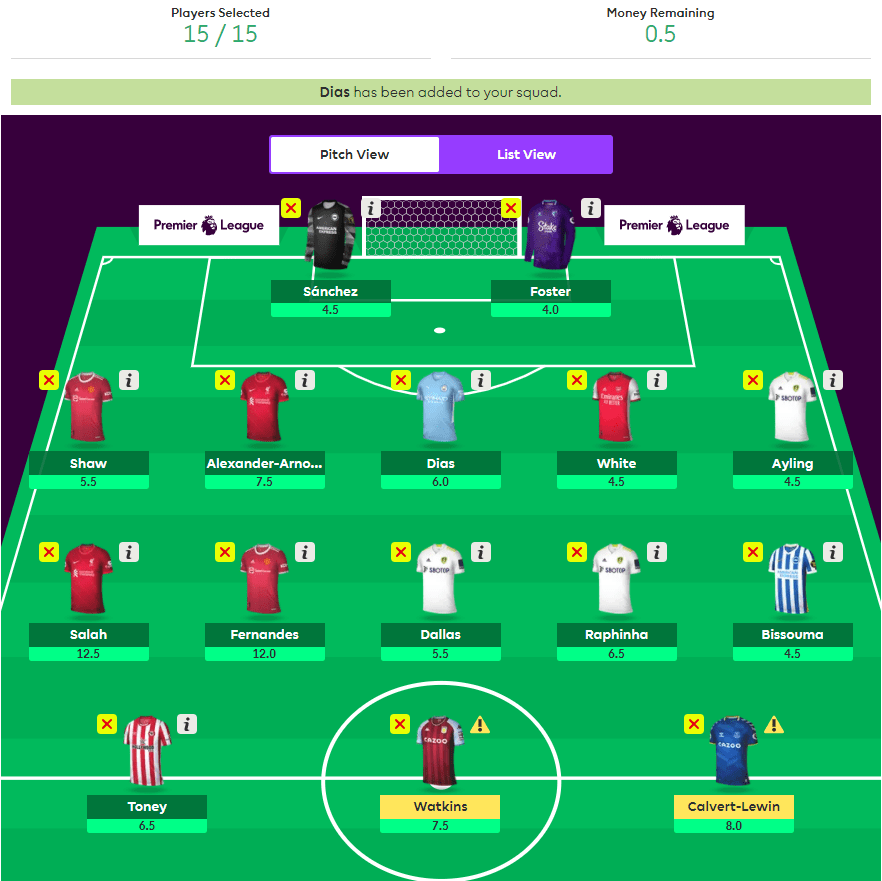 Differentials
With half the Leicester players out Amartey can be an option to look at, as he costs only 4.0. Tsimikas is an even more appealing option for the Liverpool side as it looks like Robertson is set to miss the start of the season.
In the midfield Mahrez looks almost nailed (you never know with Pep) and can offer great value. Barnes has less ownership than Maddison, even though he should play higher up the pitch. Gilmour could become an essential starter at Norwich this season and could provide more value than Bissouma. Mane has only 4.1% ownership but he scored roughly the same amount of points as Salah in two out of three previous seasons. Benrahma could fill in Lingard's shoes this season after some time with West Ham. If Man City will not sign any striker soon, they could play Torres as center forward. If El Ghazi will get his minutes with Villa, it looks like he is on penalty duty. Zaha might start this season spectacularly again as did the whole Crystal Palace last season.
Pukki again can become a hero of the season start in the forward spot. Wilson became Newcastle's talisman last season with Saint-Maximin not injured this time. Werner has the most goals + assists in Chelsea, imagine if he starts to score all those chances. Adams could become the main striking force in Southampton with Ings out.
Conclusion and general advice
Try to fill your team with players that actually do something, don't think in terms of pure value, because your team can be the most valuable, but not the highest scoring and in the end the only thing that matters is overall points. Pick players that are in-form for in-form teams that you think will score. Don't try to differ for the sake of it, the most scoring players each season have very high ownerships – you just need to get them at the right moment. And remember – this is only a game and it should be fun!