FPL managers all around the world have begun to recognize, that a fixture swing is coming. Is it a good time to wildcard now?
It probably is… more about that later in the article.
Let's move to our FPL GW31 Tips.

Best captain pick for GW31
Spurs face Manchester United, so our regular captain picks, such as Kane, Son, Fernandes cancel each other out. So, only two obvious fixtures for captaincy left:
Liverpool vs. Aston Villa
Manchester City vs. Leeds
Liverpool vs. Aston Villa
Liverpool looks to be back in form and have a solid fixture in GW31. We all know what happened last time these two teams met in the Premier League.
Could history repeat? Will we see another goal-fest? Hard to predict.
Villa have still good defensive numbers – they are still third for clean sheets (behind Man City and Chelsea) and third for the fewest goals conceded, although they have just one clean sheet in their last 5 games.
Diogo Jota and Mohamed Salah are the safest captaincy options from The Reds, but I would not forget about Sadio Mane either.
Jota is the one in form, and he shows his explosiveness by scoring a brace against Arsenal. If you are looking for a differential captain for GW31, 24-year old Portuguese is definitely your man.
But if you want to bet on reliability, then pick Mohamed Salah as your captain, who is a proven FPL asset.
Still, Salah is not our number one captain pick for GW31. We picked our captain from the other standout captaincy fixture…
Which Manchester City player?
We highlighted many times that Leeds's defense is not really impressive this season. And nothing has changed.
Only 4 teams conceded more goals and only 2 teams conceded more xG than Leeds. And now, they face statistically the best attack from the Premier League.
Manchester City dominates the offensive statistics this season. No other team is even close in the number of goals or xG scored.
But, which Manchester City player we should captain? Ilkay Gundogan, Kevin De Bruyne, Raheem Sterling or even Riyad Mahrez?
Let's look at the underlying numbers of all those four players.
| Player | Shots per 90 | Key Passes per 90 | xG90 | xA90 |
| --- | --- | --- | --- | --- |
| Gundogan | 2.26 | 1.75 | 0.44 | 0.17 |
| Sterling | 2.28 | 1.42 | 0.45 | 0.25 |
| Mahrez | 2.68 | 2.15 | 0.3 | 0.28 |
| De Bruyne | 3.71 | 3.38 | 0.46 | 0.47 |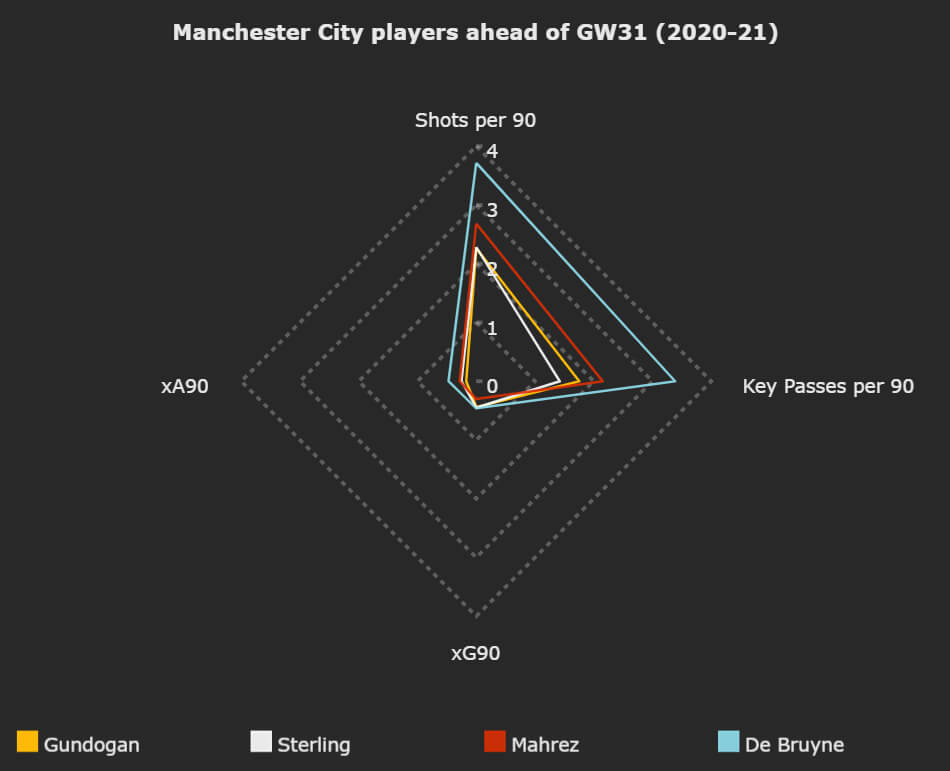 As we can see in the graph above, the underlying numbers of Gundogan and Sterling on a similar level, however, the former has much better points output in FPL and a lower price tag.
Mahrez beats them both in all metrics apart from xG90.
It is perhaps a bit surprising, but it is Kevin De Bruyne who dominates the underlying stats of all Manchester City players.
Belgian shoots more often, he has more key passes and better xG90 and xA90. However, he has failed to convert his good statistics into FPL points this season.
Kevin De Bruyne is our number one captain pick for GW31.
You have probably noticed that there is a fixture swing coming in GW31. There is a lot of teams, whose fixtures have just turned green.
And that is a great opportunity especially for those FPL managers who still have their wildcard left.
So, let's look at teams with the best fixtures in our following FPL GW31 Tips.
Time for Liverpool double (triple) up again?
Liverpool has an amazing run of fixtures. Manchester United in GW34 is their only opponent with FDR higher than 3.
We think it is time to consider Liverpool double up or even triple up again. We would definitely go for Jota and one of their defenders (at the moment we prefer Alexander Arnold over Robertson).
If you are brave enough and believe that Liverpool is back in form, then triple up with Salah, Jota and TAA could be the way to go.
If a budget is an issue, and you are interested in a cheap route into their defense, take a look at Phillips who costs just 4.0m.  
Also, do not overlook Sadio Mane. Although his points output this season is too low for the player of his FPL price tag, his underlying stats suggest that he might be unlucky to not score more points.
He has just 7 goals from 10.73 xG, so he really should have scored 3 or 4 goals this season (although it still might have not been enough to be a good FPL pick this season).
Salah, Jota, and TTA are currently three better picks than him. However, if you have nothing to lose and looking for some surprising move that could shoot your ranking up (but also possibly even more down if it doesn't work) consider going with Mané over Salah.
It is a move that might not work.
However, at the beginning of the season, we have pretty high expectations from Senegalese – and perhaps he has saved all his FPL points for the last 8 gameweeks.
Do not overlook Leicester players
We are also looking at Leicester players, whose fixtures between GW31 and GW35 are great.
We are particularly eying tri of their attacking players, Jamie Vardy, Iheanacho, and overlooked James Maddison.
Golden boot winner from the previous season Jamie Vardy started this season in stunningly, but then his form trailed away. He has just one goal (but also 6 assists) in his last 16 matches.
But with the fixture swing at the horizon, who else should be Leicester's main goalscorer if not him?
With Harvey Barnes and Under injured, Kalechi Iheanecho should continue in the series of starts for Leicester. And he has done pretty well so far and scored 5 goals in his last 4 matches, so the form is on his side.
If you cannot afford Vardy or lar looking for a cheap third striker for your team, consider Iheanacho who is currently sitting only in 4.3 % of FPL teams.
And if you are looking for some differential into the midfield of your FPL team, consider fit-again James Maddison. He spent some time on the sidelines this season but still managed to score 120 FPL points.
His ownership is also very low (just 4.7%) so if he does well during nice run of fixture, his points could really boost your rank.
The last chance for Wolves players
Another team with great fixtures between GW31 and GW35 is Wolves. FUL (A), SHU (H), BUR (H), WBA (A), BHA (H). It cannot get better than that.
Like Vardy, Wolves' assets (Saiss, Neto) have a great start to the season, but their form did not last. It is a risky move to go for Wolves' assets just because of the fixtures they have.
But their assets are cheap so you will not have a lot of budget tied up in Neto, Saiss, or Coady, and it can help you to free up some many to get you the power four of Salah, Kane, Fernandes, and Son into your team.
If we were about to wildcard this week, this is how our wildcard squad would look like.
Conclusion from FPL GW31 Tips
We are approaching the last stage of this fantasy premier league season.
A clear template has formed, and a lot of FPL teams are looking very similar, because now we know, who the best players for our teams are.
If you are not happy with your position in your mini-league or in the overall ranking and still have your wildcard available, then exploit this fixture swing. Bring in players from Liverpool, Leicester, Wolves.
There is no clear "best team" and there are several routes to success.
And most importantly, there is a lot of players' combinations that could score the same number of FPL points until the end of the season.
Hopefully, our FPL GW31 Tips will help you with that.
We will bring you clean sheet odds for GW31 soon.
FPL Records (Overall ranking):
| | |
| --- | --- |
| 2016/17: 421 721 | 2017/18: 43 485 |
| 2018/19: 942 | 2019/20: 119 |