Gameweek 31 could be another calm round of Fantasy Premier League before we jump back to the chaos of blank gameweeks and double gameweeks again. So, let's discuss our FPL GW31 Tips with the best picks, fixtures to target, transfer targets, captain, differentials, odds & team selection.
1. Fantasy Premier League Gameweek 31 Tips
Now, you should have a pretty good picture when you use your remaining chips like free hit or wildcard
If you

do not aim to free hit in GW32

, you can save one free transfer so you have 2 free transfers available before the crucial blank gameweek 32
If you

plan to free hit in GW32

, use all your free transfers now (focus on GW34 double gameweek players), as no transfer can be carried forward after playing the free hit chip
Rashford replacement: if you will not free hit in GW32 than Arsenal midfielder or even Andreas are great Rashford replacements. If you will free hit in GW32, Jack Grealish is the obvious joice
Do not forget, there are Champions League fixtures midweek, so wait until they are finished before you make your moves
Keep Maddison. He is a quality player and he should deliver soon. Sell him after he scores, not after he blanks.
Keep Toney now for blank gameweek 32. Time to sell was previous gameweek. If you sticked to him, stick to your strategy.
2. Free Hit in GW32 or GW34?
It depends on your preferences and your team's current shape.
However, we like to use Free Hit in a double gameweek where big teams play twice rather than in a blank gameweek where big teams do not play.
We think, points potential for the free hit in Gameweek 34 is higher than it is in Gameweek 32. Because in GW32 you would have to load up (apart from Arsenal and Liverpool) on players from weaker teams whose points potential is lower. But in Gameweek 34, you would load up on City, Liverpool, and United players with excellent fixtures.
But that is just our view – you will have to make your own conclusion based on your team's current situation. If you have enough Manchester City, United, and Liverpool players for double gameweek 34 already, then you could free hit in GW32 where the majority of your current squad blanks.
However, if you could field 11 starting players in Gameweek 32 with no hits (or a maximum of 1 hit), you could save your free hit for double gameweek 34.
Read more: When is next double gameweek in FPL?
3. Key players to own and transfer targets for GW31
Key players
Haaland – if you have him great. If you will free hit in GW32, you could buy him now. If you will not free hit in Gameweek 32, wait until GW33 to buy him
Trippier – the top-scoring defender, have a fixture in blank and 2 fixtures in the upcoming double gameweek as well
Arsenal attacking players – you want the best players from the best teams in your team regardless of the fixture
Watkins/Toney – good form, solid fixtures ahead, and both have matches in blank GW32
Manchester City defending player – Dias/Ederson/Aké – for those managers who aim to free hit in GW32
Salah or Kane – you likely cannot have them both if you have Haaland. Both are captaincy options for Gameweek 31 and have fixtures in blank GW32. Salah also has a double gameweek in GW34, so he is the preferred option for managers without a wildcard or free hit
Potential transfer targets:
Salah (if you do not have any chips left)
TAA / Alison (if you do not have any chips left)
Haaland, Grealish, Dias, De Bruyne (GW32 free hit)
Saka (if you sold him)
Andreas (as a way to upgrade someone else in your team)
Players to transfer out:
One of your Brighton players, if you do not free hit in GW32 (but aim to bring him back for double gameweeks)
Rashford
Havertz/Chelsa players (if you do not free hit in Gameweek 32)
4. Fixtures to target in Gameweek 31
In which fixtures we could expect a lot of fantasy points? Fixtures to target in double GW31 according to bookies odds:
Manchester City vs Leicester: Citizens 81 % to win, 56 % to score 2.5+ goals
Tottenham vs Bournemouth: Spurs 67 % to win, 37 % to score 2.5+ goals
Nottingham vs Manchester United: Red Devils 59 % to win, 29 % to score 2.5+ goals
West Ham vs Arsenal: The Gunners 58 % to win, 28 % to score 2.5+ goals
Leeds vs Liverpool: The Reds 54 % to win, 30 % to score 2.5+ goals
5. Differential for GW31
Gundogan (Manchester City, 7.3m)
owned only by 2.3 % of FPL managers
great one week punt for GW31 against shaky Leicester defense
6. Best captain pick in FPL GW31
Haaland is the obvious captain pick for Gameweek 31. However, if you are looking for a differential captain, you could consider to captain Kane who is also reliable captaincy options this season or Salah in his fixture against Leeds.
7. Using Chips in

Gameweek 31
We do not plan to use any chip in Gameweek 31 – we are saving our free hit for Double Gameweek 34. However, if your team is in bad shape, you could possibly use your wildcard. But be careful, design your wildcard team with blank gameweek 32 and double gameweek 34 fixtures in mind. You can find our GW31 Wildcard draft here:
And if you are slowly starting to plan your free hit squad for blank gameweek 32, here are our first thoughts and our first draft for GW32 free hit team:
8. What bookies odds say about Gameweek 31
As usual, we converted bookies odds into probabilities using our Odds to probability calculator, to assess the potential of gameweek 31.
Clean sheet odds for GW31
With a 48 % probability of keeping a clean sheet, Manchester City leads the clean sheet odds table for GW31 followed by Tottenham (42 %). Bookies also expect Arsenal (40 %) and Manchester United (39 %) to do well defensively in Gameweek 31.
⚽Clean sheet odds for Gameweek 31 in #FPL#GW31 #FPLCommunity

Find full table at: https://t.co/qqR5rk3ohZ pic.twitter.com/G5X7PT3RCw

— Fantasy Football Reports (@FplReports) April 14, 2023
Expected vs. actual clean sheets
Due to a correction in the number of clean sheets: Manchester United, Newcastle
Manchester United overperformed their defensive expectations the most from all teams. They should have kept 8.58 clean sheets instead of 13 according to our expected clean sheets table.
Due to an improvement in the number of clean sheets: Manchester City, Southampton
Manchester City underperformed their defensive expectations the most of all teams. They should have kept 12.93 clean sheets instead of 10 according to our expected clean sheets table. Citizens have also "the most clean sheets left" in them for this season according to our Clea Sheets left table.
You can see the Expected clean sheets table, Clean Sheets left table and clean sheet odds for all Premier League teams here.
Goalscoring odds for GW31
As usual, Haaland (62 %) leads the goalscoring odds table for the following round of Premier League. He is followed by Kane (48 %), Alvarez (43 %) and Salah (39 %).

Find out who is most likely to score a goal in GW31 in our table: Premier League Goalscoring Odds.
9. FPL GW31 Team selection
Now let's look at our FPL team selection for Gameweek 31 – Scout squad. Haaland is our captain. If Rashford is out, Grealish would be his replacement.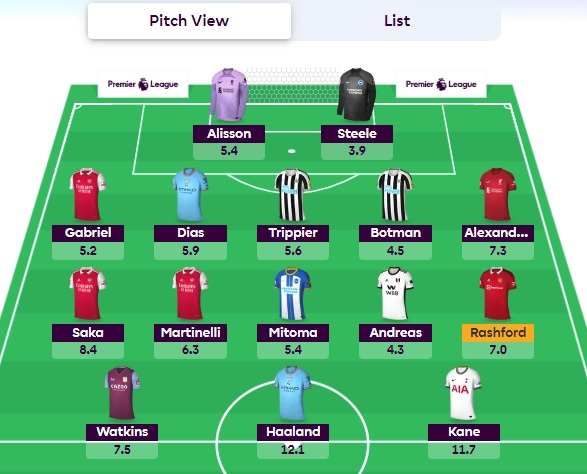 10. Fantasy Premier League Tips
Find more tips, strategies and picks for Fantasy Premier League in these articles:
We hope our FPL GW31 tips helped you to gather some useful information before the gameweek 31 deadline.
Join our Fantasy Football Reports League if you haven't already with a league code of zte1cv. Or click the auto-join here.
Good luck in FPL GW31!