A big Fantasy Premier League double gameweek is almost over so we can start planning for Gameweek 30 and onwards. There are two single gameweeks ahead so we can play FPL without additional stress from additional fixtures (or blank fixtures).
So, without further ado, let's look at FPL GW30 Tips, where we discuss best picks, fixtures to target, transfer targets, captain, differentials, odds & team selection.
1. Fantasy Premier League Gameweek 30 Tips
Fixtures for double gameweek 34 were announced. Check them in our article: When is the next double gameweek in FPL?
Make sure you plan for blank gameweek 32 – will you use free hit? If not, plan your transfers with GW32 blank in mind
Monitor the situation around Haaland. If you plan to use free hit in GW32, Haaland could be your number one transfer target for Gameweek 30, if he is fit
If you plan to manage blank GW32 with free transfers, Haaland is not necessarily your number 1 transfer target. You should focus more on players who have fixture in GW32
If you plan to use free hit in Gameweek 32, you should plan/make your transfers with double gameweek 34 on mind
2. Key players to own and transfer targets for GW30
Haaland – if fit, then he is the number 1 transfer target for GW32 free hitters
Trippier – top scoring defender
Kane – backup captain for GW30, if Haaland is not fit
Arsenal attacking players – Liverpool's defence is shaky. And you want best players from best teams in your team regardless the fixture
Watkins/Toney – good form, solid fixtures ahead, and both have matches in blank GW32
Manchester City defending player – Dias/Ederson/Aké – for those managers who aim to free hit in GW32
Rashford
Potential transfer targets:
Haaland (GW32 free hit)
Dias (GW32 free hit)
De Bruyne (GW32 free hit)
Jesus
Mings – excellent next 4 fixtures for Villa
3. Fixtures to target in Gameweek 30
In which fixtures we could expect a lot of fantasy points? Fixtures to target in double GW30 according to bookies odds:
Southampton vs. Manchester City: Citizens 77 % to win, 44 % to score 2.5+ goals
Manchester United vs Everton: Red Devils 66 % to win, 33 % to score 2.5+ goals
Aston Villa vs Nottingham: Aston Villa 58 % to win, 26 % to score 2.5+ goals
Leicester vs Bournemouth: Foxes 55 % to win, 26 % to score 2.5+ goals
4. Differential for GW30
Konsa (Aston Villa, 4.4m)
owned only by 0.5 % of FPL managers
differential for the next 4 gameweek where Aston Villa have nice run of fixtures
this season without an attacking return – bur in the last 3 seasons registered at least 2 attacking returns
5. Best captain pick in FPL GW30
If Haaland is fit, then he is obvious captain pick for Gameweek 30. If not, you could go with Rashord or Kane who will be popular captaincy picks in case Norwegian misses the game.
However, if you are looking for a differential captain, you could consider to captain Watkins who is in great form and Aston Villa have good fixture against Nottingham Forrest,
6. Using Chips in

Gameweek 30
We do not plan to use any chip in Gameweek 30 – we are saving our free hit for blank Gameweek 32. However, if your team is in bad shape, you could possibly use your wildcard. But be careful, design your wildcard team with blank gameweek 32 and double gameweek 34 fixtures in mind. You can find our GW30 Wildcard draft here:
7. What bookies odds say about Gameweek 30
As usual, we converted bookies odds into probabilities using our Odds to probability calculator, to assess the potential of gameweek 30.
Clean sheet odds for GW30
With a 52 % probability of keeping a clean sheet, Manchester City leads the clean sheet odds table for GW30 followed by Manchester United (44 %). Bookies also expect Aston Villa (40 %) and Chelsea (37 %) to do well defensively in Gameweek 30.
👋Clean sheet odds for Gameweek 30 in #FPL #GW30 #FPLCommunity

Find full table at: https://t.co/qqR5rk3ohZ pic.twitter.com/jid6fQPRRy

— Fantasy Football Reports (@FplReports) April 5, 2023
Expected vs. actual clean sheets
Due to a correction in the number of clean sheets: Newcastle, Manchester United
Newcastle overperformed their defensive expectations the most from all teams. They should have kept 8.48 clean sheets instead of 13 according to our expected clean sheets table.
Due to an improvement in the number of clean sheets: Manchester City, Southampton
Manchester City underperformed their defensive expectations the most of all teams. They should have kept 12.41 clean sheets instead of 10 according to our expected clean sheets table. Citizens have also "the most clean sheets left" in them for this season according to our Clea Sheets left table.
You can see the Expected clean sheets table, Clean Sheets left table and clean sheet odds for all Premier League teams here.
Goalscoring odds for GW30
As usual, Haaland (54 %) leads the goalscoring odds table for the following round of Premier League. He is followed by Rashford (39 %), Alvarez (38 %) and Kane (33 %).
Zobraziť tento príspevok na Instagrame

Find out who is most likely to score a goal in GW30 in our table: Premier League Goalscoring Odds.
8. FPL GW30 Team selection
Now let's look at our FPL team selection for Gameweek 30 – Scout squad. Haaland (if fit) is our captain.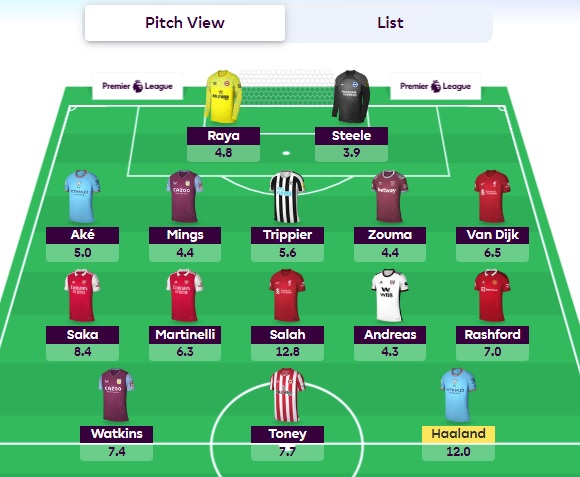 9. Fantasy Premier League Tips
Find more tips, strategies and picks for Fantasy Premier League in these articles:
We hope our FPL GW30 tips helped you to gather some useful information before the gameweek 30 deadline.
Join our Fantasy Football Reports League if you haven't already with a league code of zte1cv. Or click the auto-join here.
Good luck in FPL GW30!