The only single gameweek in the sea of upcoming blank and double gameweek. So gameweek 26 should be a calm Fantasy Premier League gameweek in comparison with what awaits us in the next rounds. But it is great gameweek to start planning your overall chip strategy..
So, let's move on to our FPL GW26 Tips, where we discuss best picks, transfer targets, captain, differentials, odds & team selection.
1. Fantasy Premier League Gameweek 26 Tips
There is a FA Cup 5th round midweek between GW25 and GW26 that will determine fixtures in blank gameweek 28
Based on the FA Cup results, you will have a better picture about the fixtures and therefore about your chip strategy (Read more in our article: Best FPL chip strategies for 2022/23 season)
start planning for double Gameweek 27 where Brighton, Brentford, Southampton and Crystal Palace play twice
You do not need to necessarily save the transfer for GW27, you can bring Toney in now, for his good fixture against Fulham
We are wildcard now in GW26 as our team is in bad shape after GW25
Wildcard: you can wildcard now in GW26, get rid of dead weight for blank gameweek25, bring in double gameweek players for GW27 and GW29 (bench boost) and even get 10-11 starters in blank GW28 (saving free hit for later)
If you are wildcarding, go for triple Arsenal, as they have good fixtures and they will be key players for blank gameweek 28
Saka + Odegaard + Gabriel / Zinchenko is our preferred trio
Double Newcastle defense looks to be a good way to go as well, as Newcastle no not blank in GW28 and play twice  in GW29
Watkins or Kane could be your third forward alongside Haaland and Toney
Brentford play 5 matches in the next 3 gameweeks – they players could be essential for managers without any chip
Toney + Raya + Jansen is our preferred trio from Brentford
Also, focus on 1 or 2 Brighton players (Dunk/Estupinian + Match/Mitoma) – have in mind you will have to bench them in blank GW28
2. Key players to own and transfer targets for GW26
Haaland
Toney – captain for double gameweek 27
Saka – a key man for Arsenal, good fixture against Bournemouth
Arsenal defender – for fixture against Bournemouth – Gabriel or Zinchenkp
Mitoma – transfer target alongside Toney for GW26 & GW27, especially for managers who will free hit in GW28
3. Fixtures to target in Gameweek 26
In which fixtures we could expect a lot of fantasy points? Fixtures to target in GW26 according to bookies odds:
Arsenal vs Bournemouth: The Gunners 78 % to win, 46 % to score 2.5+ goals
Manchester City vs Newcastle: Citizens 66 % to win, 36 % to score 2.5+ goals
Chelsea vs Leeds: The Blues 58 % to win, 28 % to score 2.5+ goals
4. Differential for GW26
Mathias Jensen (Brentford, 4.8m)
Brentford play 5 matches in the next 3 gameweeks
you can bench him during single gameweeks
only 1.3% selected
5. Best captain pick in FPL GW26
You cannot go wrong with Haaland captain despite a tougher fixture against Newcastle. He is a safe pick. However, we are currently leaning more towards captaining Saka in Gameweek 27. The fixture is better, and Arsenal are more likely to score 2.5+ goals against Bournemouth than Man City against well-organized Newcastle defense.
6. What bookies odds say about Gameweek 26
As usual, we converted bookies odds into probabilities using our Odds to probability calculator, to assess the potential of gameweek 26.
Clean sheet odds for GW26
With a 55 % probability of keeping a clean sheet, Arsenal leads the clean sheet odds table for GW26. Bookies also expect Manchester City (43 %) and Chelsea (41 %) to do well defensively in Gameweek 26.
Bookies expect 5.47 clean sheets in gameweek 26. In last season, we were used to a rate of 5.58 per clean sheets gameweek. This season we have seen clean sheets at the rate of 5.72 clean sheets per gameweek.
Expected vs. actual clean sheets
Due to a correction in the number of clean sheets: Newcastle, Manchester United
Newcastle overperformed their defensive expectations the most from all teams. They should have kept 6.96 clean sheets instead of 12 according to our expected clean sheets table.
Due to an improvement in the number of clean sheets: Manchester City, Southampton
Manchester City underperformed their defensive expectations the most of all teams. They should have kept 11.12 clean sheets instead of 8 according to our expected clean sheets table.
You can see the expected clean sheets table and clean sheet odds for all Premier League teams here.
Goalscoring odds for GW26
Goalscoring odds for GW26 are available here: Premier League Goalscoring Odds. Only data from the first matches of double gameweek.
7. Using Chips in Gameweek 26: time for Wildcard?
If your team is in terrible shape after the blank/double gameweek 25, it might be good idea to use your wildcard in GW26. It is one of our potential chip strategies for the second half of the season: WC26 + TC27 (Toney) + BB29 + FH32/34/37
here are our teams for inspiration:
8. FPL GW26 Team selection
Now let's look at our FPL team selection for GW26 – Scout squad. Saka is our captain. 3-4-3 formation.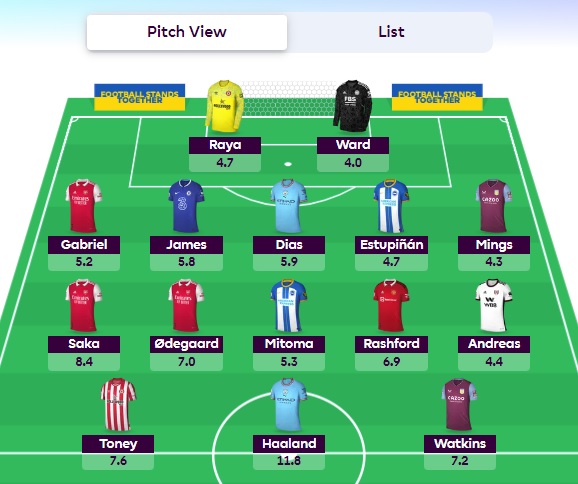 9. Fantasy Premier League Tips
Find more tips, strategies and picks for Fantasy Premier League in these articles:
We hope our FPL GW26 tips helped you to gather some useful information before the Gameweek 26 deadline.
Join our Fantasy Football Reports League if you haven't already with a league code of zte1cv. Or click the auto-join here.
Good luck in FPL GW26!