There are busy moments ahead of us in Fantasy Premier League, as a double gameweek 27 starts soon. Then we will see a blank gameweek 28 and another double in GW29. You definitely need to plan for those rounds to get the most out of them,
So, let's jump to our FPL GW27 Tips, where we discuss best picks, transfer targets, captain, differentials, odds & team selection.
1. Fantasy Premier League Gameweek 27 Tips
bad news for Sanches owners, as it looks like Steele is currently the preferred goalkeeper for Brighton (source). That disturbs the plans of FPL managers who aimed to Bench Boost in Gameweek 27. If that is your case, you can swat Sanches with one free transfer to Guaita.
Gameweek 27 is an alright time to wildcard if your team is in a bad shape. Aim to have 2 Brighton and 3 Brentford players for your Wildcard team. It is totally fine to have "just" 4-5 double gameweek players, as more could weaken your team for other gameweeks
Do not tear your team apart to bring in Southampton and Crystal Palace players. In a long term, you likely do not want any of them (only Ward Prowse would be an exception)
If on the wildcard, make sure you have 10-11 starters for blank gameweek 28, so you do not have to use free hit (and save it for blank GW32 or doubles in GW34 or GW37)
Also, make sure, you have enough double gameweek players for GW29 – in the starting XI and even on the bench so you could possibly use your bench boost
Doubling up or even tripling up on Arsenal players is important for managers without chips,, as they have good fixtures and they will be key players for blank gameweek 28. Saka + Odegaard + Gabriel / Zinchenko is our preferred trio
Brentford play 5 matches in the next 3 gameweeks – they players could be also essential for managers without any chip. Toney + Raya + Jansen is our preferred trio from Brentford
Double Newcastle defense looks to be a good way to go as well, as Newcastle no not blank in GW28 and play twice in GW29
Watkins or Kane could be your third forward alongside Haaland and Toney
Also, focus on 1 or 2 Brighton players (Dunk/Estupinian + March/Mitoma/Mac Allister) – have in mind you will have to bench them in blank GW28, so do not triple up on them if you have other players who blank in Gameweek 28
Watch news around Haaland – as his minutes could be managed before the Champions League fixtures
If you have triple captain chip left, you can use it on Toney in GW27
2. Key players to own and transfer targets for GW27
Haaland (in a long run, despite blank in GW28)
Toney – (triple) captain for double gameweek 27
Trippier – Newcastle with good run of fixtures, they do not blank in GW28, and have a double in GW29
Saka – a key man for Arsenal, good fixture against Fulham, then has a fixture in GW28
Mitoma – transfer target alongside Toney for GW27, especially for managers who will free hit in GW28
Brighton defender – Estupinan or Dunk
Arsenal defender – for the fixture against Fulham and GW28 – Gabriel or Zinchenko
Rashford – is still in great form, good fixture against Southampton, then bench him in GW28 when Manchester United blanks
3. Fixtures to target in Gameweek 27
In which fixtures we could expect a lot of fantasy points? Fixtures to target in GW27 according to bookies odds:
Crystal Palace vs. Manchester City: Citizens 72 % to win, 38 % to score 2.5+ goals
Manchester United vs Southampton: The red devils 70 % to win, 39 % to score 2.5+ goals
Bournemouth vs Liverpool: The Reds 66 % to win, 36 % to score 2.5+ goals
Tottenham vs Nottingham Forest: Spurs 65 % to win, 32 % to score 2.5+ goals
4. Differentials for GW27
Ward Prowse (Southampton, 6.3m)
our favourite differential this season
owned only by 6% of FPL managers
could be great one week punt for Gameweek 27
Ward Prowe has reliable points output every season, unfortunately we can never time his points – they will come when we least expect them
Mathias Jensen (Brentford, 4.8m)
Brentford play 5 matches in the next 3 gameweeks
you can bench him during single gameweeks
only 1.4% selected
5. Best captain pick in FPL GW27
You cannot go wrong with Haaland captain. He is a safe pick.
However, we are in a double gameweek, so we will captain Toney, who is the third top scoring forward in the game and has two great fixtures.
But there are other great captaincy options in GW27 among single gameweeks players as well: Kane against Nottingham, Rashford vs  Southampton, Salah vs Bournemouth, Saka vs Fulham. This could be a good captaincy opportunity for FPL managers who might consider double gameweek 27 to be "a trap".
6. What bookies odds say about Gameweek 27
As usual, we converted bookies odds into probabilities using our Odds to probability calculator, to assess the potential of gameweek 27.
Clean sheet odds for GW27
With a 50 % probability of keeping a clean sheet, Manchester City leads the clean sheet odds table for GW27. Bookies also expect Manchester United (46 %) and Tottenham (46 %) to do well defensively in Gameweek 27.
Bookies expect 6.64 clean sheets in gameweek 27. In last season, we were used to a rate of 5.58 per clean sheets gameweek. This season we have seen clean sheets at the rate of 6 clean sheets per gameweek.
Clean Sheet Odds for double gameweek teams
| Team | Expected Clean Sheets | Probability of at least one CS | Probability of two CS |
| --- | --- | --- | --- |
| Brighton | 0.75 | 61 % | 13 % |
| Brentford | 0.57 | 48 % | 8 % |
| Crystal Palace | 0.24 | 23 % | 2 % |
| Southampton | 0.34 | 32 % | 2 % |
Expected vs. actual clean sheets
Due to a correction in the number of clean sheets: Newcastle, Manchester United
Newcastle overperformed their defensive expectations the most from all teams. They should have kept 7.06 clean sheets instead of 12 according to our expected clean sheets table.
Due to an improvement in the number of clean sheets: Manchester City, Southampton
Manchester City underperformed their defensive expectations the most of all teams. They should have kept 11.55 clean sheets instead of 9 according to our expected clean sheets table.
You can see the expected clean sheets table and clean sheet odds for all Premier League teams here.
Goalscoring odds for GW27
Goalscoring odds for GW27 are available here: Premier League Goalscoring Odds. Only data from the first matches of double gameweek.
7. Using Chips in Gameweek 27: do you still have your triple captain?
Gameweek 27 could be an opportunity for managers who hadn't use their triple captain chip. Toney would be our triple captain option for this round.
You can also use the wildcard to set up your team for DGW27, BGW28 and DGW29 without using free hit in any of these gameweeks.
Free hit could be valuable later in the season in blank gameweek 32.
If you plan to use some of your chips, here our drafts for your inspiration:
8. FPL GW27 Team selection
Now let's look at our FPL team selection for GW27 – Scout squad. Toney is our captain. 3-4-3 formation with Mddison on the bench. Team is set up for blank gameweek 28 and bench boost in double gameweek 29 as well.
Read more about chip strategies in our article: Best FPL chip strategies for 2022/23 season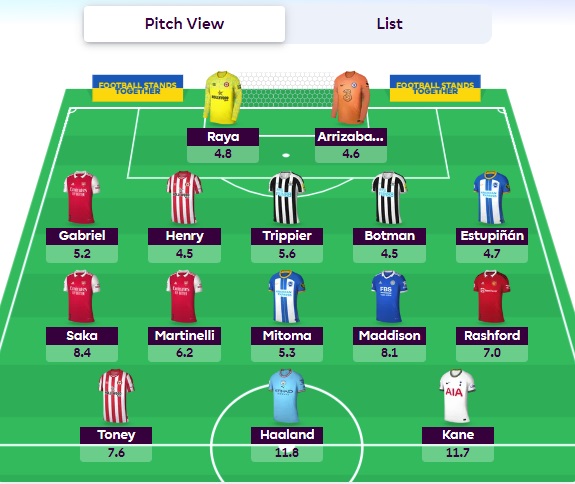 8. Fantasy Premier League Tips
Find more tips, strategies and picks for Fantasy Premier League in these articles:
We hope our FPL GW27 tips helped you to gather some useful information before the Gameweek 27 deadline.
Join our Fantasy Football Reports League if you haven't already with a league code of zte1cv. Or click the auto-join here.
Good luck in FPL GW27!