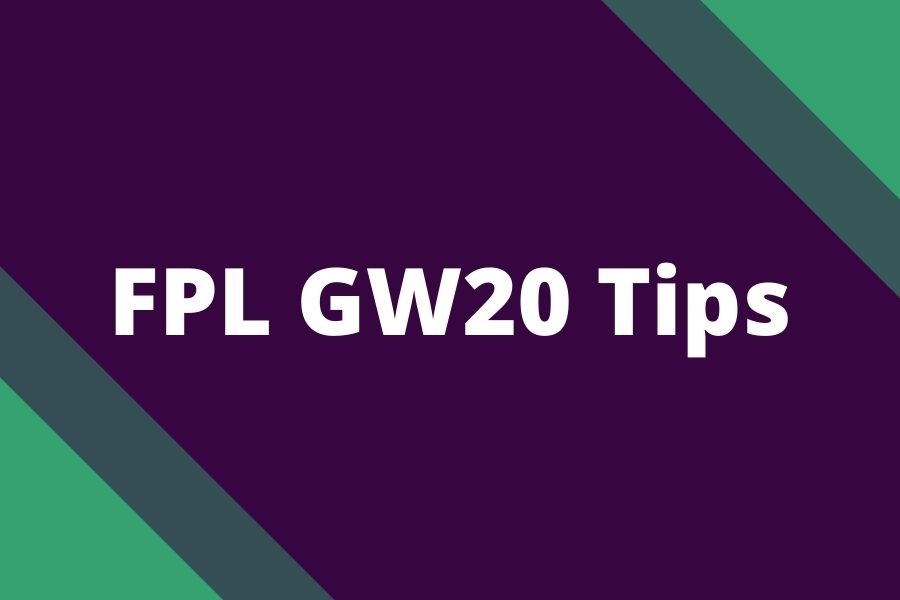 Gameweek 20 is going to be a double gameweek in Fantasy Premier League for Manchester City, Manchester United, Spurs and Crystal Palace.
Let's jump to our FPL GW20 Tips.
1.

Fantasy Premier League Double Gameweek 20 Tips
There are another cup matches midweek, wait for them to end, before making transfers
Do not get discouraged that double gameweek teams have tough fixtures. There could be goals at both ends, and therefore fantasy points at both ends as well
Keep faith in KdB if you choose him over Salah or Kane – there are many options that lie on the same indifference curve in the long run. But in the short run, it is impossible to guess the distribution of their points
What to do with Cancelo? – wait for some news, but so far, he is likely SELL for us. Another cheaper Manchester City defender like Akanji or even Lewis are his possible replacements
Kane is on 4 yellow cards. If he gets booked in the first double gameweek match, he will miss the second match.
Transfer targets for GW20: Kane (although still on 4 yellow cards), De Bruyne, Rashford, Shaw
Differential captain for Gameweek 20: De Bruyne
GW20 differential: Doherty (selected by 0.6%), Son could be another one-week punt, he historically does well against Man City
2. Fixtures to target in GW20
In which fixtures we could expect a lot of fantasy points? Fixtures to target in Gameweek 20 according to bookies odds:
Manchester City vs Tottenham: Citizens 71 % to win, 45 % to score 2.5+ goals
Newcastle vs Fulham: Newcastle 61 % to win, 32 % to score 2.5+ goals
Chelsea vs Crystal Palace: The Blues 58 % to win, 26 % to score 2.5+ goals
+ double gameweek fixtures of course, once they are confirmed
3. Another possible double gameweeks
Keep in mind, we might get another double gameweeks in next few gameweeks, so plan for that as well. Check amazing work of Ben Crellin and Mikkel Tokvam on twitter when predicting double gameweeks:
Another day of cup matches gone by and fixtures now settled for GW 20.

The Transfer Algorithm updated to the corresponding probabilities of future fixtures. pic.twitter.com/ApKAAPRk4v

— the Transfer Algorithm (@MikkelTokvam) January 8, 2023
4. Best players to pick in Gameweek 20
We also looked at players from each position: goalkeepers, defenders, midfielders, and forwards.
We examine which players are best picks in each price bracket: budget enablers, midpriced picks, and premium options:
5. Best captain pick in Double Gameweek 20
We will keep the captaincy section short once again.
It is hard to pick someone else as your captain than Erling Haaland – currently top scoring player in the game.
Just do not overthink your captain decision in double gameweek 20.
6. What bookies odds say about Gameweek 20
As usual, we converted bookies odds into probabilities using our Odds to probability calculator, to assess the potential of gameweek 20.
Clean sheet odds for GW20
Chelsea (42 %) is the most likely team to keep a clean sheet in GW20. Bookies also favor Newcastle (39 %) and Brentford (37 %) to potentially keep a clean sheet in GW20
Double Gameweek Teams
| Team | Expected Clean Sheets | Probability of at least one clean sheet | Probability of two clean sheets |
| --- | --- | --- | --- |
| Manchester City | 0.72 | 59 % | 13 % |
| Manchester United | 0.47 | 42 % | 5 % |
| Crystal Palace | 0.33 | 30 % | 3 % |
| Tottenham | 0.25 | 24 % | 1 % |
Bookies expect 5.93 clean sheets in gameweek 20. In last season, we were used to a rate of 5.58 per clean sheets gameweek. This season we have seen clean sheets at the rate of 5.21 clean sheets per gameweek.
Due to correction in the number of clean sheets: Newcastle, Manchester United
Newcastle overperformed their defensive expectations the most from all teams. They should have kept 5.02 clean sheets instead of 10 according to our expected clean sheets table.
Due to an improvement in the number of clean sheets: Liverpool, Southampton
Liverpool underperformed their defensive expectations the most from all teams. They should have kept 6.33 clean sheets instead of 4 according to our expected clean sheets table.
You can see the expected clean sheets table and clean sheet odds for all Premier League teams here.
Goalscoring odds for GW20
You can look at all most likely goalscorers for GW20 here: Premier League Goalscoring Odds.
7. Chip strategy – time for Triple Captain?
Using triple captain on Erling Haaland is really an option for double gameweek 20. Fixtures are not great, but he can score in any game.
There are other possibilities as well. For example, using it on KdB (who is due to a goal) or Kane (although he is on 4 yellow cards).
However, we are currently not using our triple captain chip on Haaland in DGW20 and we are saving it for later.
Consider using other chips in DGW20?
8. FPL GW20 Team selection
Now let's look at our FPL team selection for Double Gameweek 20. Haaland is our captain. But this team is likely to change based on double gameweek news, so we keep doors open.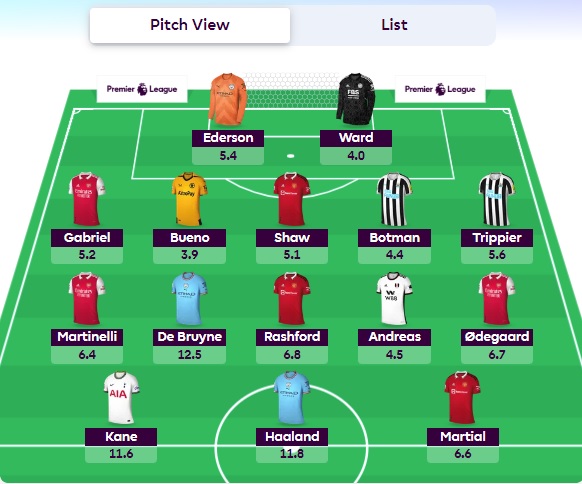 9. Fantasy Premier League Tips
Find more tips, strategies and picks for Fantasy Premier League in these articles:
We hope our FPL GW20 tips helped you to gather some useful information before the Double Gameweek 20 deadline.
Join our Fantasy Football Reports League if you haven't already with a league code of zte1cv. Or click the auto-join here.
Good luck in FPL GW20!