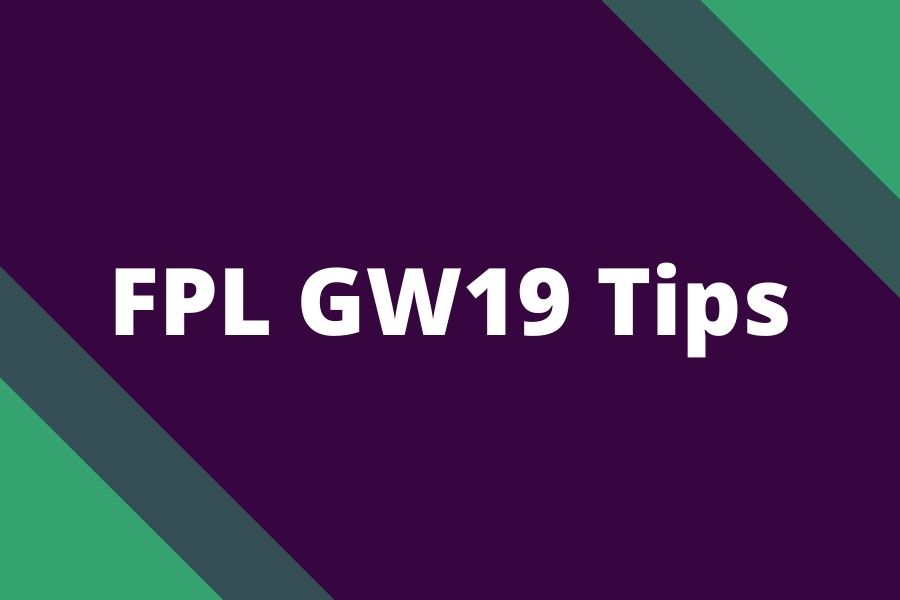 There is a quick turnaround between gameweeks and the double gameweek 19 in Fantasy Premier League start very soon. Chelsea and Fulham play twice in GW19 which opens doors to some opportunities for fantasy managers.
Let's start with our FPL GW19 Tips.
1.

Fantasy Premier League Double Gameweek 19 Tips
It is not necessary to have 5 or 6 double gameweeks players in Gameweek 19, as it could weaken your squad for the following rounds. Having just 3-4 DGW players is totally fine
Looking for a Reece James replacement? Check our article: Best Reece James replacements for Gameweek 19

Kepa, Cucurella/Azpilicueta, Sterling

is our preferred trio from Chelsea

Mitrovič + Andreas

is the obvious duo to pick from Fulham (triple up would likely be too much)
Manchester City and Tottenham will likely have a double gameweek in GW20 (unless some of them draw in the cup game and need a reply), so plan for that as well
Keep faith in KdB if you choose him over Salah or Kane – there are many options that lie on the same indifference curve in the long run. But in the short run, it is impossible to guess the distribution of their points
Keep faith in Darwin – great underlying numbers, he is getting chances, but cannot finish them. The points will come eventually. If you are looking to sell him, wait until he hauls and then do it, not now.
Saka + Martinelli/Odegaard or Martial + Rashford are all good double ups
Foden replacement – Mount or Sterling (if you can upgrade)
What to do with Cancelo? – wait for some news, but so far, he is HOLD for us. It seems unlikely that he would be benched 3 times in the row.
Benching headaches – we do not think that benching Arsenal and Newcastle players is a good idea. But we might not have other choices. Using bench boost in GW19 is a valid strategy based on fixtures, but we would rather wait with bench boost until double gameweeks. But it is okay to use it now if you have many benching headaches.
Transfer targets for GW19: Mitrovič (although still on 4 yellow cards, so if he is booked in the first game, will miss the second one), Cucurella, Mount
Differential captain for Gameweek 19: Kepa
GW19 differential: Havertz (selected by 5.4%)
2. Fixtures to target in GW19
In which fixtures we could expect a lot of fantasy points? Fixtures to target in Gameweek 19 according to bookies odds:
Manchester United vs Bournemouth: The Red Devils 75 % to win, 46 % to score 2.5+ goals
Brentford vs Liverpool: The Reds 63 % to win, 36 % to score 2.5+ goals
Manchester City vs. Chelsea: Citizens 57 % to win, 27 % to score 2.5+ goals
+ double gameweek fixtures of course
3. Best players to pick in Gameweek 19
We also looked at players from each position: goalkeepers, defenders, midfielders, and forwards.
We examine which players are best picks in each price bracket: budget enablers, midpriced picks, and premium options:
4. Best captain pick in Double Gameweek 19
We will keep the captaincy section short once again. Of course, you cannot go wrong with Haaland captain in any gameweek.
So, if you are hesitant to captain a double gameweek player, just pick Haaland as your captain.
However, we do not want to miss this opportunity and we are going to pick a double gameweek player as our captain in Gameweek 19, and it is going to be Sterling – a player picked as captain by our captaincy index.
If you want to be different, even captaining Kepa could be an option, as he is getting save points (so he could get few against Manchester City) and there is a potentially chance for a clean sheet against Fulham. So Kepa could get a double digit haul in double gameweek 19.
Mitrovič is also an option, however, that 4 yellow cards is putting us off captaining him.
5. What bookies odds say about Gameweek 19
As usual, we converted bookies odds into probabilities using our Odds to probability calculator, to assess the potential of gameweek 19.
Clean sheet odds for GW19
Manchester United (48 %) is the most likely team to keep a clean sheet in GW19. Bookies also favor Manchester City (37 %) and Liverpool (36 %) to potentially keep a clean sheet in GW19
Bookies expect 5.5 clean sheets in gameweek 19. In last season, we were used to a rate of 5.58 per clean sheets gameweek. This season we have seen clean sheets at the rate of 5.11 clean sheets per gameweek.
Due to correction in the number of clean sheets: Newcastle, Manchester United
Newcastle overperformed their defensive expectations the most from all teams. They should have kept 4.86 clean sheets instead of 9 according to our expected clean sheets table.
Due to an improvement in the number of clean sheets: Liverpool, Southampton
Liverpool underperformed their defensive expectations the most from all teams. They should have kept 5.97 clean sheets instead of 6 according to our expected clean sheets table.
You can see the expected clean sheets table and clean sheet odds for all Premier League teams here.
Double gameweek teams
Chelsea
expected clean sheets: 0.44
probability of at least one clean sheet: 39,8 %
probability of two clean sheets: 4,2 %
Fulham
expected clean sheets: 0.36
probability of at least one clean sheet: 32,8 %
probability of two clean sheets: 3,2 %
Goalscoring odds for GW19
As usual, Haaland (47 %) leads the any time goalscorer odds table for GW19. Salah and Kane follow.
You can look at all most likely goalscorers here: Premier League Goalscoring Odds.
6. FPL GW19 Team selection
Now let's look at our FPL team selection for Double Gameweek 19. Sterling is our captain.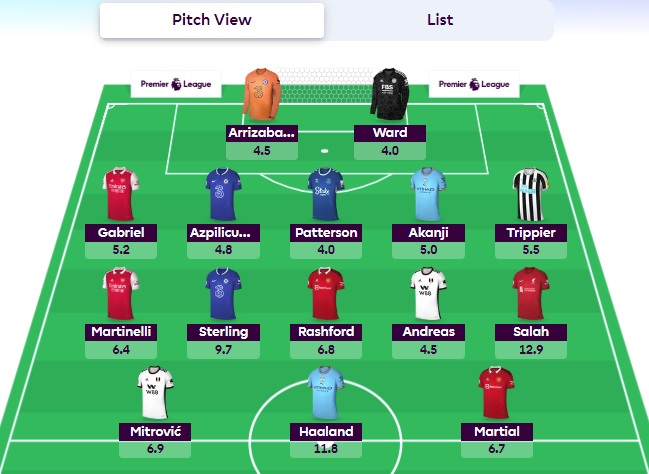 7. Fantasy Premier League Tips
Find more tips, strategies and picks for Fantasy Premier League in these articles:
We hope our FPL GW19 tips helped you to gather some useful information before the Double Gameweek 19 deadline.
Join our Fantasy Football Reports League if you haven't already with a league code of zte1cv. Or click the auto-join here.
Good luck in FPL GW19!