There is not a lot of time before the deadline of Fantasy Premier League GW18 and FPL managers have to react quickly to all blanks and postponements. Some of them might even consider playing their free hit chip in GW18.
Therefore, the most important question for GW18 is: Should you use your Free Hit now or use it later? We cover this topic in this article.
Let's start with our FPL GW18 Tips.
The main talking point or FPL GW18 is the possible use of a free hit in this gameweek.
Should you use your Free Hit chip in GW18?
The answer is, unsurprisingly, that it depends on how your team looks right now. The blank GW18 is about quality and not quantity. 
The big disadvantage is, that some games could get postponed after the deadline. If that is the case and you free hit in players with postponed fixtures, you would basically waste your free hit.
Does it worth it?
Blank GW18 is about quality not quantity
Assuming all 5 matches in blank GW18 go ahead (which seems very unlikely at the moment), whether you should use your Free Hit chip really depends on how your squad looks right now.
How many key players for GW18 do you already have? And I really mean key players. I do not mean Brownhills or Douglas Luizes.
If you have 11 playing players for GW18, but they all are Brownhills and Douglaz Luizes, your team can be easily outscored by a team with for example only 5 playing players – but key players like Salah, Jota, Foden, Dias, Cancelo.
So, if you do not have enough key players for this GW, and you can't get enough of them with free transfers, you probably should use Free Hit.
This gameweek will be about quality and not quantity. So, if you have key players or you can get them in with free transfers or one hit, do not use Free Hit.
There are going to be other blanks (and double gameweeks) later in the season so Free Hit would be extremely valuable there, too.
And due to all the postponements we will see smaller double gameweeks, too. So, there will be other opportunities to exploit the power of free hit chip.
And as I have said, it depends on how many key players you have and how many of them you can get in without free hitting in GW18.
Oh, and one last thing.
If you are going to use your free hit chip in GW18, consider to not activate the chip right away. Because once activated, it cannot be canceled.
Yes, you can miss few price rises, but we have one more day before the GW18 starts. These are very unpredictable times.
It is very unlikely, but what if all games from GW18 get postponed due to illnesses? Or what if there is another Premier League break as we have seen two seasons ago?
You would lose your free hit chip if you activated it too soon before such news.
We, FPL managers, must be perceptive and careful in these uncertain times and we have to minimize the risk if we want to make the most out of this season.
If you are looking for further advice and guidance on how to survive blank gameweeks, make sure to read our FPL Tips from the previous gameweek: FPL GW17 Tips: How to survive another Blank Gameweek
Who is the best captain in FPL GW18
We will keep the captaincy section short once again.
If you would like to know more about the process we use to select the captain every gameweek, read our article: How to pick the right captain in FPL?
According to this decision-making process, we think Salah is the best captain in FPL GW18.
De Bruyne is our number two, and Foden is the number three captain pick. 
IMPORTANT!: Make sure your vice captain is from as early game as possible. If gameweek gets cancelled and Salah does not play, but both Saturday's games go on as planned, make sure you have vice captain from Saturday game so you get at least some points.
What bookies odds say about GW18
As usual, we converted bookies odds into probabilities using our Odds to probability calculator, to assess the potential of gameweek 18.
Clean sheet odds for GW18
Manchester City (49 %) is the most likely team to keep a clean sheet in GW18. Bookies also favor Chelsea (48 %) and Aston Villa (38 %) to keep a clean sheet in GW18
Bookies expect 2.66 clean sheets in gameweek 18. In last season, we were used to a rate of 5.89 per clean sheets gameweek. This season we have seen clean sheets at the rate of 5.53 clean sheets per gameweek.
Due to correction in the number of clean sheets: Liverpool, Arsenal
Liverpool overperformed their defensive expectations the most from all teams. The reds should have kept 6.79 clean sheets instead of 10 according to our expected clean sheets table.
Due to an improvement in the number of clean sheets: Watford, Leicester
You can see the expected clean sheets table and clean sheet odds for all Premier League teams here.
Goalscoring odds for GW18
Salah (45 %) leads the any time goalscorer odds table for GW18. Jesus and Foden follow with the probability o scoring a goal 36 %.
You can look at all most likely goalscorers here.
We are not going to activate our free hit chip in gameweek 18. But if you are, for the inspiration, this would be our FPL GW18 Hit team. Salah is our captain.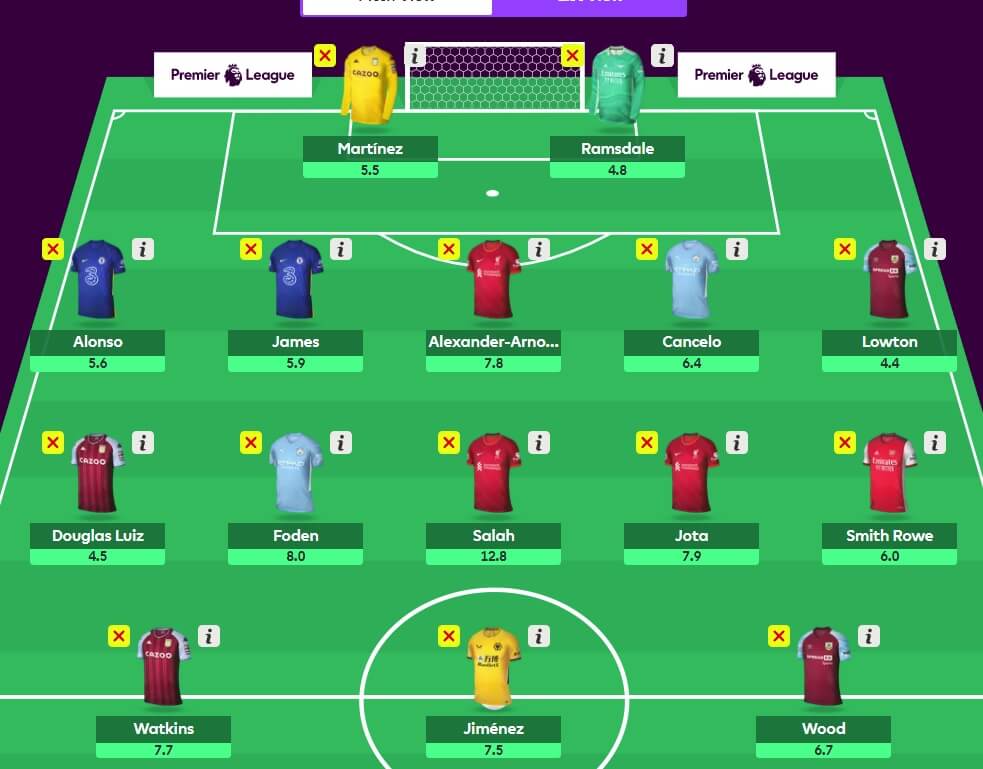 We hope our FPL GW18 tips helped you to gather some useful information before the deadline.
Join our Fantasy Football Reports League if you haven't already with a league code of dwchch. Or click the auto-join here. 
Good luck in FPL GW18!
Further reading: FPL Tips for success