We have a lot of time before the deadline of Fantasy Premier League GW18 to think about our squads and strategy we chose for this gameweek.
The most important question for GW18 is: Should you use your Free Hit now or use it later? We cover this topic at the end of this artice.
Let's start our FPL GW18 Tips with best captain options.
Best captain pick for GW 18
Standout fixtures for captaincy
Surprisingly, we have a lot of captaincy options for GW18 despite the lack of matches. We have three stand out captaincy fixtures:
Aston Villa vs. Tottenham
Burnley vs. Manchester United
Manchester City vs. Brighton
We picked 3 great armband contenders from these fixtures.
3. Son Heung Min (FUL (H))
Harry Kane and Son Heung Min, they both delivered double digit hauls in previous gameweek for their captainers.
We highlighted them as the best captaincy picks for GW17 and we gave the armband to Son who outscored his teammate by one point.
They both are viable captaincy options in blank GW18, too.
When we look at Tottenham attacking duo, Son and Kane are both still heavily overperforming their expected outputs.
Son has 12 goals and 5 assists from 5.39 xG and 3.73 xA. Harry Kane has 10 goals and 11 assists from 9.62 xG and 4.67 xA.
But perhaps it is nothing to worry about as quality finishers tends to overperform their xG.
From those two, we would pick Son again as our captain due to his classification as a midfielder.
However, we think there are better options for captaincy in blank GW18. We picked two more, but they both depends on your level of risk tolerance.
Other two captaincy options are more about the risk you can tolerate as FPL manager. The risk reward ratio is on the similar level for both of them.
However, the first pick offers high risk high reward, while the other offer lower risk but also lower reward as he is likely going to be the most captained player in blank GW18.
2. Raheem Sterling (BHA (H))
Although it is Kevin De Bruyne from Man City players who dominates in underlying offensive stats this season, we are looking at Raheem Sterling as captaincy pick for GW18.
Despite great win against Chelsea, it is not an easy season for Manchester City attackers. Thats why we are bit cautious with their assets.
De Bruyne disappointed his captainers in easy games against WBA and Newcastle, but delivered double digit haul at Stanford Bridge.
However, he is not the only City attacker who is collecting points in recents gameweeks. Raheem Sterling has 6 attacking returns in last 6 games (Belgian has 5 in last 6).
We do not want to chase De Bruyne's double digit haul from last week and this time we are picking Raheem Sterling as captain option from Man City players.
It is worth a notice that Sterling scored a hattrick at the end of the last season against Brighton and that he proved his explosiveness (in terms of FPL points) in many more matches (but mainly last two seasons).
His ownership is extremely low, as he is sitting only in 4.9 % of FPL squads (in time of writing this article). That makes him perfect differential captain.
Brighton have not been defensively convincing this season so far. Seagulls have kept only 3 clean sheets and conceded 28 goals (only 4 teams have conceded more).
Because of their struggles in the attack, captaining a City player in GW18 is more risky option than it was during last seasons.
However, with Sterling's explosiveness, fixture, low ownership and form, the risk/reward ratio is pretty good for brave FPL managers who will decide to captain him in GW18. 
1. Bruno Fernandes (BUR (A))
For more conservative FPL managers, Bruno Fernandes is definitely the number one captain pick in GW18.
We expect him to be the most popular captaincy options. And he deserves to be.
Manchester United talisman has three double digit hauls and an average 11.25 points per game in last four matches. Outstanding.
Fernandes looks like a no-brainer captain for GW18. Also, it looks like Bruno could be the player you just captain and then leave the captaincy on him till the end of the season.
However, it would not be as enjoyable as changing your captains and trying to get the most out of it.
The only downside of captaining Bruno in GW18 is slight concern about the ability of Manchester United to break down the Burnley defense.
The Clarets have started to show glimpses of their defensive form from last season.
They have conceded only 2 goals and kept 3 clean sheets in their last 5 games. It could be very difficult game for Manchester United.
But we had said the same last week when Manchester United faced Aston Villa and Bruno Fernandes still managed to register double digit haul.
So, we think that your risk tolerance will be the most important factor in your decision-making process about captain selection for GW18.
Ask yourself how much risk you can tolerate and then pick a captain.
Now let's move to the Free Hit question…
Should you use your Free Hit chip in GW18?
The answer is, unsurprisingly, that it depends.
After Burnley vs. Manchester United had been moved to the blank GW18, another door was opened for FPL managers to navigate through this blank.
More games, more options.
Blank GW18 is about quality not quantity
Whether you should use your Free Hit chip really depends on how your squad looks right now.
How many key players for GW18 you already have? And I really mean key players. I do not mean Brewster or Mitchell.
If you have 11 playing players for GW18, but they all are Brewsters and Mitchells, your team can be easily outscored by a team with for example only 5 playing players – but key players like De Bruyne, Dias, Fernandes, Son, Kane.
So, if you do not have enough key players for this GW, and you can't get enough of them with free transfers, you probably should use Free Hit.
This gameweek will be about quality and not quantity. If I (Matej) had 8 players (and at least 6 of them were key players) I would not use Free Hit in GW18.
There will be another blank in GW29 as it clashes with FA Cup Quarterfinals, so Free Hit would be extremely valuable there, too.
And due to all the postponements we will see smaller double gameweeks, too. So, there will be other opportunities to exploit the power of free hit chip.
And as I have said, it depends on how many key players you have and how many of them you can get in without free hitting in GW18.
I am 95 % certain, that I will use my Free Hit in GW18.
Oh, and one last thing.
If you are going to use your free hit chip in GW18, consider to not activate the chip right away. Because once activated, it cannot be canceled.
Yes, you can miss few price rises, but we have whole week before the GW18 starts. These are very unpredictable times.
It is very unlikely, but what if all games from GW18 get postponed due to illnesses? Or what if there is another Premier League break as we have seen last season?
You would lose your free hit chip if you activated it too soon before such a news.
We, FPL managers, must be perceptive and careful in these uncertain times and we have to minimize the risk if we want to make the most out of this season.
For this reason, I have not activated my Free Hit chip yet.
But I played around with few drafts, so let's look at the one I currently like the most…
In this draft, I rely on 4-5-1 formation and I am leaning towards captaining Sterling.
However, this Free Hit squad will likely change before the deadline.
I am currently sitting inside 275K, still far away from my targets and positions from previous seasons.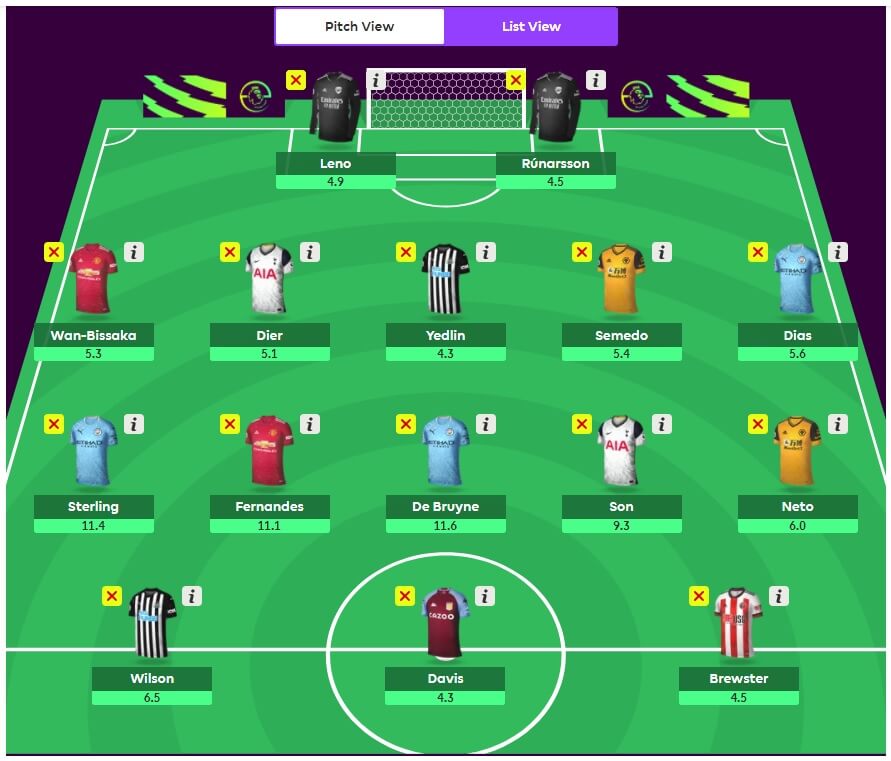 Do you consider free hitting in GW18? Why/Why not?
How is your free hit squad looking right now?
Leave a comment below and share your thoughts with other FPL managers.
We will be back soon with GW18 Clean Sheet Odds and GW18 Goalscoring Odds.