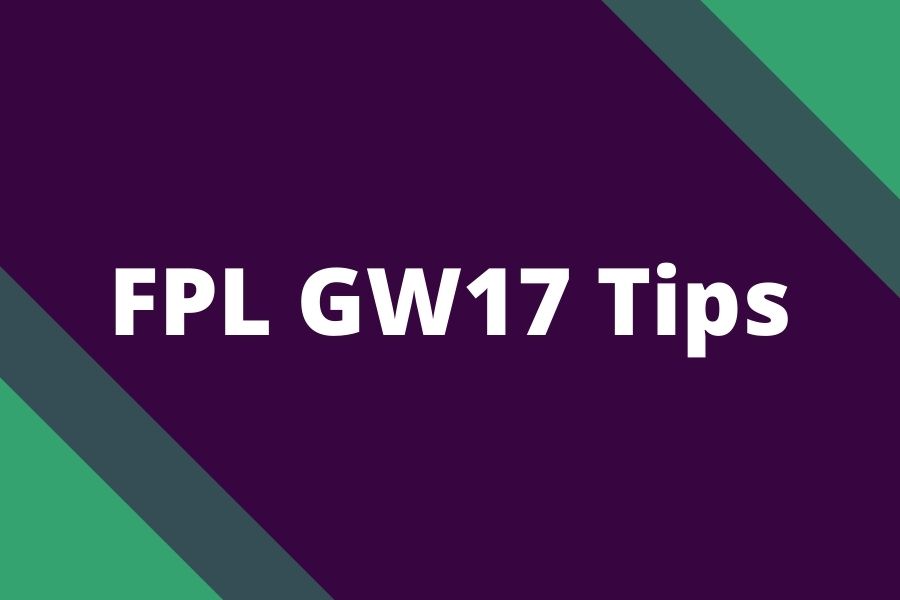 After the break, Gameweek 17 of Fantasy Premier League starts in just a few days. We all have unlimited transfers to prepare our squads fro the coming FPL period.
Now, let's dive into our FPL GW17 Tips.
1.

Fantasy Premier League Gameweek 17 Tips
We have unlimited transfers but that does not mean you have to rebuilt your whole squads
If your team was in great condition before GW17 and still is, do not get rid of key players, just slightly improve weaker spots in your FPL team and exploit fixture swings
We are coming to the period where we might see few double gameweeks – 3 of them have been already announced, read more: When is the next FPL double gameweek?
3 gameweeks start during 8 days – tight schedule that might lead to rotation and injuries = have your bench ordered properly. Read more: How to order your bench in FPL during busy schedule?
Gameweek 17 Differential: Fabio Carvalho – only 0.4% selected, scored in the cup game against City

Differential captain

: Sterling
2. Fixtures to target in GW17
In which fixtures we could expect a lot of fantasy points? Fixtures to target in Gameweek 17 according to bookies odds:
Leeds vs. Manchester City: Citizens 74 % to win, 48 % to score 2.5+ goals
Manchester United vs. Nottingham Forest: The Red devils 73 % to win, 41 % to score 2.5+ goals
Chelsea vs. Bournemouth: The Blues 72 % to win, 40 % to score 2.5+ goals
Arsenal vs. West Ham: The Gunners 64 % to win, 32 % to score 2.5+ goals
3. Best players to pick in Gameweek 17
We also looked at players from each position: goalkeepers, defenders, midfielders, and forwards.
We examine which players are best picks in each price bracket: budget enablers, midpriced picks, and premium options:
4. Best captain pick in GW17
We will keep the captaincy section short once again.
You cannot go wrong with Haaland captain, that's what this season taught us.
However. our captaincy index has another favorite for gameweek 17 captaincy.
According to our captaincy index, Salah is the best captain pick in FPL GW17 with an index score of 1.43.
Haaland is its number 2 captain with a score of 1.33 and Sterling (our differential captain picks) is the third with a score of 1.21.
5. What bookies odds say about Gameweek 17
As usual, we converted bookies odds into probabilities using our Odds to probability calculator, to assess the potential of gameweek 17.
Clean sheet odds for GW17
Manchester United (50 %) is the only team with a probability of a clean sheet in GW17 higher or equal to 50 %. Bookies also favor Chelsea (49 %), Manchester City (42 %) and Arsenal (42 %) to likely keep a clean sheet in gameweek 17.
Expected clean sheets
Bookies expect 5.14 clean sheets in gameweek 17. In last season, we were used to a rate of 5.58 per clean sheets gameweek. This season we have seen clean sheets at the rate of 5.13 clean sheets per gameweek.
Due to correction in the number of clean sheets: Newcastle, Leicester
Newcastle overperformed their defensive expectations the most from all teams. They should have kept 4.07 clean sheets instead of 7 according to our expected clean sheets table.
Due to an improvement in the number of clean sheets: Southampton, Liverpool
Southampton underperformed their defensive expectations the most from all teams. They should have kept 2.53 clean sheets instead of 1 according to our expected clean sheets table.
You can see the expected clean sheets table and clean sheet odds for all Premier League teams here.
Goalscoring odds for GW17
Regular picture. Haaland (58 %) leads any time goalscorer odds table for GW17. Kane (40 %) and Aubameyang (39 %) follow.
You can look at all most likely goalscorers here.
6. FPL GW17 Team selection
Now let's look at our FPL team selection for GW17. Salah is our captain.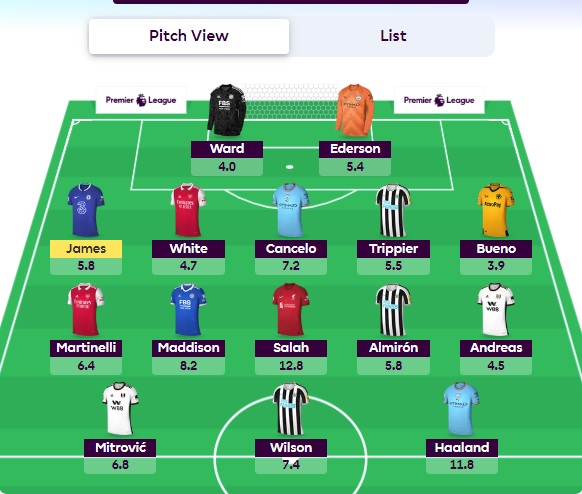 7. Fantasy Premier League Tips
Find more tips, strategies and picks for Fantasy Premier League in these articles:
We hope our FPL GW17 tips helped you to gather some useful information before the deadline.
Join our Fantasy Football Reports League if you haven't already with a league code of zte1cv. Or click the auto-join here.
Good luck in FPL GW17!