In this article I will be briefly talking about best captain picks for GW16 and then I reveal my wildcard squad. 
Let's dive into FPL GW16 tips.
Best captain pick for GW 16
For GW16 it is hard to look past Newcastle vs. Liverpool and Spurs vs. Fulham as best captaincy fixtures.
We expect Harry Kane and Heung Min Son both to be heavily captained by majority of FPL managers regardless their rank.
Sometimes, the most obvious captain pick is the best captain pick.
However, if you are trying to play it differently, this could be great week to have Mohamed Salah as a differential captain.
Liverpool is in amazing form, no team have scored more goals and more xG this season than them. And Salah have been involved in 47 % of their goals.
Egyptian is the top scorer of this FPL season and on course to 300+ points. He is heavily owned – he is currently sitting in 44.7 % of FPL squads.
But with majority of FPL managers captaining a Spurs player, a "risky" move – captaining so far best player of this season – could provide you with massive rank boost if Salah outscores Kane and Son.
There will not be many gameweeks when we have a chance to captain a top scoring player in easy fixture without him being the most captained player.
Obvious Captaincy Options
However, as we have already mentioned, sometimes, the most obvious captain pick is the best captain picks.
That's why we consider Harry Kane and Son Heung Min to be the best captaincy options for GW16.
They are both two captaincy options which lies probably on the same indifference curve – so it probably does not matter which one of them you pick and they both could end up GW16 with the double-digit hauls.
But since we have to pick one them, we pick Son. The reason is simple, just as few times before during this season.
We prefer Son over Kane simply just because he is classified as midfielder in FPL and gets extra point for goal and extra point for clean sheet.
Therefore, Son is our number one captain pick for the gameweek 16.
In this article, instead of regular section: Scout Squad for upcoming gameweek, I will be talking about my wildcard draft.
This is the last gameweek when first wildcard can be activated, so if you are in similar position as I am and still have your first wildcard, this your last chance to use it, too.
 This is my fourth season, and previous three times I always activated it during first 12 gameweeks.  But by doing that, I learned one very important lesson.
You may not agree with me, but I think, that wildcarding just because your team is not doing well is not good FPL strategy.
I think that wildcard should be used only for tactical reasons – this time it is to set up squad for double gameweek 19.
The reason behind my thinking is: if your team is not doing well at the beginning of the season, and you decide to use your wildcard – you do not change the expected output of your team.
You change the players, but you may end up changing one team with expected output of 57 point per gameweek to another team with expected output of 57 points per gameweek.
So, at the end of the day, even if you change the majority of your players when wildcarding, you just move to the right or left on the same indifference curve.
You will not jump on the new indifference curve with higher output of 58,59 or 60 points. This happened to me last two seasons.
I wildcarded early, but I just changed one suboptimal team for another suboptimal team with the same output
The thing is that when we are wildcarding, we look mainly to the past and we are chasing points of previous gameweeks.
We think that now we have more information, that we know more about the season.
But the truth is that we don't. FPL is unpredictable. Very unpredictable. And we will never be able predict outputs of gameweeks.
So, when you use your wildcard without tactical reason, it is like you would not wildcard at all. You will not change the expected output of your FPL team.
Picking a team that is going to score the most points
Despite using my wildcard early, I was able to finish last two season in top 1K (942nd in 2018/19 and 119th in 2019/20) of overall ranking and to win my country – Slovakia – mini-league.
Around this time, I was knocking on the door of top 10K. This season, the situation is different for me.
I am just outside of top 600K and that is really far away from my season target.
But I am not going to try to play the game riskier or anything like that. I am going to continue to play it my way, the way that got me to top 1K two seasons in a row.
No matter how bad the season is for you, the only thing you can do about it is to pick a team that you think will score the most points.
That is the only possibility. Jumping on risky and not proven differentials, or low owned players hoping that it shoots you at the top of the ranking is never good idea.
Because by doing so, you are just choosing suboptimal solutions.
Let's dive into my wildcard draft. It might change by the time of deadline, but this is how I am currently set up for GW16. I do not want to chase points.
I try to not look where the points were, but where the points are going to be.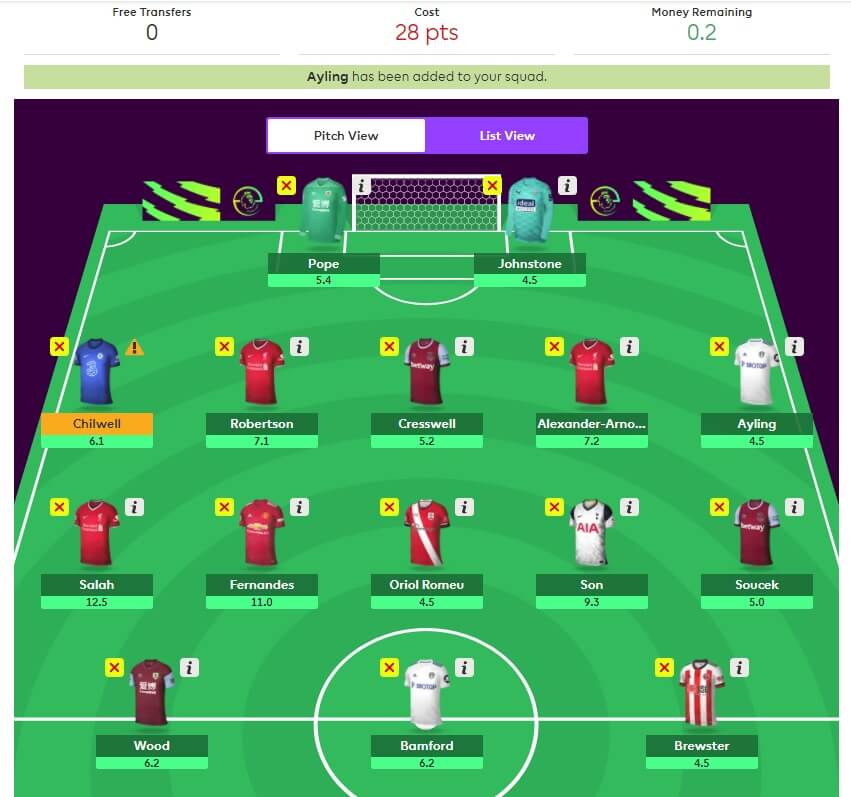 I really like Pope in goal due to his amazing bonus points potential.
I favor Pope over Burnley defenders, because when Burnley keep a clean sheet and their 4.5 million defenders get 6 points, Pope has high chance of 10 or 11 pointer.
That is a massive difference and that's why Pope is worth the extra money over the Clarets defenders. Johnstone is my reserve keeper because of my plan to bench boost in GW19.
I started the season with double Liverpool defense, but I sold TAA when his injury occurred. Now I am back to double up.
In my opinion, TAA is one of the most undervalued FPL assets in terms of FPL points this season.
I still think that Trent and Robbo will outscore 7.0 – 8.0 million defenders like Grealish or Zaha.
Also, I am avoiding Zouma, Mings or Vestergaard, because I am not expecting them to continue scoring goals at such a rate as they do now.
Zouma has 4 goals. If he continues in this "form" he should have 9-10 goals by the end of the season. But is he really capable of something like that?
Is any centre back capable of scoring 10 goals in one season? I think that It is extremely unlikely.
I always think about probabilities when selecting players to my FPL team and that's why I am avoiding 3 from currently top 5 scoring defenders.
But I do not think the same about Chilwell and Cresswell. I think that they are able to continue in their performances.
Ayling is my last defender – bench fodder, as I intend to play 4-4-2.
I think that defense and midfield is the place where FPL points are going to be in the second half of the season.
That's why I opted for three heavy hitters in midfield: Salah, Fernandes and Son. This trio will probably be in my team till the end of the season.
I am not interested in rotating and transferring in and out heavy hitters just because of fixtures.
I think that all other heavy hitters like Kane, De Bruyne, Sterling, Mané, Vardy and so on will do well. We cannot have them all. We must accept it.
Just pick some of them and stick with them.
I am also not interested in adding a four big hitter to my FPL squad as it would disrupt the balance of my team and it would weaken other positions.
Souček is my last playing midfielder. He is on course to 144 points in 38 gameweeks. That is amazing.
Souček is not bench player for me. We cannot time when he scores, so I would either play him all the time or would not have him at all.
My bench fodder in the midfield is Oriol Romeu. I do not want a player more expensive than 4.5 on my bench.
I never invest much money in the attack. And it is one of the reasons I am behind this season. But I am not going to change that. I still think that there is much value elsewhere.
The attack of my wildcard squad is very light: Wood and Bamford.
Brewster will be my bench fodder when I benchboost in double gameweek 19 even though he has just a one game.
I will be happy with one point from Brewster in DGW19 as I do not want to weaken my playing XI by having expensive players on my bench just because of bench boost.
I will be happy with 12-15 points from my bench players in DGW19 – basically just an appearance points.
And as you probably guessed, I will use my Free Hit in blank gameweek 18.