New Fantasy Premier League season starts in just a few days. We prepared for you complete guide that could help you to pick your FPL squad before the first kick-off. Discover useful tips and gain an advantage over your mini-league rivals.
Tips for new FPL season and GW1
Best captain pick for GW1: Some usual suspects...
3. Heung-Min Son (EVE(H))
Tottenham Hotspur face Everton on the Sunday of GW1. Since 2016/17 season matches between those two teams have been quite high scoring – total 29 goals in 8 matches, that is 3.6 goals per match. That is one of reasons why we picked Heung-Min Son as one of our captain picks.
Son has been very consistent in last four season in terms of his total sum of FPL points, when he scored 174 FPL points in 2016/17, 178 points in 2017/18, 159 points in 2018/19 and 169 points in 2019/20 season. From the statistical point of view, that is expected value (mean) of 170 points per season with very low standard deviation 8.2 points per season.
This fact makes underline the stability of his FPL returns throughout the season and makes him very good pick for the whole 2020/21 campaign. Son can be very explosive; he has shown that multiple times and he has very high points ceiling.
His form in pre-season matches has been outstanding, he managed to score 4 goals and registered 2 assists in 4 matches. And in 3 of those matches he played up-front as a forward.
Whether is Jose Mourinho  going to use him as a forward alongside Harry Kane in Premier League too, remains to be seen. However, there is a chance, that it could happen. Classified as midfielder and with 0.5 million price drop from previous campaign, he is very solid captain choice for the first gameweek of 2020/21 season. And for many gameweeks after that too.
2. Pierre-Emerick Aubameyang (FUL(A))
The reclassification we all have been waiting for. Pierre-Emerick Aubameyang is *finally* classified as midfielder in the FPL. That also led to 0.5 million rise in his price tag (he costs 12m now). But that does not really matter, because in 2020/21 season he could easily challenge Salah or Kevin De Bruyne for the position of the FPL top scorer.
If Aubameyang had been classified as midfielder during last season, he would have scored 230 points (as a forward he scored 205 points). For comparison, KdB scored 251 points and Mo Salah 233 points.
Arsenal travel to Fulham in the first gameweek, what is favorable fixture for Aubameyang. If you read our article about Flat Track Bully Index, you know that Auba tends to do very against weak oppositions. His Flat Track Bully Index has value of 0.54, what is the highest correlation between player's points and fixture from all measured players.
Arsenal played 3 pre-season matches and Aubameyang found the back of the net 3 times in these matches. Gabon international has very good combination of form and fixture at his side in the GW1 what makes him very strong captain contender.
1. Mohamed Salah (LEE(H))
In the last three season, Mohamad Salah has been very popular captain pick in most gameweeks. We don't expect it to be different in 2020/21 season.
Egyptian has scored stunning 73 Premier League goals and managed 34 assists since his arrival to Anfield Road. That is 795 FPL points combined since the start of 2017/18 campaign, what makes him very reliable FPL pick.
His price dropped (again) by 0.5 to 12 million, so it means that you can built a little bit stronger team around him. Mohamed Salah was not very convincing during Liverpool 4 pre-season matches where he failed to register single goal or assist, but that is not concern for us.
Liverpool will host Leeds at Anfield in the first gameweek and we could see a couple of goals in that match. And Salah as a Liverpool main threat should be involved.
Differential captain pick: Sadio Mané (LEE(H))
Our first three captain picks are highly owned players. If you want to play FPL a bit riskier, we have one differential captain option for you.
Sadio Mane is owned only by 12.4 % of FPL managers while Son Heung Min by 27.6 %, Pierre-Emerick Aubameyang by 42.2 % and Mohamed Salah by 30.4 %. Mané's low ownership is highly likely caused by his high price tag of 12 million, which is the same as Salah's.
FPL managers favor Egyptian for the same price. However, Mane has shown plenty of times that he is capable to match Salah's points. And he is incredibly strong at Anfield (62 % of his FPL points in last two season came in home matches).
The fixture is good for Liverpool. If you want to do things a bit differently than others FPL managers, consider giving the armband to Sadio Mané in the first gameweek.
Statistics of captain picks
You can compare stats of all four captain picks in the table. If you want to know more about xG statistics that is used in table, read our article What is xG.
| Player | FPL Points | Shots per 90 | Key Passes per 90 | xG per 90 | xA per 90 |
| --- | --- | --- | --- | --- | --- |
| Mane | 221 | 2.51 | 1.92 | 0.48 | 0.24 |
| Son | 169 | 2.90 | 2.47 | 0.35 | 0.24 |
| Aubameyang | 205 | 2.66 | 0.74 | 0.47 | 0.13 |
| Salah | 233 | 4.09 | 1.86 | 0.64 | 0.27 |
Source: Understat
Differential picks for GW1: If you want a risk it.
We finished the captain section with a differential captain pick and now we will look at differential low-owned picks for your GW1 team. If you don't want to bet only on highly owned players, there are some tips.
Former Slavia Prague's completed his move to West Ham United and Official FPL priced him very cheaply – just 5.0 million. Souček scored 3 goals in 13 appearances last season for Hammers. He registered 2.42 xG in that period, what suggest only slight overperformance, and he was shooting at rate 1.73 shots per 90 minutes.
These are very solid attacking numbers for very cheap defensive midfielders. Tomáš Souček also scored other 2 goals in pre-season matches, what boosts his appeal as an FPL asset.
César Azpilicueta (BHA(A))
Another player with only 8 % ownership is César Azpilicueta. Similarly to Son, he offers very stable output throughout the season. In the last 5 season he always scored 1 or 2 goals and added 5 or 6 assists.
The arrival of Thiago Silva to the Stanford Bridge should increase Chelsea chances for clean sheets and Azpilicueta owners could benefit from that. 
Clean Sheet analysis: Short term vs. Long term
Picking a right defense can be crucial for your season, because there has been a lot of value in defenders last few years. Selecting attacking defenders with high clean sheet chances can bring you a lot of fantasy points for a cheap price during whole season.
That's why we looked at teams which have the highest possibility of clean sheets. Firstly, lets look at short term clean sheet analysis. We calculated clean sheets probabilities from bookies odds to see which teams are highly likely keep a clean sheet in the first gameweek of the season. 
Probabilities of clean sheet in GW1
We calculated probabilities of a clean sheet for gameweek 1 using logarithmic method of odds to probabilities transformation. Bookies assigned high probability to Liverpool keeping a clean sheet, what suggest that doubling on Trent Alexander Arnold and Robertson (or Virgil Van Dijk) in GW1 could be good strategy. They also favor Wolves, Arsenal and Chelsea to keep a clean sheet.
| Team | Probability of CS |
| --- | --- |
| Liverpool | 46 % |
| Wolves | 38 % |
| Arsenal | 38 % |
| Chelsea | 37 % |
| Tottenham | 35 % |
| West Ham | 32 % |
| Leicester | 31 % |
| Southampton | 31 % |
| Sheffield | 29 % |
| Crystal Palace | 28 % |
| Newcastle | 22 % |
| West Bromwich | 18 % |
| Everton | 17 % |
| Brighton | 16 % |
| Fulham | 13 % |
| Leeds | 7 % |
Based on these odds, bookies are expecting total amount of 4.40 clean sheets in the first gameweek's all 8 games, what is 0.55 expected clean sheet per game. For comparison, during whole last season we were seeing clean sheets at the rate of 0.54 clean sheet per game. That means that bookies are expecting that first gameweek will be a little bit more defensive with slightly higher number of clean sheets than usual.
Long term clean sheet analysis
Now let's look at the bigger picture of clean sheets from the full season perspective and not just from GW1 perspective. In the table below you can see how many clean sheets teams kept in last four season. Is is sorted by the four seasons mean.
| Team | 16/17 | 17/18 | 18/19 | 19/20 | Mean | St. Dev |
| --- | --- | --- | --- | --- | --- | --- |
| Man City | 12 | 18 | 20 | 17 | 16.75 | 3.40 |
| Liverpool | 12 | 17 | 21 | 15 | 16.25 | 3.77 |
| Chelsea | 16 | 16 | 16 | 9 | 14.25 | 3.5 |
| Man United | 17 | 19 | 7 | 13 | 14 | 5.29 |
| Spurs | 17 | 16 | 13 | 8 | 13.5 | 4.04 |
| Sheffield | – | – | – | 13 | 13 | – |
| Everton | 13 | 10 | 14 | 9 | 11.5 | 2.38 |
| Burnley | 10 | 12 | 8 | 15 | 11.25 | 2.98 |
| Wolves | – | – | 9 | 13 | 11 | 2.82 |
| Arsenal | 13 | 13 | 8 | 10 | 11 | 2.45 |
| Newcastle | – | 9 | 11 | 11 | 10.33 | 1.15 |
| Leicester | 9 | 9 | 10 | 13 | 10.25 | 1.89 |
| Crystal Palace | 7 | 9 | 12 | 10 | 9.5 | 2.08 |
| Southampton | 14 | 8 | 7 | 9 | 9.5 | 3.11 |
| Brighton | – | 10 | 7 | 9 | 8.67 | 1.53 |
| West Ham | 10 | 10 | 7 | 7 | 8.5 | 1.73 |
| West Bromwich | 6 | 10 | – | – | 8 | 2.83 |
| Aston Villa | – | – | – | 7 | 7 | – |
| Fulham | – | – | 5 | – | 5 | – |
| Leeds | – | – | – | – | – | – |
Source: Premier League
From this points of view, Manchester City and Liverpool defenders are the most attractive options, because means of their clean sheets amount is really high with relatively low standard deviation and we could expect similar output in terms of clean sheets in the following season, too.
New players that could do well
We will see a lot of new faces in the upcoming season. We picked some very exciting new players that deserve attention of FPL managers ahead of the start of new season.
Leeds United have strengthen their attack by signing Rodrigo Moreno from Valencia. 29-year-old Spaniard had superb 2017-18 season in La Liga, when he managed to score 16 goals.
Since then, his form has been on a decline, and he scored just 8 goals in 2018/19 season, respectively 4 goals in 2019/20. However, he could resume his goalscoring capabilities in the new team, and with low 6.0 million price tag, if he is not doing well you can easily transfer him out for someone like Mitrovic.
Dony van de Beek played one of key roles in Ajax midfield during last three season and in 2020/21 we sill see him wearing Manchester United kit.
He scored 8 goals and added 5 assists in Eredivisie last season, and he could continue in his fine form in Premier League, too.
One of the most exciting transfer in this transfer window. Timo Werner is definitely one to consider for your fantasy team. 21, 13, 16 and 28 goals in last four Bundesliga season and he is still only 24-year-old.
Werner's FPL price is a bit higher and for 9.5 million he needs to replicate his Bundesliga performances in order to earn a spot in our squad. And among Chelsea new signings there might be one better and cheaper altarnative…
Hakim Ziyech could be key Chelsea player in the upcoming seasons. He showed his creativity in Ajax and he justify it with very solid statistics.
Ziyech costs just 8.0 million and perhaps, he could be so influential for Chelsea as was Bruno Fernandes for Man United after the transfer. 
Re-classified players: new opportunities
It is not just Aubameyang whose position was changed for new season. We picked some other interesting reclassifications.
Anthony Martial is a forward now, what is decreasing his fantasy appeal. If he had been forward last season, he would have scored only 178 points (he scored 200 as a midfielder). On the other hand, Marcus Rashford is now a midfielder and he would have scored 201 points last season if he had been classified as a midfielder, what makes him very good pick among Manchester United asset. His teammate Mason Greenwood is classified as a mid, too.
Also John Lundstram is a midfielder now. Richarlison and Antonio are forwards. Diogo Jota was reclassified to midfielder again and he can represent cheap route into Wolves attack.
Best aproach to blank gameweek
Strategies to consider for GW1
We will see a strange first gameweek, where only 8 matches take place instead of 10. Manchester City, Manchester United, Burnley and Aston Villa wiil not play in the GW1.
We are used to manage our teams through blank gameweeks atthe end of the season and not at the beginning. So what is the best approach here? Should FPL managers load up only on players that will play in blank GW or they should select some Man City, Man United (or even Burnley) players and bench them for first GW?
Well, there is no clear answer to that. Many FPL managers will use their wildcard in the second GW just to bring in United and City assets. But they might regret such an early wildcard lately, when they will know much more about the season.
Early wildcard strategy might work (especially in the short term), but we do not fancy this strategy. Our recommendation is, if you want Man City and Man United players from GW2 onwards, just bring in 1 or 2 of them now and bench them in the GW1. Yes, it will decrease your team's potential output for the first gameweek, but it will get you to very good position in GW2 and you would be able to safe your wildcard.
With this strategy you would need some solid bench players, so there are few interesting options.
Cheap benchfolders that could get some gametime
Defenders: It is impossible to find new John Lundstram among 4.0 million defenders, but there are some of them that will get some game time. Currently injured Nathan Ferguson (Crystal Palace) could be the best option among 4.0 million defenders when he recovers. Meanwhile his 4.0 million teammate Tyrick Mitchel should play for Palace in GW1 if Patrick van Aanholt is still injured.
Midfielders: From 4.5 million defenders we expected Dale Stephens (Brighton) and Marvelous Nakamba (West Ham) to get a lot of minutes. However, do not expect performances at the level of last season's 4.5m hero Todd Cantwell from them.
Forwards: Monitor the situation around Liverpool forward Rhian Brewster. If he leaves Liverpool for another Premier League club, he will be best 4.5 million pick. Apart from that, 4.5 million forward Kainan Davis from Aston Villa will likely get some minutes from the bench through the season.
Balanced scout selection for new season
We prepared our scout selection for the first weeks of the new season. It's not just squad for the GW1, but also for the few other gameweeks onwards.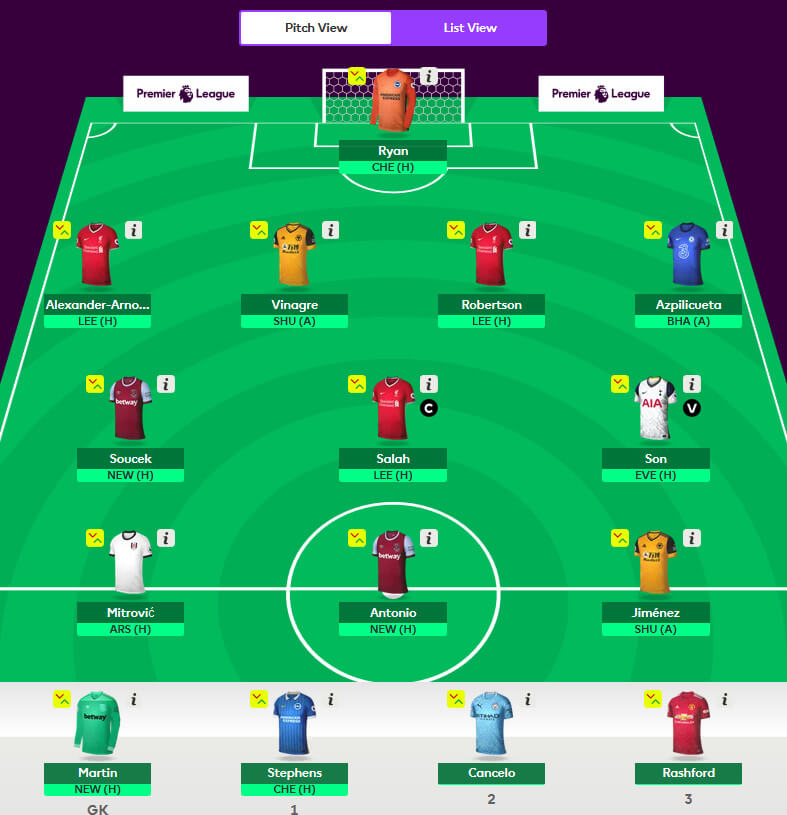 Matt Ryan is our preferred goalkeeper, because of his low 4.5 million price tag and big amount of saves he is doing through the season.
In defense we are counting on Liverpool double up, Robertson and TAA. They will likely outscore (again) forwards and midfielders with similar price tag and they represent amazing value. Cancelo and Azpilicueta are our other two premium defenders who could gain a lot of points for clean sheets and an attacking returns,too. Ruben Vinagre is a backup on the bench, but he will get a nod in our squad in the GW1 due to blank for Cancelo.
Mohamed Salah is our captain for the first gameweek. We expect a lot of points from Rashford and Son, too, they are good captaincy options for next weeks. Souček and Stephens are solid bench picks.
We opted for Mitrovic in the attack, he has really strong start to a season two years ago, and he could replicate that. Antonio finished last season in superb form, and he has favorable fixture in GW1. Last man in our squad is Raul Jimenez, the Wolves talisman.
We hope our complete guide to FPL GW1 has shown you some important information and has helped you with the decision making process about your fantasy team. One last thing, remember to finish your team one and a half hour before the first kick-off, because the FPL changed deadlines. Good luck.