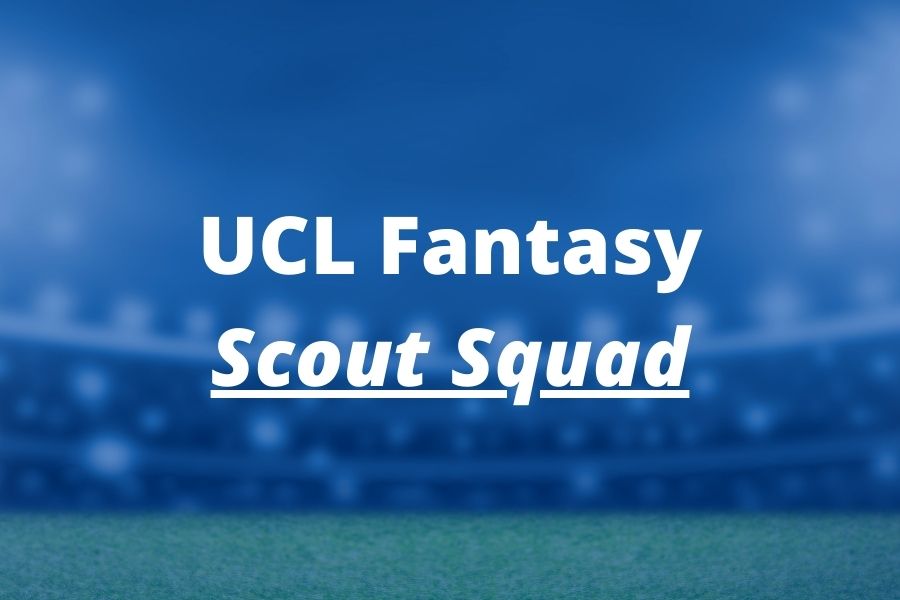 The first leg of UCL Fantasy Round of 16 starts in few hours, so it is time to finalize our team selection for Fantasy Champions League Matchday 7.
Here is our Scout Squad for MD7.
UCL Fantasy Scout Squad Matchday 7
Goalkeepers
It is important to have two goalkeepers who play on a different day, so you could use a substitution in case your first goalkeeper blanks.
We usually pick our goalkeepers and defenders with one eye on the clean-sheet odds. However, for the first leg of the round of 16, clean sheets odds for all teams are very tight. There is no team with a clean sheet probability higher than 40 %, so we think it is important to diversify defenders across multiple teams. That way you increase your chances to catch at least some clean sheets.
Sommer is our first-choice keeper for the Round of 16. He is a great value at 4.5 million. If Sommer blanks we will substitute him for Ederson, who is, really, the only nailed defensive player from Manchester City.
Read more: Best Goalkeeper to pick in UCL Fantasy Matchday 7
Defenders
In the defense, we have Di Lorenzo, who was amazing in the group stage. He offers an attacking threat and can score a few more points for balls recovered.
Reece James is back from injury and he is going straight back to our fantasy team. There could be goals at both ends in the Chelsea match against Borussia, and with his attacking potential, James could be easily involved in some goals.
Grimaldo scored 2 goals and 2 assists in the group stage and has good form in domestic competition. And you need Benfica's defensive coverage for their match against Brugge. Grimaldo is our favorite as he offers a slightly higher attacking threat than Otamendi or Antonio Silva.
Our fourth defender is Cancelo, who managed to register two assists for Bayern already. And our last defender is Milan Škriniar, as Inter Milan has the highest clean sheet probability of all teams in the round of 16.
Read more: Best Defenders to pick in UCL Fantasy Matchday 7
Midfielders
Bellingham was superb in the group stage, always delivered more than 5 points, and he is a key midfielder for Dortmund. Chelsea's defense has been shaky recently, so we really favor Bellingham to do well against them.
Benfica has a good fixture against Brugge. We think you should have at least one attacking player from their team. For us, it is Joao Mario who is their talisman and who was heavily involved in Benfica group stage goals.
Our third midfielder is Leroy Sané. The fixture doesn't really matter for Bayern players. They can deliver fantasy points against any team. But the same goes for their opponent: PSG.
No team scored more goals in the Group stage than Napoli and they have a good fixture against Frankfurt. Kvaratskheila is one of their key players and he is on penalties. He is a great budget enabler for our Fantasy teams.
Our last midfielder is Valverde, who could deliver fantasy points against leaky Liverpool defense. However, if you have money in the bank to upgrade him to Vinicius, do that.
Read more: Best Midfielders to pick in UCL Fantasy Matchday 7
Forwards
The forward line was pretty clear for us until Mbappe got injured.
Haaland is the obvious pick and captaincy option for the last day of Matchday 7. Our second forward is Harry Kane, who have a good season in the Premier League, however, his form in the Champions League was not so great. But he is mainly a placeholder for Mbappe or Messi once they are fit again.
And our last forward pick is Osimhen who scored almost in every match for Napoli in this calendar year.
Read more: Best Forwards to pick in UCL Fantasy Matchday 7
Team Selection Matcdhay 7 of Fantasy Champions League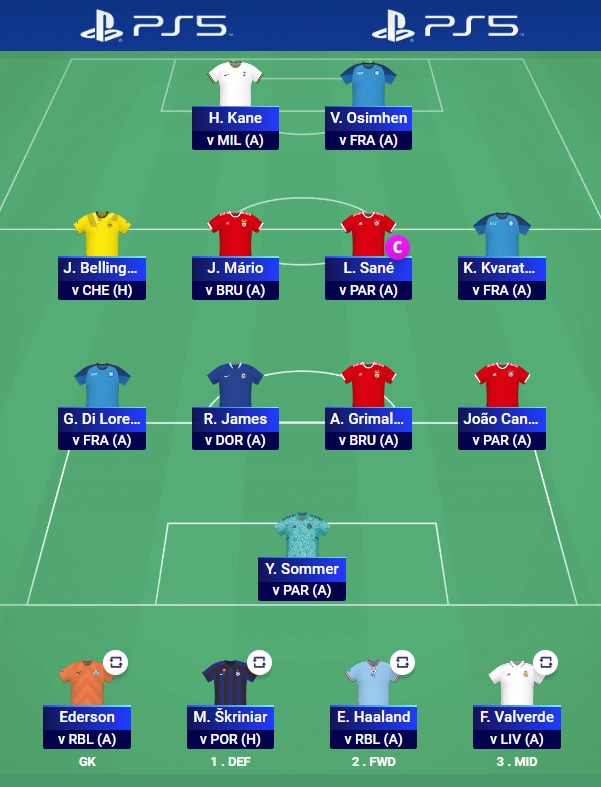 Our captaincy sequence for Fantasy Champions League Matchday 7 is: Sané, Belinngham, Osimhen and Haaland.
Read more: UCL Fantasy Round of 16: Tips, Best Pick, Captain and Team Selection