Once the Fantasy Premier League launches, thousands of FPL managers try to create their teams as soon as possible in order to get a low FPL ID.
But does it really matter?
Is there any advantage in getting a low ID other than a great way to remember the ID of your team when submitting it into some fantasy football tool?
We will discuss it in this article. But first, let's look at some fundamentals if you do not know how to find your FPL ID. If you have already know, how to find ID, skip this section and scroll down to: Does low FPL ID matter?
First and foremost, FPL ID is the identification number of your team for each season. Basically, FPL ID is a unique number awarded to your fantasy squad. 
Fantasy Premier League managers get their ID as they SUBMIT their first team into the game after the game launch in each season. The FPL ID is awarded to managers in the order they submit their teams.
So, managers who submit their team sooner, get a lower FPL ID.
Note: each season, you will have a different ID.
Where and how you can find it we will explain in the next step.
Where you can find your FPL ID?
Many people get confused when they are asked to show or copy their FPL ID. Many of them don't even know what it is, hence we will show you where you can find it and how to use it.
1. Login into Fantasy Premier League
The best way to see your FPL ID is by logging in through your PC/Laptop. It is a little bit harder to find it over the official app. so you will need to log in over google chrome or safary if you're on a mobile device.
2. Go to Points
The second step is – when you're logged in over your PC device, you go to the FPL page and on the ''POINTS''.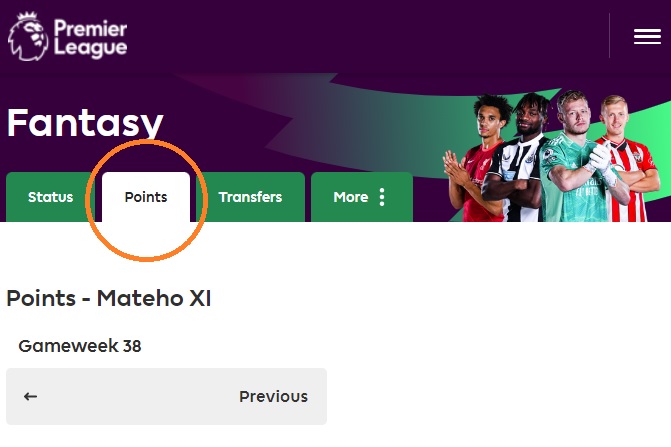 3. Click view gameweek history
If you are on a laptop, you will find the button in the right sidebar. If you are on a mobile, scroll down to see your team details. 
Then click ''VIEW GAMEWEEK HISTORY'' and you should be redirected to the page with your FPL history.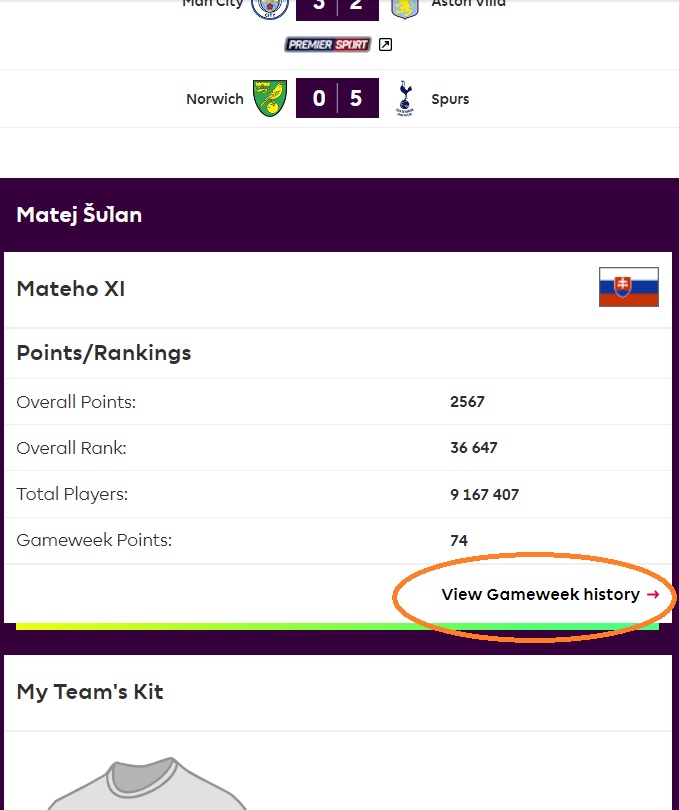 4. Check the URL of the history page
Now you will be able to see your FPL ID in the URL of the page – it is the number between entry and history. The picture below is the example of where you can find your FPL ID. 

Why you need to know your FPL ID?
If you are just a casual Fantasy Premier League manager you probably do not need to know your FPL ID.
However, if you use some FPL sites and tools that help you analyze your team, you might need to know your FPL ID. Those sites need to know your ID in order to get the URL page of your team and therefore to the list of players into your squad. 
So, why at the beginning of each season thousands of fantasy managers try to get as low FPL ID as possible?
Because, in fact, low FPL ID get decide whether you win FPL prize or not in case of a tie braker!
According to the Official FPL, if the two teams have the same amount of points then the result (higher place in mini-league or ranking) will go in favor of the manager who made fewer transfers.
However, if both of them have the same number of transfers (and the FPL prize is in stake) only then FPL ID will decide in favor of the manager who created his team earlier and he gets the prize.
Note: If the prize is not at stake, managers will share the same position in their mini-league or rankings.
So a low FPL ID does actually matter!
Well, how to get a low FPL ID?
Now the question is, how to get a low FPL ID?
It is very simple – be among the very first few people who will create their team once the game is re-launched. 
Tips for getting low FPL ID:
Use the FPL website and not the App, as the App could crash upon high traffic
Remember, you will get the ID only AFTER YOU SUBMIT your team, so do not waste time by picking players. Just click auto pick and submit your first squad as soon as possible!
You will change your squad and pick layers you really want later. You can make unlimited transfers before the first deadline, so no need to lose time by cherry picking. 
Also follow Official FPL (and other FPL accounts) on twitter in order to be prepared for the game launch. Twitter community will feel when the launch is close so you do will not miss it!
OfficialFPL will start leaking prices on Twitter a few days before launch, so you will know, when the launch is very close. So, make sure you turn the notification on for their account. 
Low FPL ID actually matters, but there is no impact on your overall rankink. However, if the prize is at stake, having a low FPL ID worth it!