The last Fantasy Premier League gameweek before international break is here. After GW4 we can ease our minds a little bit, forget about FPL for week or two, do not worry about who to captain, clean sheet odds and our squads. And then go back stronger and fully concentrated. But before that, we want to help to navigate you through GW4 with our FPL tips.
Best captain pick for GW 4
There are a lot of nice fixture in gameweek 4 where we could find great captain contenders. Werner, Calwert Lewin, De Bruyne, Sterling, Vardy, Ings, Aubameyang, Jimenez, Salah and Mane all went into our considerations. We highlighted three players from this wide range of options, that we consider to be best option to put an armband on.
Danny Ings is our captain pick based on fixture rather than form. However, he has already scored a couple of goals this season. Southampton face West Brom who have been defensively very poor from the very beginning of the season. Using xG data from Understat, we know that they allow their opponents to create chances of total 9.48 xG and they conceded 11 goals.
It is no surprise that Danny Ings is Southampton's main man again. He showed it in the second gameweek when he clinically finished his both chances against Spurs (one of them was penalty). Then he found back of the net against Burnley, too. Many players have already registered big points haul against WBA and Danny Ings could be next.
2. Mohamed Salah (AVL (A))
Mohamed Salah is on good course to become an FPL top-scorer for the third time in four seasons. He is great captaincy option almost in every match Liverpool play. Salah has been the most active player in the Premier League so far this season. 6.5 shots per match and 4.5 key passes per match are astonishing stats.
He scored three goals from 2.17 xG and failed to add assist to his tally despite 0.47 xA. No Liverpool player has done better this season. Salah is flying on the pitch and if continues in his great form, what is very likely, he could easily add another haul against Aston Villa. However despite his amazing stats, we think that there is one even better captain pick for GW4.
1. Raheem Sterling (LEE (A))
As we mentioned in our preview for gameweek 2, based on last season's data, Raheem Sterling is great captaincy option in Man City away matches.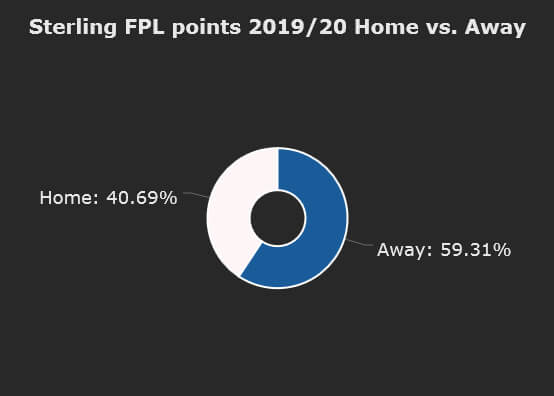 It is worth notice that last season Sterling registered 2 hattricks in away games, so his ceiling in terms of FPL points is very big.
With an injury to Jesus, we could see Sterling playing closer to the opponent goal. Despite the loss against Leicester, Man City have shown great quality in attack this season and they could demonstrate it again against Leeds. Leeds have conceded 6.24 xG against and 7 goals, so they are vulnerable at the beck. It is hard to see them resist Manchester City goalscoring machine.
Differential captain in GW4: Raul Jimenez (FUL (H))
We have already talk about bad defenses of West Brom and Leeds. And the third promoted team Fulham have not done defensively great either. They conceded 7 goals from 3.62 xGA.
On the other hand, Wolves continues where they end last season. Very solid at the back and in the attack, too. Wolves face Fulham on Sunday and they are big favorites. Raul Jimenez as their talisman was involved in 47 % of their goals last season. He has already proved himself to be great FPL asset this season too, with two goals in two opening fixtures.
Jimenez is not as explosive in FPL as, for example Sterling, but he is reliable pick and his returns are stable. So do not expect big explosive haul from him, but thanks to his reliability, 6 points looks like very likely output against Fulham. So if you want to choose stability over explosiveness, Jimenez is definitely one to look at.
Differential picks for GW4
Leandro Trossard (EVE (A))
Despite the loss against Manchester United, Brighton showed sparkling performance in the previous gameweek. Leandro Trossard has been outstanding and very unlucky as he hit the bar 3 times. He has already scored one goal and add one assist this season.
Trossard is shooting often at rate of 2.67 shots per 90 minutes and creating chances at same rate 2.67 per 90. And he is only 1 percent owned, very under the radar of the vast majority of FPL managers. Brighton has favorable run of fixture in the next 6 gameweek and Belgian could boost your rank if he continues in his great form.
Aymeric Laporte (LEE (A))
Aymeric Laporte is back after injury and he should be main man in the Man City defense. Apart from Ederson, it is hard to pick a regular starter from Man City backline, but when Laporte is fit, he features in the vast majority of their games.
Man City have regularly high probability of a clean sheet and Laporte offers threat from set pieces. He is very low owned, so he could be very nice differential in upcoming gameweeks.
Clean sheet odds for GW 4
We have already published clean sheet odds in the article FPL GW4: Clean Sheet odds, so you feel free to read about it there. Or just look at the top of right-side panel, where are clean sheet odds published, too.
Increase in penalty count
In the last season of Premier League, we have seen 92 penalties to be conceded. That is 2.42 penalties per gameweek. So far this season, we have seen 20 penalties, what is 6.67 penalties per gameweek. That is a massive increase. The increase is caused mainly due to new handball rule.
Main question is. Should we load up our FPL teams with penalty takers, now? We have just a small sample of a penalty count this season, but it looks, that the trend may continue through the whole season. This new handball rule and its effect on penalties count is not priced in players prices, so going for penalty takers could bring you big advantage, if the trend really continues.
But beware. It is not a penalty taker like a penalty taker. If you decide to go this path, make sure your penalty takers are able to score FPL points from open play too. Because those players could benefit from this change the most.
Heung-Min Son replacement
An unfortunate hamstring injury ruled out Son-Heung Min from the second half of the match against Newcastle. Juse Mourinho said on a press conference, that Son is big doubt for Sunday against manchester United. Perhaps, owners should look for his replacement. We picked one Man City player that we consider as his best replacement. It is Riyad Mahrez.
Mahrez showed solid performance against his former club on Sunday and with injury to Gabriel Jesus, he should get more game time during upcoming gameweeks. Against Lecicester, he had 3 shots and 3 key passes, more than any other Man City player. Mahrez could be also nice differential, because he is currently sitting only in 2.1 percent of FPL squads.
Our scout selection for GW 4
From all the information we gathered, we put together our scout squad for gameweek 4.
Sterling (C)

11.5 m | LEE (A)
Calwert-Lewin
7.4 m | BHA (H)

Due to high probability of a clean sheet, we doubled up on Wolves defense with Patricio in goal, and Saiss, who offer biggest goal threat from all 3 Wolves centre backs. We also doubled up on Liverpool defenders with TAA and Robertson. Aymeric Laporte is our last defender and our gameweek differential, too.
Sterling is our number one captain pick. His teammate Mahrez also made it to our squad as a Son replacement. We also count on Everton attack with James Rodriguez as a last man in our midfield and Calwert Lewin in the attack.
Jimenez and Ings have already proved that they are great FPL assets in this season too and they both have very easy fixture in GW4.
Hopefully, our tips for GW4 have inspired you. Our last tip for the end is: do not pull the trigger to your wildcard if you don't have to. If you have right team structure and squad with at least few key players and penalty takers, it is not necessary to waste wildcard early.
However that is very important assumption. If you don't have right team structure and some key players, then it is better to use a wildcard. The FPL is a very chaotic and unpredictable system and after GW4, there will be other issues and other surprises that we will be talking about.