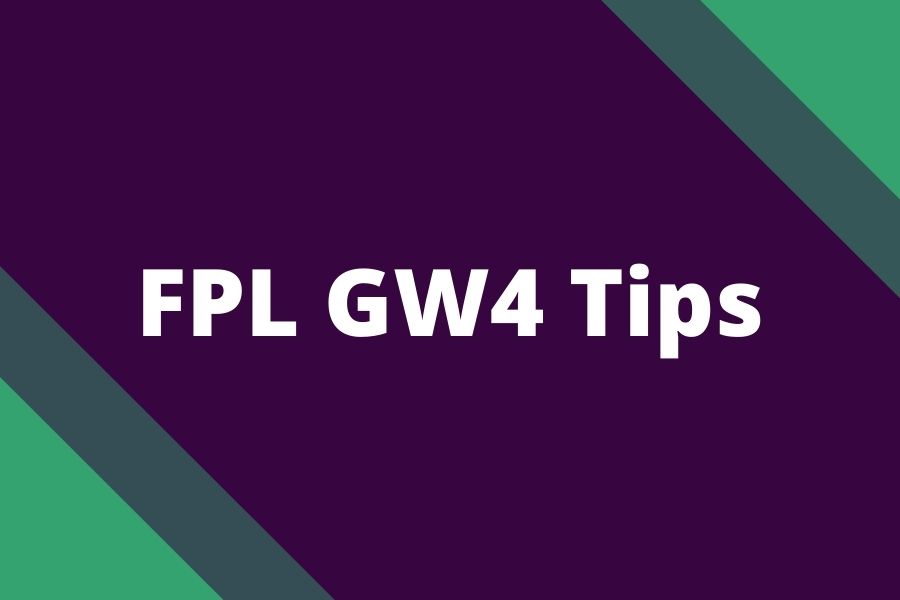 The first three rounds of the season are now over and we are going to focus our energy on the upcoming Fantasy Premier League gameweek 4 – the last FPL gameweek before the international break.
After GW4 we can ease our minds a little bit, forget about FPL for a week or two, do not worry about who to captain, clean sheet odds and our squads. And then go back stronger and fully concentrated.
But before that, we want to help to navigate you through the next round with our FPL GW4 Tips, the best picks, fixtures, transfer targets, odds, captain picks, and team selection.
1. Fantasy Premier League Gameweek 4 Tips
We will have an international break between GW5, so there will be two weeks between GW4 and GW5 deadlines.
Having two free transfers is always handy during international breaks, so if you can try to save one free transfer (unless you aim to use your Wildcard during the international break – that way all saved transfers will be lost)
We have some fixture swings in GW4, so it is potentially a good time to use wildcard, but only if your team is in terrible shape. The early wildcard would allow you to exploit fixture swings that occur in gameweek 4 – if this is your case, and you aim to use your wildcard now, activate it as soon as possible in order to catch price rises. Read more: Tips for efficient use of wildcard in FPL.
Exploit fixtures swings with your transfers (or wildcard)
Do not forget there are cup games in midweek before GW4, so do not make rush transfers as some players could get injured in cup games
Notes:
Joao Pedro and Gabriel are big rotation risks, they could be your priority transfers out unless your team have another more urgent issues
Gabriel Jesus was back on the bench for Arsenal, which will limit Nketiah's game-time
Johnstone is currently not an option for FPL, as Crystal Palace signed Henderson. He will likely start in GW4, but after the international break, he we do not think he will remain the number 1 GK – Ederson, Sanchez, Flekken are potential replacements
Archer was transferred to Sheffield, he is now the best 4.5m forward to own
If James is back after international break, you would be buying Gusto just for 1-2 matches, so be careful
2. Key players to own and transfer targets for FPL GW4
Key players
Haaland – captain option in almost any gameweek
Chilwell – Chelsea's fixture run is absolutely fantastic
Saka – stable output over the last few years, bonus points magnet
Rashford – a key player for United
Transfer targets
Jackson/Sterling – Having Chelsea attacker for their fixture rung looks crucial in GW4
Maddison – key man for Spurs
Jota/Diaz – Liverpool assets are overlooked, but no team has a better fixture run in GW4 – GW12 than them. There could be plenty of goals for the Reds in that period and perhaps even a few clean sheets.
Trippier, Isak – Newcastle's fixture improves now. Trippier is now our number one transfer target from them, however, you could also gamble on Isak (but be wary that he will share game time with Wilson)
Alvarez – With KdB out for a few months with a serious injury, he will be good value even if he is benched in a few games
Ederson/Gvardiol/Dias – Man City are very solid defensively, there is a high clean sheet potential in the next few gameweeks. And having a City defender could be a differential strategy, as the majority of managers are overlooking them due to rotation. Make sure you have a good first sub a GK sub.
Eze – impressed so far, Fixtures are improving for Palace, he should have had 2 attacking returns with 1.96 xGI
Mbeumo/Wissa/Henry/Pinnock – try to squeeze at least one Brentford player into your team for their fixture GW3 – GW7
3. Fixtures to target in Gameweek 4 and fixture swings
In which fixtures we could expect a lot of fantasy points? Fixtures to target in GW4 according to bookies odds:
Manchester City vs Fulham: Citizens 84 % to win, 59 % to score 2.5+ goals
Chelsea vs. Nottingham: The Blues 69 % to win, 37 % to score 2.5+ goals
Liverpool vs. Aston Villa: The Reds 60 % to win, 39 % to score 2.5+ goals
Brentford vs. Bournemouth: Brentford 59 % to win, 31 % to score 2.5+ goals
Note:
West Ham has also a good fixture in GW4 against a leaky Luton defense (they conceded 7 goals in 2 games), so if you are looking for some one-week differentials, you can look into some West Ham assets (Bowen, Ward Prowse, Emerson)
Fixture swings in GW4:
Teams whose fixtures are worsening:
Teams whose fixtures are improving:
Newcastle
Liverpool
Man City (from GW3)
Chelsea (from GW3)
Luton (good for bench fodders – Nakamba, Bell, Kaboré)
5. Best captain pick in FPL GW4
Who is the best captain in Fantasy Premier League Gameweek 4?
We think Haaland is the best captaincy option in GW4. He is the safe captaincy pick given his ownership, he is a reliable FPL asset and has a great fixture.
He is the top captaincy option according to our captaincy index for GW4. Salah is second and Mbeumo third.
But if you want to go with a differential captain, consider Jackson, Salah or Bowen –  all three have good fixtures for captaincy.
6. What bookies odds say about Gameweek 4
As usual, we converted bookies odds into probabilities using our Odds to probability calculator, to assess the potential of gameweek 4.
Clean sheet odds for GW4
Bookies assigned the highest probability of a clean sheet to Manchester City – 51 %. Citizens are followed by Chelsea, West Ham and Crystal Palace.
So this is where we should be looking for clean sheets in the next round of FPL.
Bookies expect 4.92 clean sheets in gameweek 4. In last season, we were used to a rate of 5.45 per clean sheets gameweek. This season so far, we have seen clean sheets at the rate of 4 clean sheets per gameweek.
Due to correction in the number of clean sheets: Tottenham, Manchester City
Spurs overperformed their defensive expectations the most of all teams. They should have kept 0.72 clean sheets instead of 2 according to our expected clean sheets table.
Due to an improvement in the number of clean sheets: Brighton, Liverpool
Brighton underperformed their defensive expectations the most from all teams. They should have kept 1.22 clean sheets instead of 0 according to our expected clean sheets table.
You can see the expected clean sheets table and clean sheet odds for all Premier League teams here: Premier League Clean Sheet Odds.
Goalscoring odds
As usual, Haaland leads the table for anytime goalscorer odds in GW4. He is followed by Alvarez and Salah. Check all odds here: Premier League Goalsocring Odds
7. FPL GW4 Team selection
Here is our FPL team selection for Gameweek 4. Haaland is our captain. Our scout picks for GW4:
8. Fantasy Premier League Tips
Find more tips, strategies and picks for Fantasy Premier League in these articles:
We hope our FPL GW4 tips helped you to gather some useful information before the Gameweek 4 deadline.
Feel free to JOIN our Fantasy Football Reports mini-league by clicking this link or using our league code ti56kl.
Good luck in FPL GW4!