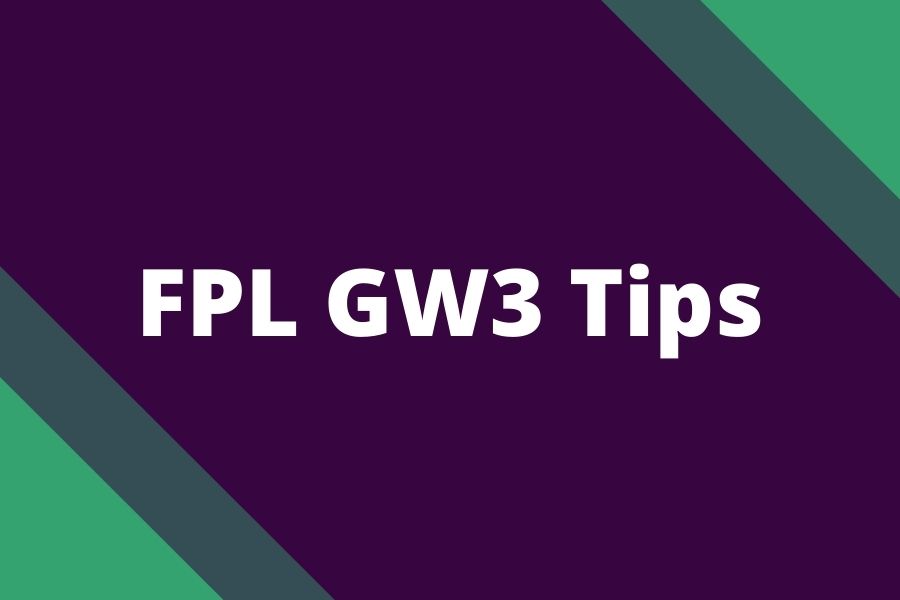 The second gameweek of Fantasy Premier League brought us some surprises (Salah blank, Liverpool not convincing performance, Haaland with just an assist, Bailey benched….) and it was not as high-scoring as the first one. 
A lot of FPL managers that did exceptionally well in the GW1 struggled in GW2. But that is how the game works: joy and disappointment repeat over and over again.
If you are disappointed about your GW2 score, just look at your total points score from both gameweeks and ask yourself: If someone told me before GW1 that I was going to have such a high score after GW2 would I take it? 
I think most of you would.
So, it is time to concentrate our effort on gameweek 3 and let's jump on our FPL GW3 Tips.
Read more: 4 Books that will help you improve your FPL skills
Da Silva or Andreas are good Bailey replacements
Jesus (if you still do not have him), Toney and Mitrovič are the best Darwin replacements in our opinion
Keep Robertson, do not sell. We cannot draw conclusions just from two games. He will have attacking returns and clean sheets for the rest of the season.
Double up on City defense if  you can
GW3 Differential: Mason Mount
Fixtures to target: Spurs vs Wolves, Newcastle vs. Manchester City
At first, let's take a closer look at players' statistics from GW2. 
Who impressed?
In our report, we use data about shots and expected goals from Understat. If you are not sure what expected goals are, make sure to read our article about xG here. 
No player registered a higher xG in the second gameweek of FPL as Gabriel Jesus (1.86). He also added 0.58 xA, making his total expected involvement 2.44 in the GW2. He overperformed his underlying numbers against a bit, and probably should have scored less than 19 FPL points. Neverthless, his expected involvement was still huge. Jesus also registered 7 shots against Leicetser and 3 key passes.
Only Rodrigo got close to Jesus's superb underlying performance in the second gameweek of the season. He registered 1.42 xG, 0.42 xA, and 5 shots turning these stats into the 15-point-haul. 
Wilfried Zaha continued in his fine form from pre season and score 1 goal from total of 1.14 xG (3rd from all players in GW2). He has 4 shots in GW2 and also registered 0.02 xA. 
Ollie Watkins registered 1.14 xA in GW2 – more than any other player. He turned it into two assists and added 0.51 xG to his performance.
Ivan Toney showed his creativity as well, he registered two assists from total of 0.94 xA (2nd). What is concerning, he has just one shot worth 0.02 xG against manchester United.
To learn more about players that impressed in GW2. read Jordan's GW2 report here: FPL GW2 Weekly Summary: Eye Test + players who impressed.
Best captain pick for GW3
There is no clear captaincy candidate in GW3, so we expect the captaincy to be spread around. Salah, Haaland, De Bruyne, Son, Kane, Jesus are all ones to consider to be captaincy candidates in GW3.
We narrowed down our list of captaincy picks to three players using our Captaincy Index.
You can read our full captaincy analysis for GW3 here.
According to the Captaincy Index, Son is the best captain in GW3.
Salah is the number 2 captaincy pick and Haaland number 3. 
What bookies odds say about GW3
As usual, we converted bookies odds into probabilities using our Odds to probability calculator, to assess the potential of gameweek 3.
Clean sheet odds for GW3
Bookies assigned the highest probability of a clean sheet to Tottenham – 48 %. Spurs are followed by Arsenal, Manchester City, and West Ham. 
So this is where we should be looking for clean sheets in the next round of FPL.
Bookies expect 5.26 clean sheets in gameweek 3. In last season, we were used to a rate of 5.58 per clean sheets gameweek. This season so far, we have seen clean sheets at the rate of 6 clean sheets per gameweek.
Newcastle and Manchester City are due to the correction in their clean sheet count, we expect both teams to concede goals in the upcoming gameweeks.
Due to correction in the number of clean sheets: Newcastle, Manchester City
Newcastle overperformed their defensive expectations the most of all teams. They should have kept 0.62 clean sheets instead of 2 according to our expected clean sheets table.
Due to an improvement in the number of clean sheets: Liverpool, Manchester United,
Liverpool underperformed their defensive expectations the most from all teams. The Reds should have kept 1.02 clean sheets instead of 0 according to our expected clean sheets table.
You can see the expected clean sheets table and clean sheet odds for all Premier League teams here.
Goalscoring odds for GW3
Haaland (50 %) and Kane (46 %) dominate the goalscoring odds for GW3. They are closely followed by Vardy, Jesus and Salah.
These are the players that bookies expect to most likely score in GW3.
You can look at all most likely GW3 goalscorers here.
FPL GW3 Team - scout selection
Now let's look at our FPL team for GW3. 
Martinelli
6.3 m | BOU (A)

We hope our FPL GW3 tips helped you to gather some useful information before the deadline.
Join our Fantasy Football Reports League if you haven't already with a league code of zte1cv. Or click the auto-join here.
Good luck in FPL GW3!