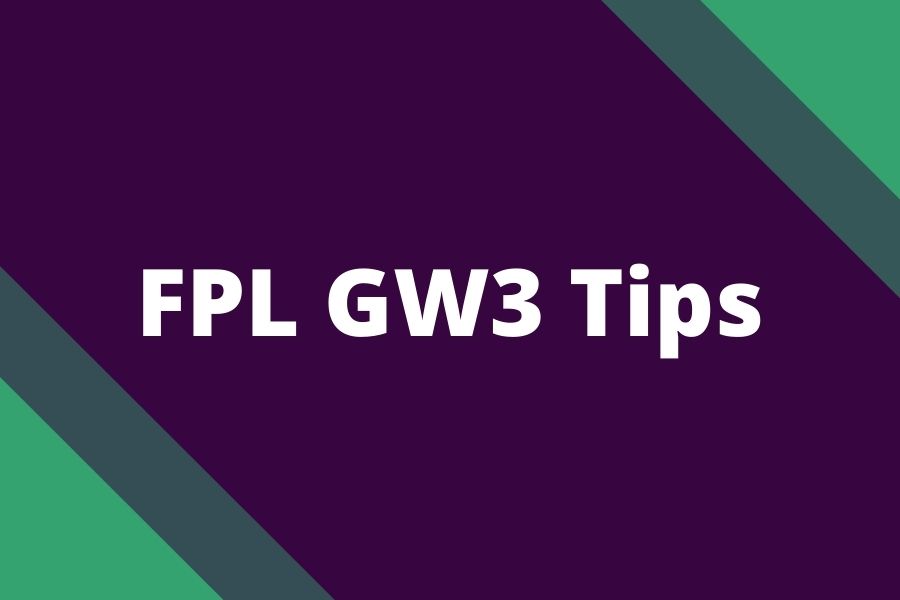 The Gameweek 3 of Fantasy Premier League is on the horizon.
Some FPL managers that did exceptionally well in the GW1 struggled in GW2. But that is how the game works: joy and disappointment repeat over and over again.
If you are disappointed about your GW2 score, just look at your total points score from both gameweeks and ask yourself: If someone told me before GW1 that I was going to have such a high score after GW2 would I take it?
I think most of you would.
So, it is time to concentrate our effort on gameweek 3, and let's jump on our FPL GW3 Tips, best picks, fixtures, transfer targets, odds, captain picks, and team selection.
Read more: 4 Books that will help you improve your FPL skills
1. Fantasy Premier League Gameweek 3 Tips
If you saved a transfer after GW1, you now have 2 free transfers. You have several options according to the current situation of your team:
If your team is in very good shape, you do not need to use all 2 transfers. You can simply just make 1 transfer – 1 simple tactical change, and save the other transfer, to have again 2 available in GW4. Use it to bring in a Brentford attacker, Alvarez, Maddison (if fit) or Man City defender. Note for beginners: You cannot have more than 2 free transfers at any time during the season. So, if you have 2 free transfers now, and do not use any of them, you will still have 2 free transfers next gameweek (not 3).
That way you would have two free transfers in the international break that could be very valuable in GW4.
Use both free transfers to improve your squad, target players with good fixtures from GW3 onwards (like Eze), or players whose probability of delivering points/starting improved and are good value (Alvarez)
Do mini-wildcard – make 3 transfers (2 free transfers + 1 hit for -4 points) if your squad is not in good shape and you need to rebalance your squad or move the money around your team
Notes:
Try to avoid using wildcard too early. Be more patient with players you picked before the season. Read more: Tips for efficient use of wildcard in FPL
Spurs next 3 fixtures are really great, Maddison/Richarlison/Udogie are good mid-term options for the next 3 matches
Keep Rashford and Fernandes for their fixture in GW3. They had OK underlying stats so far, but underperformed. Nottingham have holes in the defence they could exploit. Then you could sell Rashford/Fernandes after GW3 even if they deliver points.
Joao Pedro is now rotation risk, manager said he want him to improve mentally, to fight harder when he loses the ball. This doesnot mean that he will be on the bench every week. But you must be cautious. If you do not want to carry the risk of him being benched again, you can transfer him out. Potential Joao Pedro replacements (in order): Wissa, Alvarez, Jackson, Edouard, Morris
Update: Now when Enciso is injured, Pedro will likely be regular starter for Brighton. We would not sell him if we owned him. 
Odegaard is on pens now for Arsenal, which slightly decreases Saka's point potential
2. Key players to own and transfer targets for FPL GW3
Key players
Haaland – captain option in almost any gameweek
Chilwell – Chelsea's fixture run is absolutely fantastic
Saka – stable output over the last few years, bonus points magnet
Estupinan – played in a very advanced position against Luton, another good fixture for possible attacking return
Rashford – a key player for United, the fixture in GW3 is good, keep him
Mitoma/March
Transfer targets
Alvarez – with KdB out for a few months with a serious injury, he will be good value even if he is benched in few games
Ederson/Gvardiol – Man City are very solid defensively, there is a high clenn sheet potential in the next few gameweeks. And having a City defender could be a differntial strategy, as majority of managers are overlooking them due to roattion. Make sure you have a good first sub a GK sub.
Maddison – key man for Spurs
Eze – impressed so far, fixtures are improving for Palace
Mbeumo/Wissa/Henry/Pinnock – try to squeeze at least one Brentford player to your team for their fixture GW3 – GW7
Majority of FPL managers will have at least one of Brentford attacker. Having two could be a differential strategy, although your FPL team would be too reliant on Brentord scoring goals
Gusto – If it looks that he will play majority of matches during James absence
Emerson Royal – medium term punt for next 3 gameweeks
Jackson
3. Fixtures to target in Gameweek 3
In which fixtures we could expect a lot of fantasy points? Fixtures to target in GW3 according to bookies odds:
Sheffield vs. Manchester City: Citizens 81 % to win, 48 % to score 2.5+ goals
Chelsea vs. Luton: The Blues 79 % to win, 50 % to score 2.5+ goals
Arsenal vs Fulham: The Gunners 77 % to win, 49 % to score 2.5+ goals
Manchester United vs. Nottingham: The Red Devils 74 % to win, 45 % to score 2.5+ goals
Idea: so many great fixtures for top teams, this could be a really high-scoring gameweek. We know that free hit chip will be very valuable later in the season during blank gameweeks, but this kind of gameweek will likely be very good for managers who will opt to use this chip in Gameweek 3. But we still advise you to save it for later (for blank and double gameweeks).
4. Best players to pick in Gameweek 3
We also looked at players from each position: goalkeepers, defenders, midfielders, and forwards.
We examine which players are best picks in each price bracket: budget enablers, midpriced picks, and premium options. Check our watchlists here:
5. Best captain pick in FPL GW3
Who is the best captain in Fantasy Premier League Gameweek 3?
First of all,  Haaland is an amazing captaincy option in GW3, he is the safe captaincy pick given his ownership.
He is the top captaincy option according to our captaincy index for GW3. Mbeumo is second and Mitoma third.
But if you want to go with a differential captain, consider Saka or Rashford who both have a tasty fixture for captaincy.
6. What bookies odds say about Gameweek 3
As usual, we converted bookies odds into probabilities using our Odds to probability calculator, to assess the potential of gameweek 3.
Clean sheet odds for GW3
Bookies assigned the highest probability of a clean sheet to Chelsea – 52 %. The Blues are followed by Arsenal, Manchester City, and Man United.
So this is where we should be looking for clean sheets in the next round of FPL.
Bookies expect 5.08 clean sheets in gameweek 3. In last season, we were used to a rate of 5.45 clean sheets per gameweek. This season so far, we have seen clean sheets at the rate of 4.5 clean sheets per gameweek.
You can see clean sheet odds for all Premier League teams here.
Goalscoring odds
As usual, Haaland leads the table for anytime goalscorer odds in GW3. He is followed by Rashford. Check all odda here: Premier League Goalsocring Odds
7. FPL GW3 Team selection
Here is our FPL team selection for Gameweek 3. Haaland is our captain. Our scout picks for GW3: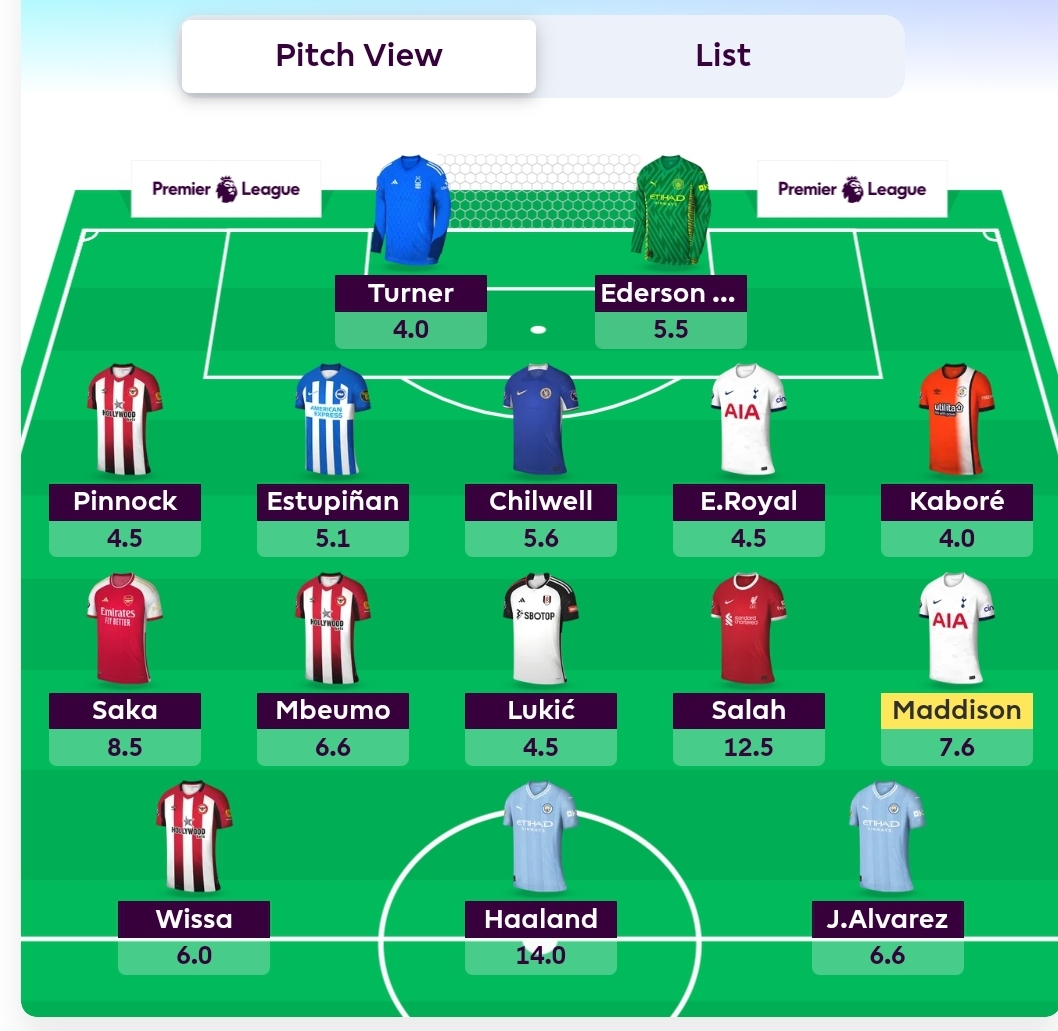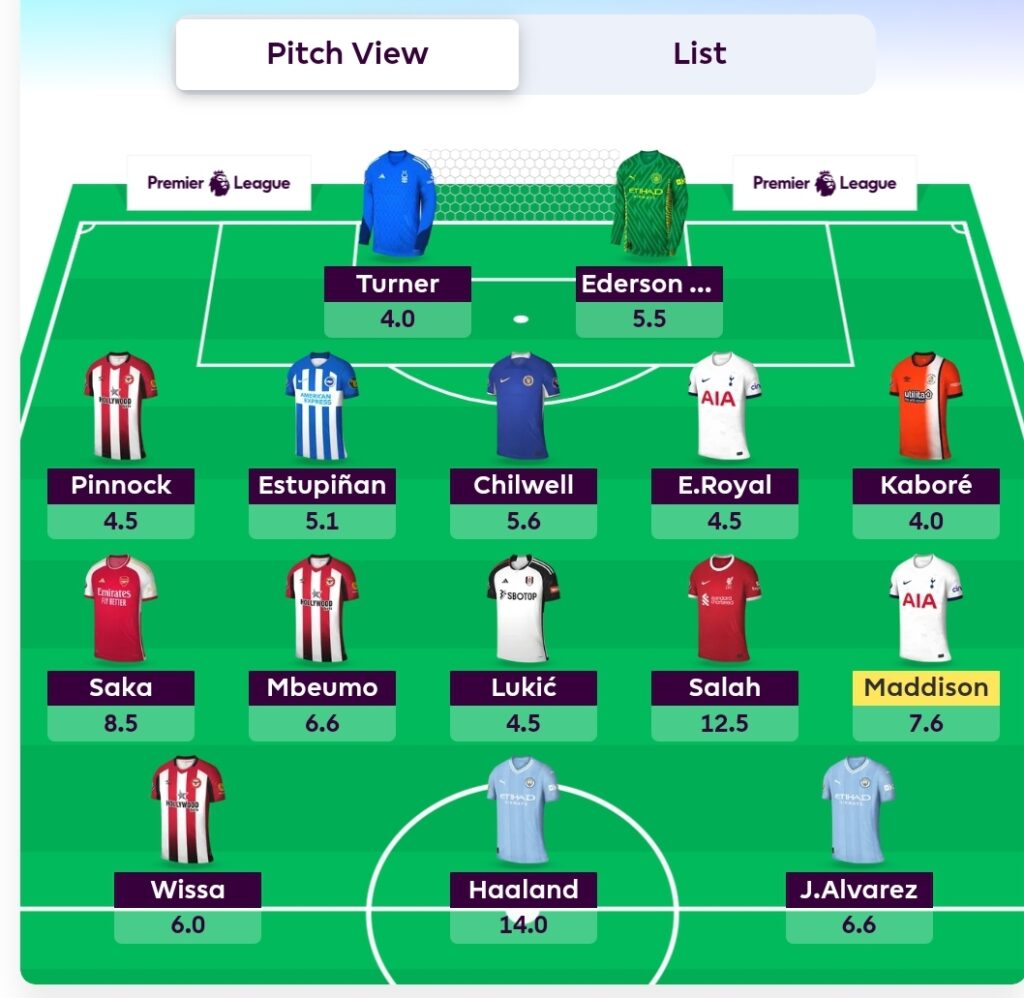 8. Fantasy Premier League Tips
Find more tips, strategies and picks for Fantasy Premier League in these articles:
We hope our FPL GW3 tips helped you to gather some useful information before the Gameweek 3 deadline.
Feel free to JOIN our Fantasy Football Reports mini-league by clicking this link or using our league code ti56kl.
Good luck in FPL GW3!