Double Gameweek 36 is here and there are just three more opportunities to do something about our ranking and mini-league positions in Fantasy Premier League. Last three gameweeks – 2 double gameweeks and one very crazy single gameweek.
And if you still have some chips left, you might want to use them.
But first, let's jump to our FPL GW36 Tips with the best picks, fixtures to target, transfer targets, captain, odds & team selection for Double Gameweek 36.
1. Fantasy Premier League Double Gameweek 36 Tips
Focus on teams that have the most matches left in the last 3 gameweeks – Brighton (5), Manchester City (4), Manchester United (4), Newcastle (4), Chelsea (4)
We are almost at the finish line of this FPL season – team value does not matter as much as it used to in the first half of the season – you can afford to lose some money you have tighted up in players
It is the perfect time to use wildcard if you still have it and then bench boost in GW37
Do not take unnecessary hits
Having "just" 4 double gameweekers for double gameweek 36 is fine, do not tear your team apart
Further reading: 3 Essential tips for effective use of wildcard in FPL
2. Key players to own and transfer targets for GW36
Key players
Haaland, KdB – De Bruyne with one more game than Salah until the end of the season
Rashford, Shaw
Mitoma/Mac Allister – Brighton have 2 double gameweeks until the end of the season
Brighton defender/goalkeeepr
Manchester City defender/goalkeeper
One of Wilson/Isak
Trippier
Potential transfer targets:
Wilson/Isak/Trippier/Pope
Mitoma/MacAlister/Steele
De Bruyne, Dias, Ederson
Rashford/Shaw
Players to transfer out:
Watkins
March – to MacAlister/Mitoma
Aston Villa defenders – to Newcastle defender
Salah – for De Bruyne if do not plan another move
3. Fixtures to target in FPL Double Gameweek 36
In which fixtures we could expect a lot of fantasy points? Fixtures to target in double GW36 according to bookies odds:
Everton vs. Manchester City: The Citizens 71 % to win, 40 % to score 2.5+ goals
Manchester United vs Wolves: The Red Devils 70 % to win, 39 % to score 2.5+ goals
Chelsea vs Nottingham: The Blues 64 % to win, 31 % to score 2.5+ goals
Leicester vs Liverpool: Liverpool 61 % to win, 38 % to score 2.5+ goals
And of course, the double gameweek fixtures.
4. Who is the best captain in FPL GW36
We will keep the captaincy section short once again.
If you would like to know more about the process we use to select the captain every gameweek, read our article: How to pick the right captain in FPL?
It is hard to overlook good Newcastle fixtures in double gameweek. We think Trippier is the best captain pick for DGW36. You could also go for Wilson or Isak, if you are reluctant to captain a defender. Or if you really want to go for the safe captain, you can still pick Haaland despite him having just a single gameweek.
It is nothing wrong on captain single gameweek player during double gameweeks. Many times, single gameweek heavy hitters can do much better than not reliable double gameweek players.
Differential captains:
Mitoma
Pope
5. What bookies odds say about Double Gameweek 36
As usual, we converted bookies odds into probabilities using our Odds to probability calculator, to assess the potential of gameweek 36.
Clean sheet odds for GW36
Manchester City, Chelsea and Manchester United have a solid chance of at least one clean sheet in DGW36.
Bookies expect 5.31 clean sheets in gameweek 36. In last season, we were used to a rate of 5.58 per clean sheets gameweek. This season we have seen clean sheets at the rate of 5.49 clean sheets per gameweek.
Due to correction in the number of clean sheets: Manchester United, Aston Villa
Manchester United overperformed their defensive expectations the most of all teams. The red devils should have kept 9.93 clean sheets instead of 15 according to our expected clean sheets table.
Due to an improvement in the number of clean sheets: Manchester City, Southampton
Manchester City underperformed their defensive expectations the most from all teams. They should have kept 15.26 clean sheets instead of 11 according to our expected clean sheets table.
You can see the expected clean sheets table and clean sheet odds for all Premier League teams here.
Goalscoring odds for GW36
Regarding the first matches of double gameweek, Haaland leads the any time goalscorer odds table for GW36. Rashford and Salah follow.
You can look at all most likely goalscorers here.
6. Using Chips in Double

Gameweek 36
This would be our wildcard team for the current gameweek:
FPL Wildcard Team Inspiration for GW36 – If you use a wildcard in GW36. aim to use bench boost in GW37
And if you are committed to gameweek 36 free hit, here is our draft:
Triple captain could be more valuable in GW37, where you could use the chip on Haaland, KdB or Rashford.
7. FPL GW36 Team selection
Now let's look at our FPL team for GW36. Trippier is our captain.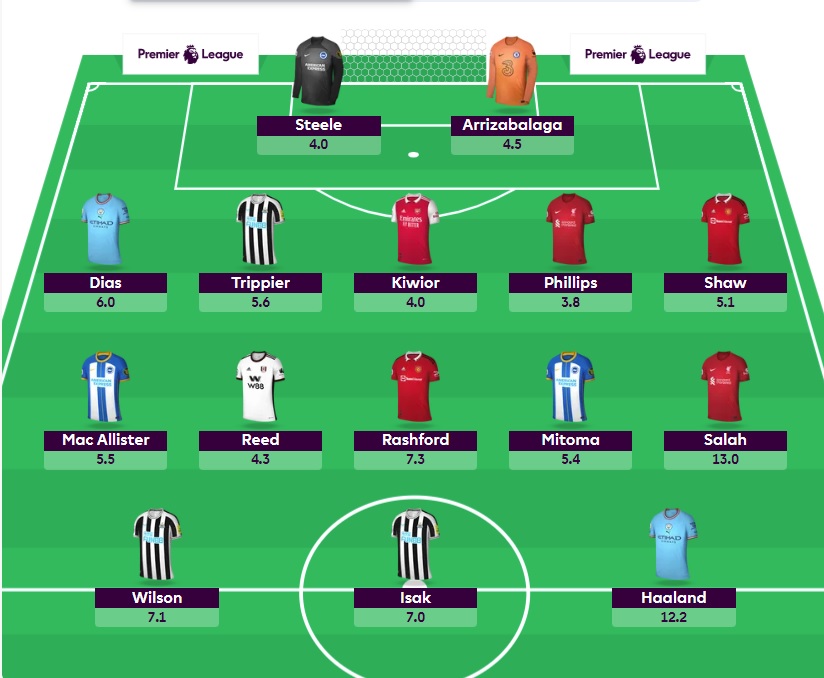 8. Fantasy Premier League Tips
Find more tips, strategies and picks for Fantasy Premier League in these articles:
We hope our FPL GW36 tips helped you to gather some useful information before the double gameweek 36 deadline.
Join our Fantasy Football Reports League if you haven't already with a league code of zte1cv. Or click the auto-join here.
Good luck in FPL GW36!