Another Fantasy Premier League double gameweek is here: Aston Villa, Bournemouth, Brentford, Brighton, Chelsea, Leeds, Leicester, Liverpool, Manchester United, Newcastle, Nottingham Forest and West Ham play twice in Gameweek 29.
Let's jump to our FPL GW29 Tips, where we discuss best picks, fixtures to target, transfer targets, captain, differentials, odds & team selection.
1. Fantasy Premier League Double Gameweek 29 Tips
You do not need to have 11 double gameweekers in your fantasy teams – having quality single gameweek players (Haaland, Saka, Martinelli, Gabriel, Kane) is also important, as they might do well in GW29 and next rounds as well
Plan ahead for a blank gameweek in GW32 – what will you do? Will you use your free hit or transfers?
There is an international break before Gameweek 29, so there are 2 long weeks where anything can happen (players might get injured on their international duty, come back late, or get out of form…)
So, save your transfers as late as possible, especially if you have only 1 free transfer
If you have two free transfers, you might use the first one early – but there is still risk involved, so we advise to use them both close to the deadline
2. Key players to own and transfer targets for GW29
Rashford – captain for DGW29
Trippier – double in GW29
Chilwell
Brighton midfielder – Mitoma, March or MacAllister
Brighton defending player – Steele, Dunk or Estupinan
Toney
Saka – the best Arsenal player and you want the best players from best team in your FPL squad even when they do not play twice in GW29
Arsenal defender: Gabriel or Zinchenko
Potential transfer targets:
3. Fixtures to target in Double Gameweek 29
In which fixtures we could expect a lot of fantasy points? Fixtures to target in double GW29 according to bookies odds:
Arsenal vs. Leeds: The Gunners 72 % to win, 43 % to score 2.5+ goals
Manchester City vs Liverpool: Citizens 59 % to win, 33 % to score 2.5+ goals
Brighton vs Brentford: Brighton 57 % to win, 29 % to score 2.5+ goals
Chelsea vs Aston Villa: The Blues 57 % to win, 26 % to score 2.5+ goals
West Ham vs Southampton: Hammers 54 % to win, 22 % to score 2.5+ goals
And of course the double gameweek fixtures.
4. Differentials for GW29
Ings (West Ham, 6.4m)
owned only by 1.4 % of FPL managers
great one-week punt (mainly for free hitters) for Double Gameweek 29
solid double gameweek fixtures against Southampton and Newcastle
Isak (Newcastle, 6.7m)
selected only by 2.7% of FPL managers
great form, could do well in DGW29
but could share some minutes with Wilson
5. Best captain pick in FPL GW29
Manchester United midfielders Rashford (if fit) and Fernandes are stand-out captaincy options for Gameweek 29. However, if you are looking for a differential captain, you could consider captain Maddison, Trippier and even March or Mitoma.
6. Using Chips in Double Gameweek 29: Bench boost week
Gameweek 29 could be an opportunity for managers who wildcarded in the previous round and prepared their bench well – they can now you their bench boost chip. If you have double gameweek players on your bench, you should expect them to score around 16 points = (2+2)*4.
16 points from bench boost is considered as a success. Everything above 16 points is a nice bonus.
If you plan to use some of your other chips in FPL GW29, here are our drafts for your inspiration:
7. What bookies odds say about Double Gameweek 29
As usual, we converted bookies odds into probabilities using our Odds to probability calculator, to assess the potential of gameweek 29.
Clean sheet odds for GW29
With a 47 % probability of keeping a clean sheet, Arsenal leads the clean sheet odds table for GW29. Bookies also expect Chelsea (40 %) and West Ham (39 %) to do well defensively in Gameweek 29.
Bookies expect 8.44 clean sheets in gameweek 29. In last season, we were used to a rate of 5.58 per clean sheets gameweek. This season we have seen clean sheets at the rate of 5.64 clean sheets per gameweek.
Double Gameweek teams clean sheets odds
But you should also pay special attention to probabilities for double gameweek teams:
| Team | Expected Clean Sheets | Probability of at least one CS | Probability of two CS |
| --- | --- | --- | --- |
| Brighton | 0.8 | 64 % | 16 % |
| Chelsea | 0.64 | 54 % | 10 % |
| West Ham | 0.64 | 54 % | 10 % |
| Manch.Utd. | 0.59 | 51 % | 8 % |
| Newcastle | 0.57 | 49 % | 8 % |
| Leicester | 0.55 | 47 % | 8 % |
| Nottingham | 0.46 | 41 % | 5 % |
| Bournemouth | 0.42 | 38 % | 4 % |
| Leeds | 0.42 | 40 % | 2 % |
| Aston Villa | 0.38 | 35 % | 3 % |
| Liverpool | 0.33 | 31 % | 2 % |
| Brentford | 0.25 | 23 % | 2 % |
Expected vs. actual clean sheets
Due to a correction in the number of clean sheets: Newcastle, Manchester United
Newcastle overperformed their defensive expectations the most from all teams. They should have kept 7.91 clean sheets instead of 12 according to our expected clean sheets table.
Due to an improvement in the number of clean sheets: Manchester City, West Ham
Manchester City underperformed their defensive expectations the most of all teams. They should have kept 12.05 clean sheets instead of 10 according to our expected clean sheets table.
You can see the expected clean sheets table and clean sheet odds for all Premier League teams here.
Goalscoring odds
Find out who is most likely to score a goal in GW29 in our table: Premier League Goalscoring Odds.
8. FPL GW29 Team selection
Now let's look at our FPL team selection for Gameweek 29 – Scout squad. Rashford (if fit) is our captain.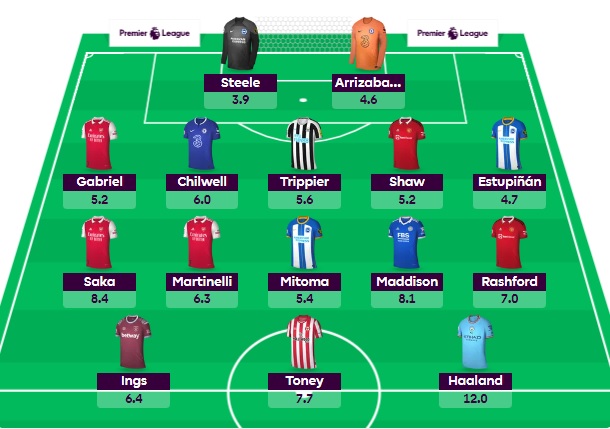 9. Fantasy Premier League Tips
Find more tips, strategies and picks for Fantasy Premier League in these articles:
We hope our FPL GW29 tips helped you to gather some useful information before the double gameweek 29 deadline.
Join our Fantasy Football Reports League if you haven't already with a league code of zte1cv. Or click the auto-join here.
Good luck in FPL GW29!