EURO 2020 starts in just few days. We have already finalized our EURO 2020 Fantasy Scout team, so it is time to reveal it.
We think that fixtures matter, so we selected players that have very favorable groups, and favorable matchday 1 fixture, as well.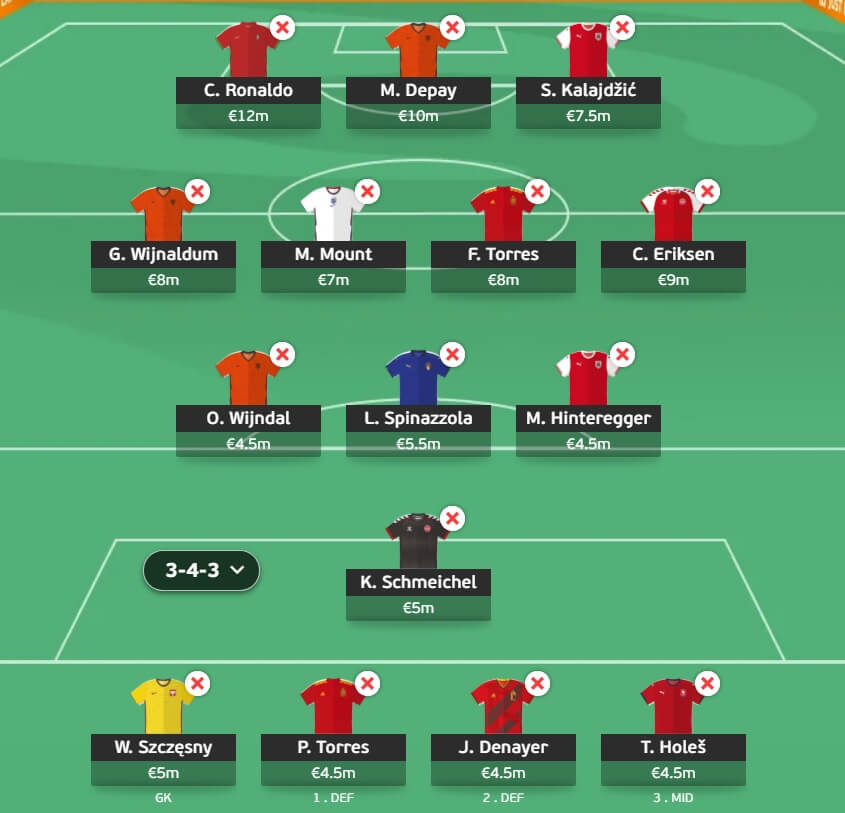 Defense: We bet on defenders and goalkeepers who have a high probability of a clean sheet especially on the first matchday.
Midfield: We picked mostly midfielders that were heavily involved in the goals of their team during qualification for EURO 2020, Nation League, and World Cup 2022 Qualification.
Attack: Ronaldo and Depay are talismans for their teams. Kalajdzic had an amazing season in Bundesliga with 16 goals and 5 assists.
They all three have an "easy" fixture in the first matchday and a pretty high probability of scoring a goal based on bookies goalscoring odds for the first round of the EURO 2020 Group stage.
Bench: The bench is not sorted yet and we will sort it differently. We wanted to show "strongest", so we put the weakest players on the bench.
We will sort the bench differently before the deadline in order to maximize the potential of substitutions.
Best captain: We think, Ronaldo is the best fantasy captain pick for the EURO 2020 Matchday 1, because of the fixture.
However, it is important to have a captain for every day within the matchday. Our captaincy sequence is:
Spinazzola – Eriksen – Depay – Torres – Ronaldo.
Our captaincy threshold for changing the captaincy is 8 points for Spinazzola and Eriksen, and 6 points for Depay, Torres, and Ronaldo.
It means, that if Spinazzola or Eriksen fails to register 8 or more points, we switch the captaincy. However, if Depay or Torres score 6 or more points, we will leave the captaincy on one of them.
Plan for following matchdays
Transfer plans: We left 0.5m in the bank for flexibility. If there are no injuries, we will bring in Dzyuba and Kane for Kalajdzic and Ronaldo before matchday 2. 
Our captaincy sequence in matchday 2 would be: Dzyuba – Depay – Kane – Torres
We will play our limitless wildcard in matchday 3. 
And we will play regular wildcard after the R16 when we have only 3 free transfers. 
Want to learn more about EURO 2020 Fantasy Football? Read our EURO 2020 Fantasy Football Tips.