Premier League fixtures were announced today and for many FPL enthusiasts, the planning for their GW1 team starts today. 
So, let's quickly look at fixtures and analyze which teams have the best and which have the worst opening fixtures. 
Fantasy Premier League 2022/23 fixtures
Which teams have the best opening fixtures?
Let's look at fixture difficulty. The official FDR is not available, so we use an approximation based on positions from previous season:
| Team | FDR |
| --- | --- |
| MCI | 5 |
| LIV | 5 |
| CHE | 4 |
| TOT | 4 |
| ARS | 4 |
| MUN | 4 |
| WHU | 3 |
| LEI | 3 |
| BHA | 3 |
| WOL | 3 |
| NEW | 3 |
| CRY | 3 |
| BRE | 2 |
| AVL | 2 |
| SOU | 2 |
| EVE | 2 |
| LEE | 2 |
| FUL | 2 |
| BOU | 2 |
| NFO | 2 |
Here is the list of opening fixtures in familiar FDR colors. Note: this is not an official FDR list, it is just an approximation based on the teams positions from previous season: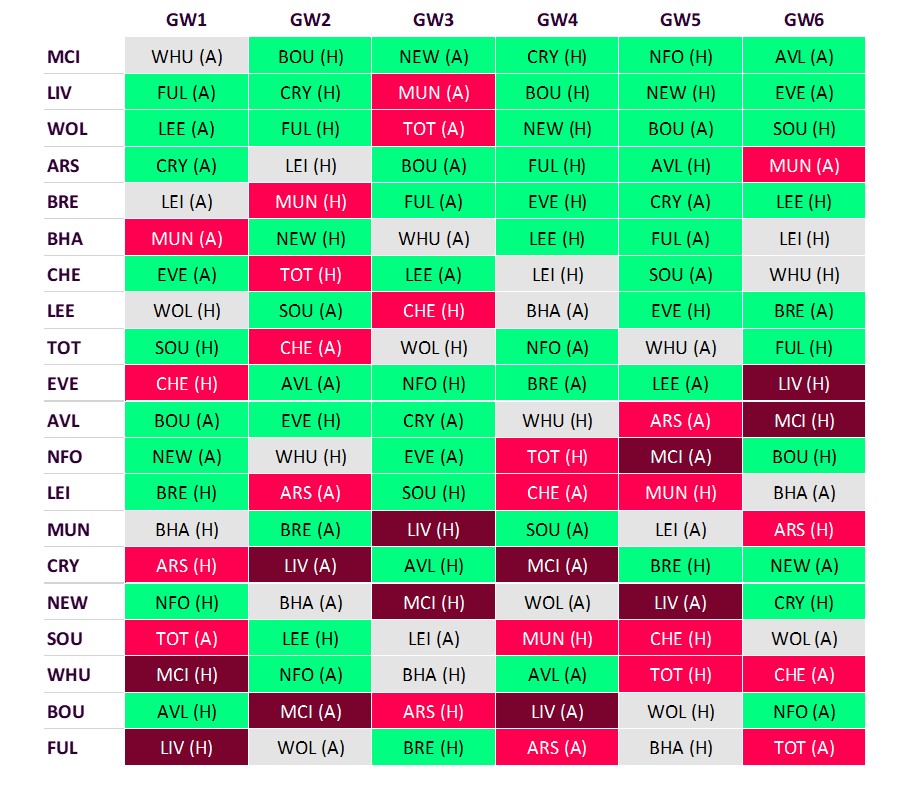 Teams to target based on the opening 6 fixtures: City, Liverpool, Arsenal, Wolves
Teams to avoid based on the opening 6 fixtures: Fulham, Bournemouth, West Ham