After an article about xG, over/underperforming forwards and midfielders, it is time to look at the last position: defenders. Everything about xG was explained in those articles so I jump right to underperformers and overperformers from this position. I used data about Expected Goals and Assists from understat website.
The chart below displays Expected Involvement and an actual involvement of selected defenders. If the chart is not clear to you, visit my post about over/underperformed forwards. The chart deals only with goals and assists of selected defenders and not with clean sheets.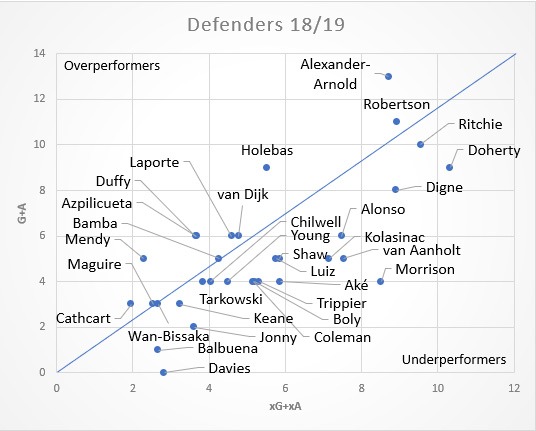 Overperformers
Liverpool fullbacks had an amazing season. However, they both overperformed their Expected Involvement, Alexander-Arnold by 4,29 and Robertson by 2,09. Expected Involvement suggests that every one of them should have been involved in "just" 9 goals, which is still pretty high on defenders. Another overperformer was Holebas who was involved in 9 goals, but based on xG and xA, it should have been 5,52. In his few matches, Mendy should have had hand in just 2,28 goals, not 5. Duffy and Azpilicueta overperformed their xG by around 2,3. Difference between Expected Involvement and actual involvement of other defenders above the blue line is less than 2.
Underperfomers
The unluckiest defender of the last season was Morrison. His Expected Involvement is very similar to Liverpool fullbacks, but he scored just 1 goal and registered 3 assists. Ben Davies should have been involved in 2,83 goals more, van Aanholt in 2,53 goals more and Kolašinac in 2,15 goals more. All other defenders under the blue line underperformed their Expected involvement by less than 2.
Source: understat