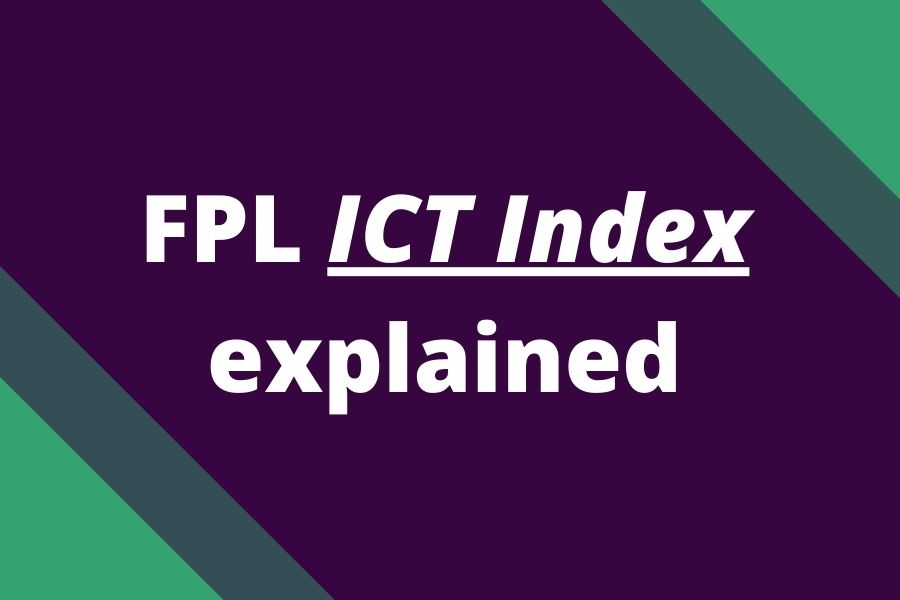 Using data and statistics is an essential part of the decision-making process in Fantasy Premier League. There is one particularly useful metric that is available directly amount FPL stats and that is ICT Index.
What is ITC Index? What does it measure? And how we can use it as FPL managers?
We will discuss it in this article.
What is ICT Index in FPL?
According to the definition at the Official FPL website, the ITC index is a statistical index developed specifically to assess a player as an FPL asset, combining Influence, Creativity, and Threat scores.
This index was specifically developed for FPL managers to help evaluate whether a certain player is a good FPL asset or not.
How is ICT Index calculated?
The ICT index consists of more than 40 match event statistics that are divided into three distinct scores (influence, creativity, and threat). All these factors are known to correlate with FPL points so it really helps FPL managers assess players' FPL potential.
Let's look at each part of the ICT Index individually:
1. Influence
The first metric – Influence evaluates a player's impact on a match, taking into account actions that could directly or indirectly affect the match outcome.
It evaluates the degree to which a player has made an impact during a single match or throughout the whole season.
Influence includes main actions like goals and assists, but also defensive actions to analyze the impact of goalkeepers and defenders.
So defensive players are not at a disadvantage.
Players who are key players for their teams do very well in this statistic.
2. Creativity
Creativity measures player performance in terms of producing goalscoring opportunities for his teammates. It helps FPL managers to find the players who are most likely to register assists.
This metric uses the frequency of passing and crossing while it also considers pitch location and quality of the final ball.
Creative players like Kevin de Bruyne do very well in this statistic.
3. Threat
The last part of the ICT Index is Threat. It examines a player's threat on goal, so it favors the individuals who are most likely to score goals.
Attempts are the most important part of this statistic, but it also looks at the pitch location of the attempt. It gives greater weight to attempts that are more likely to turn into goals.
Overall ICT Index score
ICT Index is then the combination of all three statistics (Influence, Creativity, Threat).
Wehere you can find ICT Index in FPL?
You can find ICT Index Scores when you click on transfers and then choose ICT Index as your sorting variable: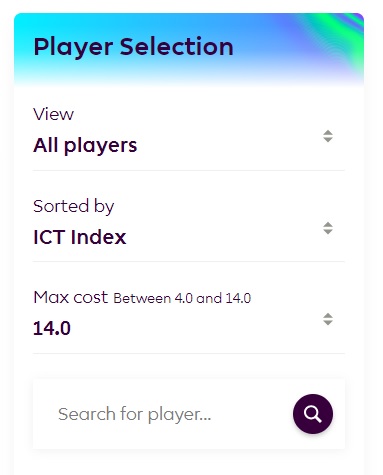 Now, players are sorted by their overall ICT Index score – the higher the better. 
Similarly, you can find ICT Index scores when clicking on the tab Stats and choosing ICT Index as a sorting variable.
You can also sort players' by their performance in each metric of the ICT Index (Influence, Creativity, Threat) individually.
When you click on the player's details, you will see their ICT Index and how they are ranked in this metric: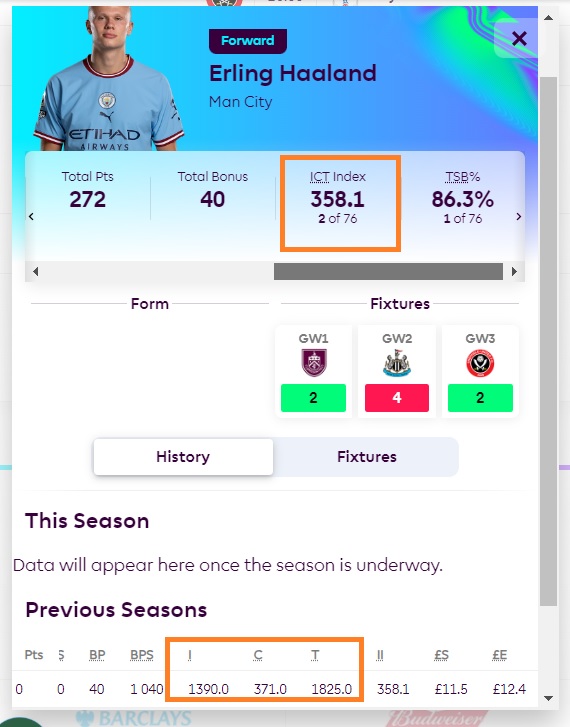 In this example, Haaland's ICT Index is 358.1 with a rank of 2. The ICT rank is 2, which says that he is 2nd best FPL asset to own according to ICT Index.
Advantages of the ICT Index
available directly at the Official FPL website, so it is very easy to use and compare or sort players
developed especially for FPL purposes
it helps to compare players across positions, for example, midfielders vs. defenders, etc
It can help you find players you overlooked – just sort all players by ICT index before making the final transfer for the gameweek
It is an overlooked stat – not many FPL managers use it (or know about it), so using it in your decision-making process could give you a slight edge – for example for finding differentials
Disadvantages of the ICT Index
measure past performance – it tells you what ICT Index Score was, not what is going to be (however, this is a downside of all stats used for evaluating players' performance)
we do not know which exact stats are used inside of Influence, Creativity, or Threat metric
You should also consider other stats when evaluating a player's prospect: points per game, xG, value, etc to get a bigger picture
Conclusion
ICT Index is a great stat for evaluating a player as an FPL asset. Basically, it will tell you, whether a player is (was – because it measure past) a good FPL asset or not, based on its measures.
We think you should definitely use it in your decision-making process – especially to find overlooked players. But never use it in isolation, and use other stats as well to get a greater and more complex picture of a player's performance.