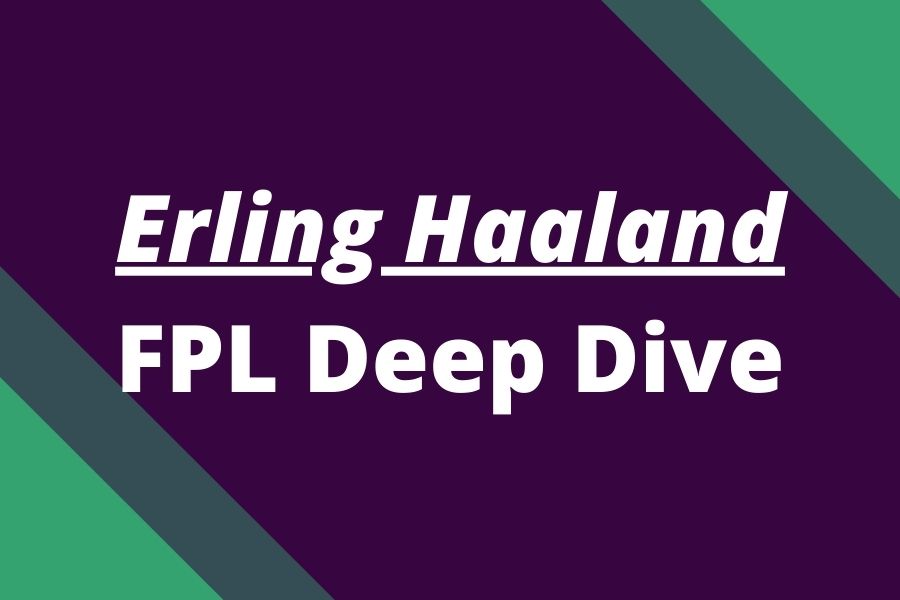 So Pep finally has his man. Golden boy Erling Haaland finally arrives in the Premier League some 23 years after his father's Manchester City debut. And it's not just City fans who are excited to see the 22-year-old finally pulling on that laser blue shirt. Since FPL 2022/23 launched a couple of weeks ago, excitement over Haaland, and his surprisingly cheap price tag (£11.5m), has reached fever pitch.
At the time of writing, ownership of the striker sits at a staggering 59.4%, which is 2% more than Liverpool talisman and all round FPL GOAT Mohamed Salah (57.4%). This number is sure to increase over the coming weeks as more and more players join the game. And Haaland's addition to the game could see a move away from last season's popular 'Big at the Back' strategy, towards teams favouring forwards a little more.
There's no question Haaland is in high-demand, and makes for an interesting premium option offering players multiple draft possibilities. So, let's take a look at what the Norwegian could offer as an FPL asset this season.
Haland's Career Stats
Haaland's career stats make for impressive reading, with 155 professional club goals in 200 games. After 2 seasons and 20 goals at Molde, the Norwegian spent one and a half seasons at Red Bull Salzburg, netting 29 times in 27 appearances across all competitions for the Austrians, before moving to the Bundesliga with Borussia Dortmund, in a move that surprised many. In Dortmund, the talismanic forward netted 62 league goals in just 67 games, despite injuries reducing his game time, registering 20 goals and 5 assists in 23 (3) league matches last season.
Let's dive a little deeper into the nitty gritty that us FPL spreadsheet nerds love, and break this all down into stats per 90 minutes in the Bundesliga last season:
Starts – 21
Goals – 1.04
Assists- 0.38
xG – 0.61
xA – 0.27
To compare this with other premium assets in the game, this places Haaland 2nd for xGI per 90 minutes, with 0.89, behind only Mo Salah (0.88). Even with a Bundesliga tax drop, this puts him at around 0.73, which is still highly impressive.
"Bundesliga Tax"
Something worth noting is the so-called "Bundesliga Tax" that tends to affect attacking players moving from the German top division to the Premier League. This signals a drop off in goals, assists and attacking returns, certainly for the first season in England. Examples of this include Timo Werner (51% drop off in form), Jadon Sancho (74% drop off), and Pierre-Emerick Aubameyang (27% drop off).



Quite if and how this drop off might affect Haaland remains to be seen, but his quality is such that any drop should be slight, and we should still expect to see plenty of goal involvement from the 22-year-old, assuming he can keep fit.
Style of Play
Haaland is often regarded as a complete forward, who possesses the attributes that allow him to do anything well. A prolific goalscorer, he is also known for his hold-up play, where he can utilise his physicality, and bring teammates into play (comparisons with Kane are well founded), as well as his effectiveness on the counter attack, using his athleticism and surprising speed to get on the end of chances. He also positions himself between defenders, and plays on the shoulder, looking to exploit gaps and space. Of course, City tend to play a possession based game, so it will be interesting to see how Haaland does with more of the ball.
Will He Suit City's System?
One of the biggest concerns for FPL managers this season, aside from Haaland's injury record, is whether or not he will be able to adapt to City's system quickly. Pep does not have the best record playing with a target man, though he managed to do so effectively at Bayern Munich with Lewandowski. Haaland tends to favour the left side, which is good news for Cancelo owners. Additionally, his height will be vital for route one options, as well as getting on the end of crosses from the likes of Cancelo, Kevin De Bruyne, and Foden, all of whom should benefit from Haaland's arrival.
However, it is also worth noting that he ranks in the bottom quarter of forwards across Europe's top 5 leagues for pressing, as well as registering low passing, two factors he will need to improve at City.
Fixture Run
City's opening fixture are another reason for Haaland's high ownership and appeal, and with West Ham (A), Bournemouth (H), Newcastle (A), Crystal Palace (H), and Nottingham Forest (H) in the opening 5 GWs of the season, he clearly has a very high potential ceiling.
Pros:
Great fixtures
High xGI
Plays for Man City
High EO
Attractive price point
Cons:
Injury prone
Concerns over system
Possible rotation
There are many excellent advantages to owning Haaland, and we would definitely recommend he be one of your first buys on FPL. Of course, it largely depends on the strategy you're using and how many premiums you want. But the effective ownership and high upside mean that he almost has to fall into "must own" territory (when fit), at least to begin the season.