The last matchday of EURO 2020 Fantasy is here.
We all can pick players only from two teams, so there will not be many differences between teams of the majority of fantasy managers (apart from those, who gave up, or who miss the deadline).
The potential of moving your team in overall ranking or in your mini leagues is limited.
However, there is a way (risky way) how you can still climb the ranking or to take that number 1 spot in your mini league even in the matchday like this (with limited upside).
Let's jump right to it.
Strategies for EURO 2020 Fantasy Final
The strategy to play the EURO 2020 Fantasy Final is the same as we introduce in the UCL Fantasy Final.
It depends on whether you are a leader in your mini-league, or you are a chaser.
Let's look in more detail to both of these possibilities.
1. Strategy for mini league leaders
If you are leading your mini league, you need to prevent the chasers behind you to overtake you.
That is why you have to try to match the teams of your rivals. If you and the number 2 in your mini league have the same team and the captain for the final, there is no way he will overtake you.
So, try to match the teams of your biggest rivals. You will not get it to 100% but do your best to field almost the same XI as the mini-league chasers.
2. Strategy for keeping the position in the ranking
If you have comfortable lead in your mini league, and you try to preserve your position in overall ranking – your strategy is to play it safe.
Field the "template" team of highly owned players. Captain the player that the majority will captain (Harry Kane).
Diversify and pick players to your starting 11 almost equally from both England and Italy (6 players from one team, 5 players from the other one).
This is the way that will help you to "fix" your position in the rankings. You will own highly owned players, so you will not move up, but you will also do not move down.
However, you should improve your position by a small margin, because you will get ahead of managers, who forget the deadline or those who give up and do not make any transfers.
So, if you are happy with your position in the overall ranking, and in the mini leagues, this defensive strategy is for you.
3. Strategy for mini league chasers
If you are chasing and trying to get that number 1 spot in your mini league, you just have to risk it in the Final.
This is the strategy with the highest variance – you can win big, but also you can loose big.
But, if place number 1 in your mini league is all you take then this "risky" strategy is for you.
Basically, go all-in in one team, that you think will win. Do you think that Italy will be EURO 2020 champions? Go for 8 Italy players in your starting XI.
Or..
Do you think England will keep a clean sheet in the final? Go for 5 England defenders (including keeper).
You got my point. Play it all on one card.
You will get big number of points if you hit it. But you will get little points if you do not.
EURO 2020 Fantasy Final Tips
Pick the strategy based on your position in mini leagues and overall rankings
Harry Kane is the best captain according to goalscoring odds for the final
You can "risk it" by captaining a defender if you believe there is going to be a clean sheet for some team
Both teams have a high chance of clean sheet (30% +), so play 4 or 5 defenders.
If you play it safe, pick 6 England players and 5 Italy players, because according to bookies odds, England are slight favorites to win EURO because of home advantage (52 % probability of winning the EURO for England, 48 % for Italy)
Differentials: Jorginho (on penalties), Belotti (Immobile is likely to be subbed early again, and if we go to extra time, Belotti will get solid amount of time on the pitch), Saka or Grealish (if in starting XI)
Of course, wait till line ups are live before making your transfers
Scout team for EURO 2020 Fantasy Final
Here is our scout team for the EURO 2020 Final.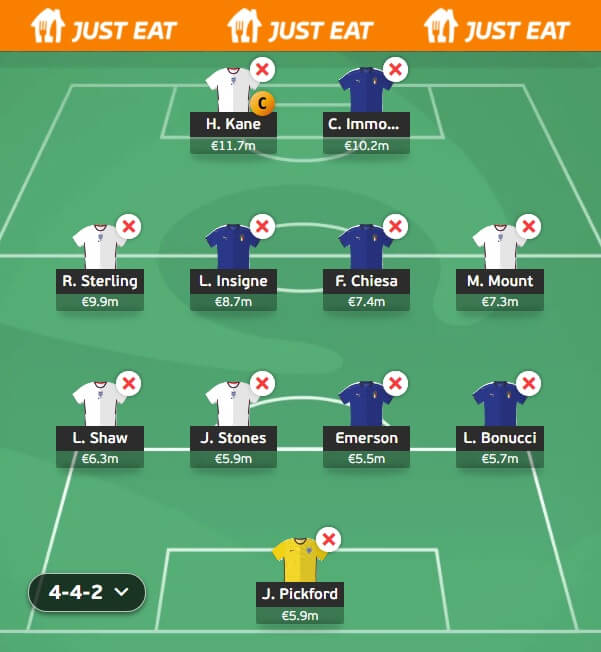 Hopefully, our EURO 2020 Final Tips will help you achieve your goals in the final matchday of this competition. Enjoy the final, enjoy the football.
Fantasy Football Reports will be back with new content about Fantasy Premier League and Fantasy Champions League soon.
Good luck.