It's the end of June, and now that the fixture list is available, we can start planning the first moves for our FPL teams in 2022/23 season.
The good news is that we know that FPL will start in July but the bad news is – we don't know exactly when.
Read more: When will Fantasy Premier League 2022/23 start?
Either way, there is plenty of time for us to start thinking about our FPL teams.
Captaincy is a crucial aspect of success in Fantasy Premier League and that's why we start to plan our captains very early on.
In this article, we look at which players are the best captaincy options for the first 6 GWs?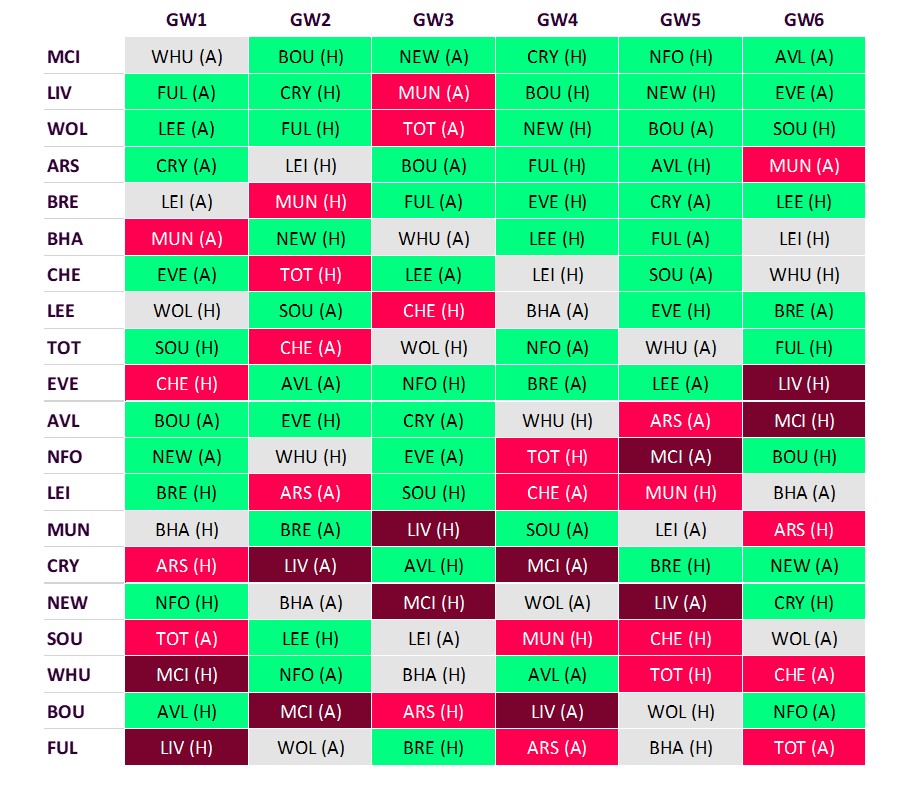 Fixtures play very important role in our process for captaincy. Read more about the process of how we pick a captain for each gameweek: How to pick a captain in FPL?
If we take a look at the FDR (fixture difficulty rating), the answer is obvious – only teams stand out – LIVERPOOL and MANCHESTER CITY.
Pretty easy right?
But if we take a closer look, we can see that the teams like Tottenham, Arsenal and Chelsea have also a good run of fixtures in the beginning.
The only ''problem'' we have at the moment is that we don't know the prices of the players, so we can only speculate.
The players we should target are the obvious choice. Of course, we are speaking about Salah, KDB, Haaland, Kane and Son.
It is the safest way in the very beginning of FPL to target big hitters and the players that most of us will have in their teams. Probably any of the mentioned players won't be below 10-10.5m, so 2 of them will likely be must-haves! 
Best Captaincy pairs GW1- GW6
The rotation between premiums players might go in this way:
GW 1 – Salah (FUL (A))
GW 2 – KDB/Haaland (BOU (H))
GW 3 – KDB/Haaland (NEW(A)), Son/Kane (WOL (H))
GW 4 – Salah (BOU (H)), Son/Kane (NFO (A))
GW 5 – KDB/Haaland (NFO (H)), Salah (New (H))
GW 6 – Son/Kane (FUL (H))
The other options, as mentioned, are Arsenal and Chelsea. Amon the tougher opponents Arsenal only has Man Utd in GW6, while Chelsea has Tottenham in GW2.
When it comes to Arsenal, the players we might have from their team are Jesus, Raphina (if both of them will come), or maybe Saka/Martinelli.
As for the Chelsea, they're in a weird situation at the moment. However, we can always count on Mount and Havertz.
The conclusion is – when it comes to captaincy stick with the best teams and players in the league. You always want to give an armband to a player that has the highest chance of scoring a haul in the current gameweek. And that are heavy hitters from big teams. 
However, if you want to make some differences in the early stage of the new season, then Arsenal and Chelsea players might be a good option as well.